Remove dust or dirt from walls
Clean and remove stains from walls of the home
Repaint your old painted wall
Take care of damage on the wall
Protect from Dampness or Seepage in the wall – A Silent Killer
We all are aware of the fact that our home is one of the biggest investments in our life. Besides providing us with shelter and protection our home also provides comfort to our eyes and brings peace & joy to our life if it is well maintained.
Home maintenance is one of the important responsibilities taken to maintain the integrity of your home. Maintenance plays a major role in the proper functioning of all the components of your home. Besides, Regular Home maintenance can save your money & human health too.
Efflux of Time and day to day wear & tear can leave your home run down. Performing regular maintenance on your home will keep its upkeep manageable. This process includes maintaining the parts of a home – wall, ceiling, floor, door, electrical, windows, plumbing, exterior painting, and others. So to maintain your home, you need to maintain all these parts.
Painted walls definitely add elegance and freshness to indoor spaces but often leave us worried over maintenance and how to make them look new and vibrant all the time. Wall finishes can often be delicate, so it pays to do some research before you start – otherwise, you might end up doing more harm than good.
Different wall surfaces require different methods of care. Usually, wall finishes are putty, paint, Plaster of Paris etc. But in India, most people prefer to apply paint or plaster of Paris on the walls. So today we will discuss mainly how to maintain painted walls.
Here are a few tips on how one can maintain the walls of your home: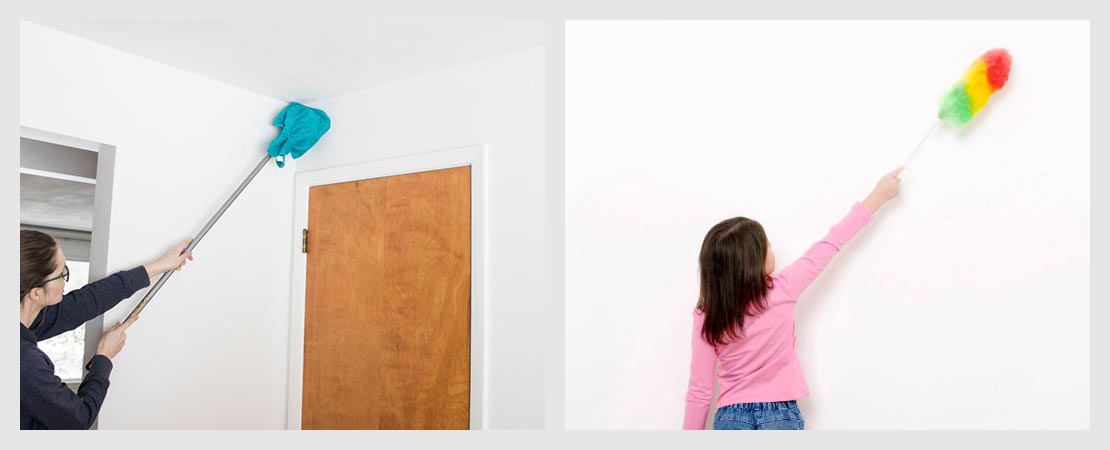 1. Remove dust or dirt from walls
The first and easy tip for maintaining your wall – Dust it to keep it clean. Keeping your walls clean not only cuts down on dust/ dirt in your house but also makes your wall look better and helps to keep the paint in a good condition. It also prevents the wall from surface deterioration& indoor air pollution. Use a feather duster or dry cloth to remove dust and dry dirt from the surface.
The easiest way to get rid of the dust, dirt, and cobwebs that shorten the life of your paint is to use a cloth on a long-handled broom over your walls every month. Don't leave out the ceilings because due to gravity, some airborne dust collects there, making them dirty.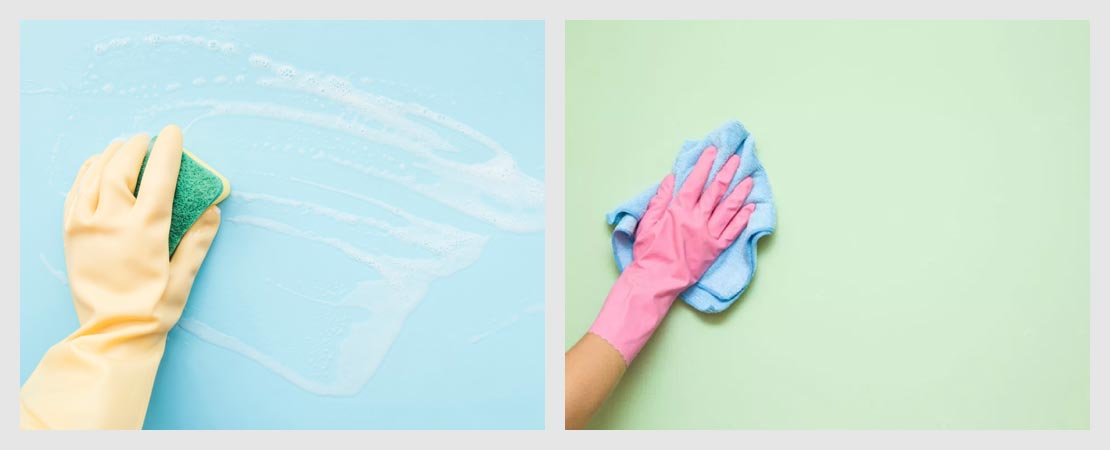 2. Clean and remove stains from walls of the home
The cleaning of the walls depends on the type of paint used & the wall texture. While cleaning the walls,avoid rubbing too hard on the wall as you might create a stain or remove the paint texture on the wall and be careful. Make use of water and a clean sponge to clean the wall.
One of the problems on your walls is the stains created by your children or sometimes accidentally. Stains can be either of oil or water based. To clean or remove stains you can use a wet cloth and get rid of the waterborne stains. For oil stains like cooking grease or others, you can use a mixture of water and dishwashing liquid/ soup or a mild cleaner. You can also read a blog by Houselogic www.houselogic.com/remodel/painting-lighting/wall-stain-removal to know how to clean 7 tough stains off your walls — and ensure a lasting paint job.
Wash wall tiles in the kitchen and bathroom as per its condition. Remove the residues of cooking and steamy showers by washing it at least once every month and also clean painted surface of walls as per its condition. Dry the wall with an old towel.
Additional tip: Test painted walls before cleaning them. It's safe to wash glossy and semi-gloss paint, which are commonly used in kitchens and bathroom, but always test them in an unnoticeable spot. If paint chalks off on your sponge, don't wash that paint.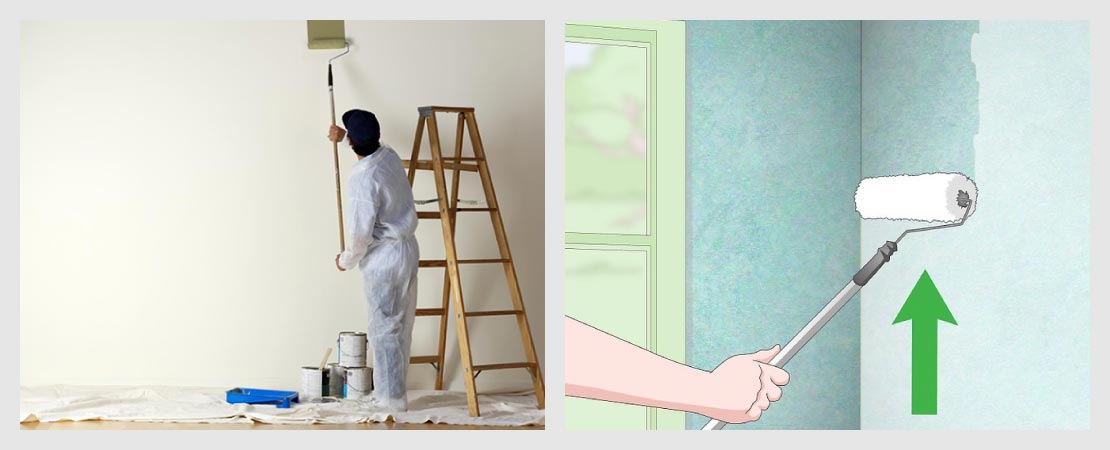 3. Repaint your old painted wall
If walls of your home are worn out and old, you can always change the look by repainting the wall with the same colour or different ones. Repaint your old painted wall is one of the easiest ways for giving your wall a fresh look. Additionally, a small tip regarding paint – It is important to use a specific grade of paint as per interior or exterior area. If Interior grade paint used in the external wall area can cause deterioration of the surface. To know more about it, you can read www.macj-abuyerschoice.com/interior-exterior-areas-need-specific-type-of-paint.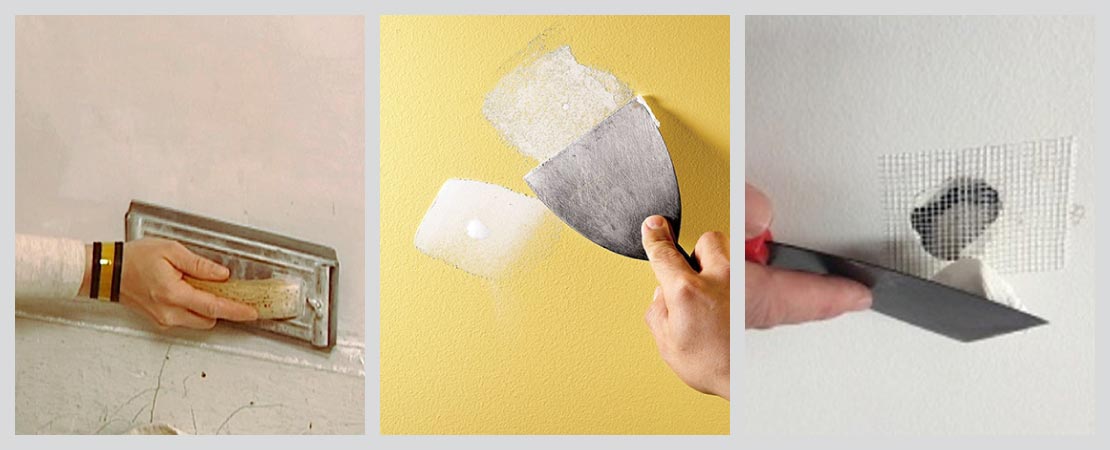 4. Take care of damage on the wall
For keeping the paint looking fresh, touch up or take care of damage as it occurs. Sand and touch up a scrapped or chipped surface and fill holes if there is any. Then, repaint the area so as to provide homogeneity in the surface. This is regarding the touch up which could be done for small damage.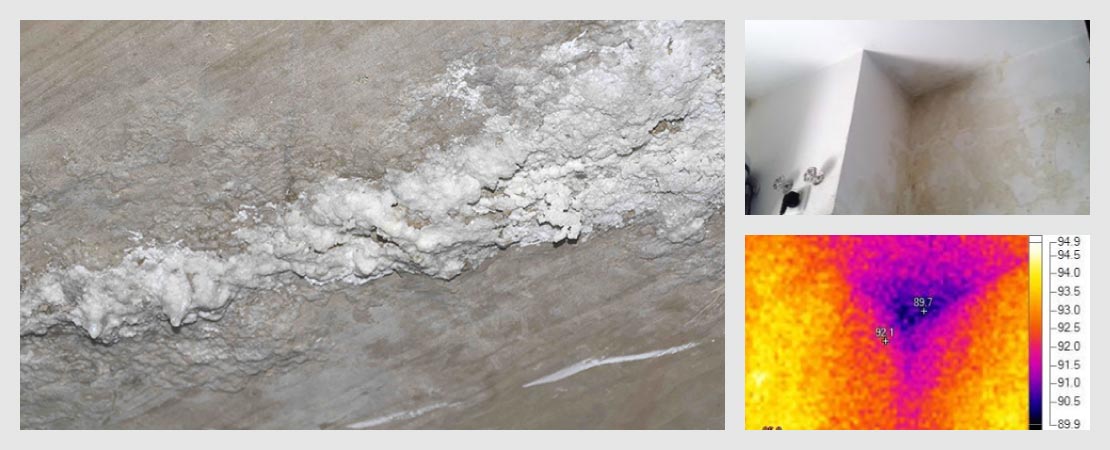 5. Protect from Dampness or Seepage in the wall – A Silent Killer
Dampness of walls and water seepage are common problems faced by homeowners. It can cause efflorescence (puffy white or crystalline deposits of salts on walls), peeling and popping off paint&severe deterioration. It also has severe adverse effects on human health.
It is very important that you observe and repair all the water-related sources to your wall. If not rectified soon, there are increased chances of the wall becoming weak. So it is important to first detect the source. Nowadays, if there is any concealed leakage or cracked pipe or any other concealed issues, source of seepage/damp can be detected using advanced Thermal Imaging technology. To know more about other causes, symptoms, potential future issues and solution related to Damp/ Seepage, visit our page: www.macj-abuyerschoice.com/damp-seepage-assessment-with-solutions-through-thermal-imaging-technology.
Some other tips to maintain the walls of your home:
| | |
| --- | --- |
| | You should carry out regular visual checks for cracks. If you feel something needs to be inspected related to wall, you can opt a professional home inspection for checking/inspecting the condition of wall or. If there is a crack, they can tell you whether it is structural or non- structural in nature and also provide the solutions accordingly. To know more about, you can read a post www.macj-abuyerschoice.com/monitor-cracks-as-a-warning-signal-for-further-deterioration. |
| | Tip for painting: Always Clean your walls thoroughly before painting. |
| | Tip for painting: Make use of semi-gloss and glossy paint in your home. |
| | Tips related to when to apply primer/paint after putty application: It is better to provide air curing of minimum 7 to 14 days after application of putty on the wall, then to apply primer or paint finish. It will help to provide proper binding. |
| | Wall care for dents and scratches can be done by keeping the furniture away from your walls, put light coloured rubber bumpers on the backs of your furniture. |
We have not yet discussed how to maintain external wall surface. Exterior maintenance protects your building against degradation. While lack of maintenance can result in moisture infiltration into the exterior wall, eventually causing cracks, peeling paint, and other problems, exterior maintenance performed by a professional on a regular basis can help prevent all these issues and the costs associated. Now,Why should you hire a professional to take care of the exterior maintenance of your building? Because only they know how to properly inspect a building and identify all the issues that can lead to extensive structural damage.
If your external walls only need to repainted as per its condition. To know about How to paint the exterior walls of your home, watch the video of Asian paints – www.youtube.com/watch?v=V_dhfj0dDVE
Conclusion
Purpose of the walls in buildings are to support roofs, floors and ceilings; to enclose a space as part of the building envelope along with a roof to give buildings form; and to provide shelter and security. Apart from this, Walls in every home have a story to tell. They tell you a lot about the type of people living in that home and reveal a lot about family members' personality. Hence maintenance of both interior and exterior walls is important. This is also one of the significant part of Home maintenance.
To read more regarding Home maintenance, go through www.macj-abuyerschoice.com/maintain-your-homes-because-your-dreams-are-sown-here