Interior designing is not only about getting your home décor right. Its true importance lies in having a space done up professionally so that it becomes aesthetically more pleasing and functionally, more effective. The process begins with an interior designer visiting your property and evaluating it. Then the expert listens to your needs and reflects on the options that maximize your space utilization. There are multiple challenges that an interior designer has to deal with while executing the décor plan. One of such challenges is dampness. A property, old or new, if found to have deep-seated damp problems becomes a tough setting to deliver as per user expectations. Thanks to the remarkable technological advancements, interior designers are now being able to do damp removal and restoration quite effectively. All you need is a damp assessment of your property done, and then, the rest is taken care of by the interior designing team.
Talking about the focus areas of interior designing, walls, floor, ceiling, and woodwork and other installations are the places that need individual consideration in terms of designing before being synchronized in a single theme. Interestingly, it is these four areas which are most prone to damp. To be designed as per the latest interior designing trends, they have to be, first, freed from damp.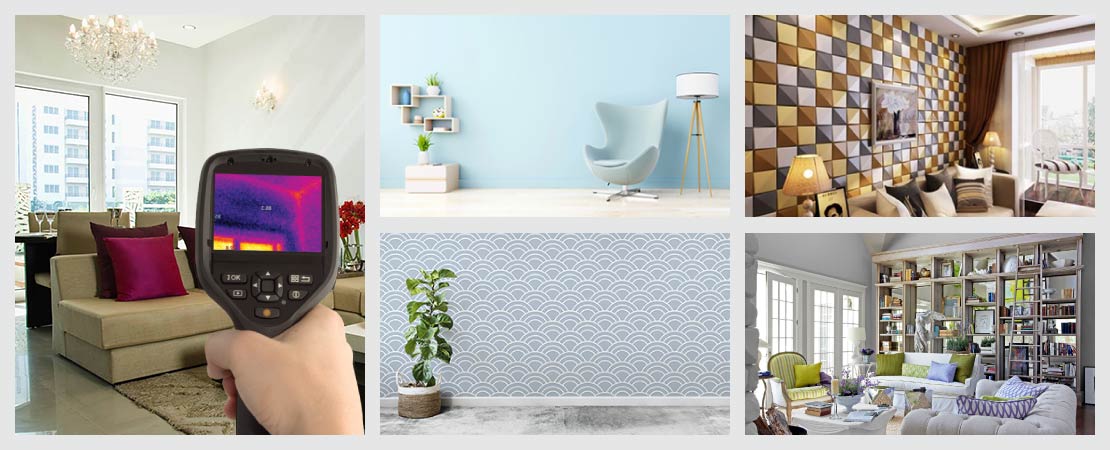 Dampness control & wall décor ideas
Walls are the prime locus of interior designing. From the walls, the overall vibe tends to radiate in a home. They act like big canvases, the designs on which set the interior designing theme for a particular room. There are numerous ways to decorate the walls. You can paint them, tile them up, cover them with wallpapers or use them to create fixed storage spaces and cabinets. However, no wall décor idea proves to be functional and durable enough, if it is found to have damp issues.
So, what is the way forward? – Get a proper damp assessment done, know how widespread is the damp, and what is the root cause of the dampness. (There are home inspection companies who do this with the help of thermal imaging technology based devices). Unless you know the root cause of dampness you cannot decide on the right method of damp removal. A wrong remedy, not only, has you unnecessarily wasting your money on damp-proofing but may also make way for future damages.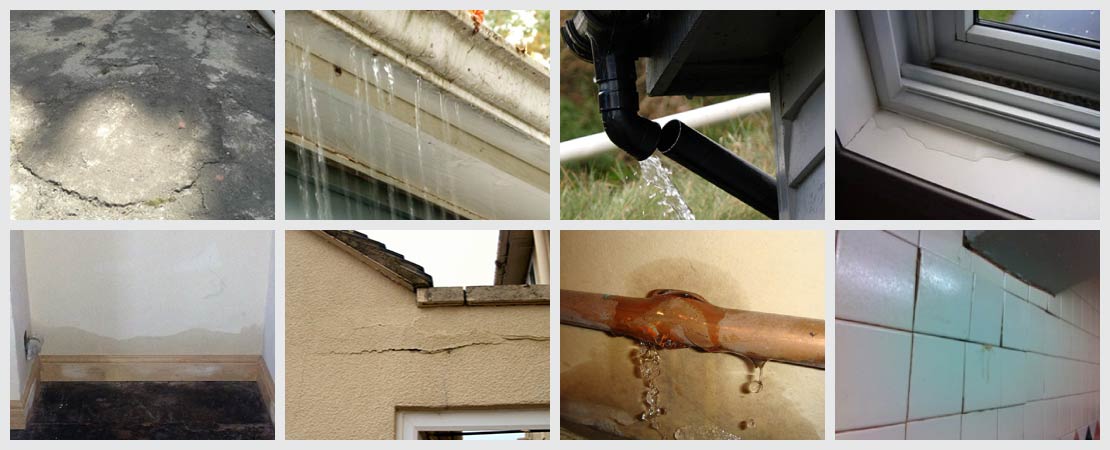 Possible causes of damp on the walls
There can be both external and internal causes of dampness. Some of the common external issues are defective roofing, leaking gutter, and faulty downpipes, seepage from gaps around window frames or windows at closing, crack, etc.
If you have damp patches, popping paint, crumbling plaster or powdery deposits on wall surfaces close to the floor, rising damp may be the root cause. In this case, the dampness rises from the ground up the masonry and spreads across the walls.
Another common cause of damp on walls is condensation. High indoor air humidity is responsible for it. You either have to use a dehumidifier or check excess moisture generation in the kitchen and bathrooms to reduce the humidity level.
Construction defects inside the fabric of the building can also lead to dampness. Here, rainwater or water from an external source such as leakage in the water/ drainage pipes enters the capillary spaces and cause dampness on the walls. Poorly installed wall tiles leaving gaps, defective painting, and plumbing errors can also lead to dampness on the walls.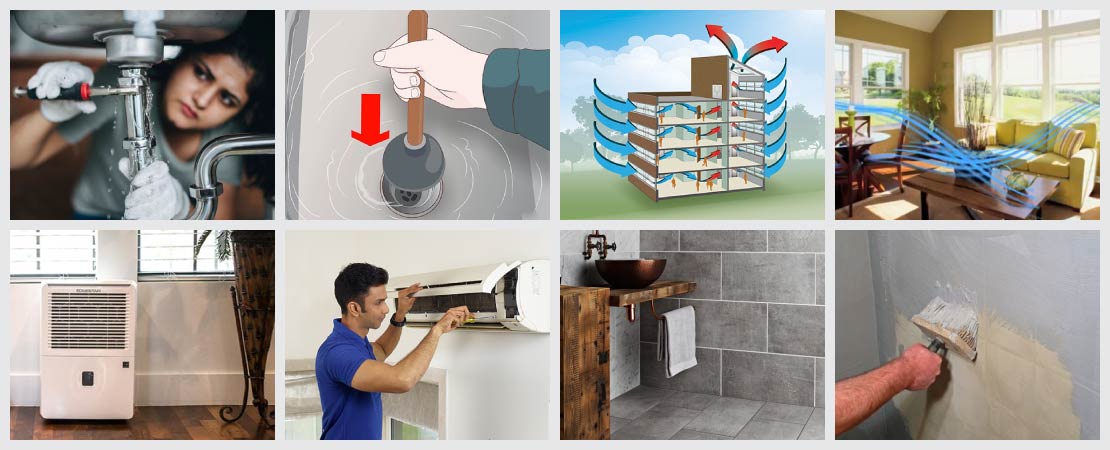 How to eliminate dampness and damp effects from the wall?
Improve the drainage system of the building
Repair any plumbing fault, leakage/ seepage
Unclog drainage pipe outlets
Check condensation by reducing the amount of steam produced in your home
Improve ventilation
Use a dehumidifier in the home
Keep the air conditioner well serviced all the time
Use glazed tiles, preferably, ceramic or porcelain tiles on walls
Use a damp-proofing paint solution1 on the walls
Before waterproofing and repainting, any signs of damp and fungal growth on the wall must be removed properly. Click here to learn the best ways of removing black patches from damp walls.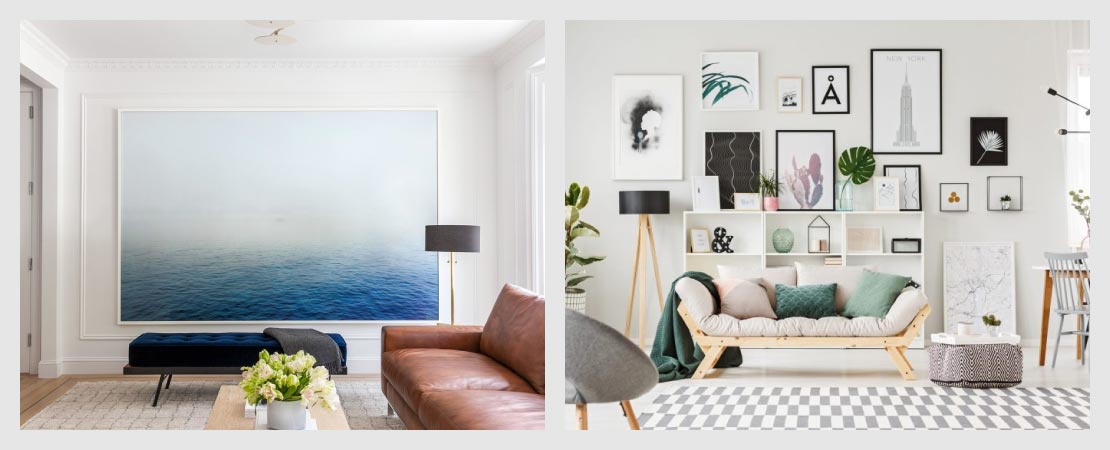 How to decorate a restored wall?
Once you have successfully removed traces of damp from your wall, proceed to decorate it but make sure never to follow a trend that may again welcome dampness in your home. For example, adding a touch of greenery by using wall-mounted plants can make your home look environment-friendly but it may actually lead to dampness as plants give out excess moisture through microscopic pores on its leaf, a process called transpiration. A few other effective wall décor ideas2 for restored walls are:
Creating floral, geometric or abstract patterns on the wall using paint
Installing themed wall tiles- shiny, mirrored, or matte finish
Covering the walls with wallpaper
Installing a large-scale art like an oversized painting, photograph, or a collage of pictures, etc.
Gallery view: Displaying a collection of art pieces or add wall-hangings and other ephemera
Dampness control in floor & popular ways to restore it
Concrete floors tend to catch damp easily because of their porous nature. Basement and garage, especially, act as damp hotspots as the excess moisture in the air remains trapped inside these spaces. It cannot exit the closed areas due to lack of proper ventilation. This dampness gradually rises up affecting the floors above.
Besides, there are certain tiles which are less resistant to water. When the temperature starts dropping, floor tiles cool faster than the rest of the room. The moisture in the air upon coming in contact with the cooler tile surface, condenses into water droplets. These water droplets are absorbed by the tiles rendering the floor damp.
Again, if such tiles with less water resistance capacity are used for flooring in the ground floor they tend to pull moisture from the ground underneath through capillary action resulting in widespread dampness. Soon, the grout becomes soft and crumbling requiring an immediate touch-up.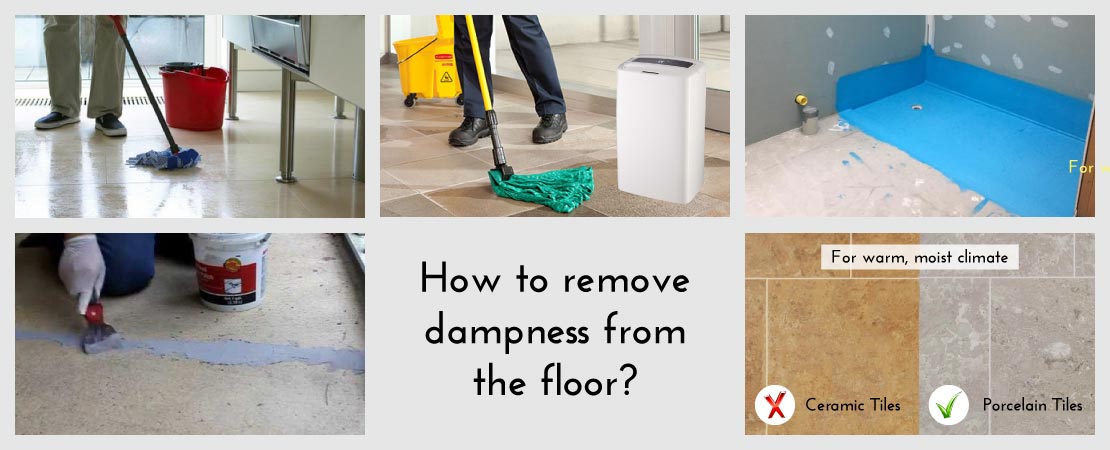 How to remove dampness from the floor?
Keep the floor as dry as possible by mopping and improving ventilation.
Use a dehumidifier in the room with a damp floor.
Opt for remedial waterproofing of floor.
Apply concrete sealer to the corners and edges of the floor, where cracks can let moisture in.
Consider porcelain tiles over ceramic tiles for flooring in a warm, moist climate.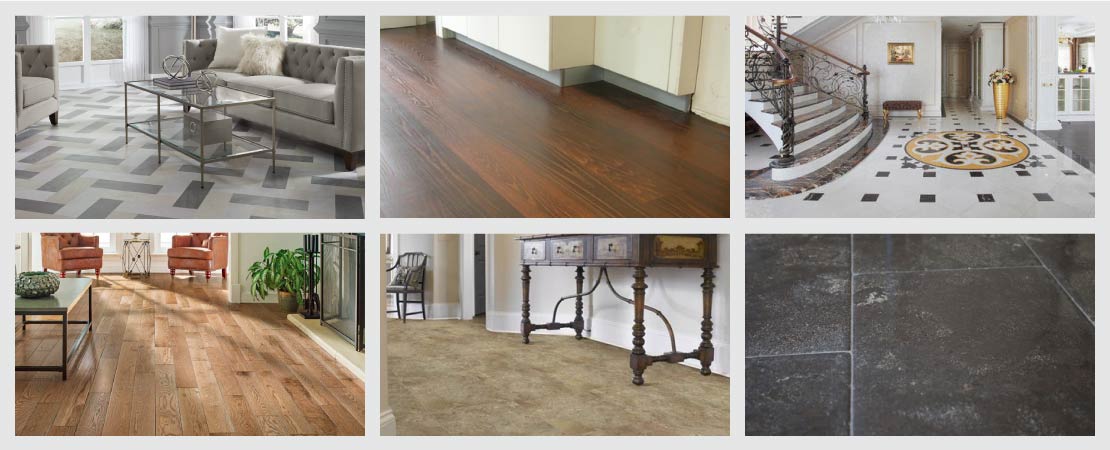 How to revive a damp floor?
There is nothing more comforting than placing your feet on a warm, clean and dry floor. As a homeowner, you would want to experience that every day. Consider these flooring design ideas3 once you have successfully eliminated the damp problem from your floor:
Using porcelain floor tiles of different colours, shapes, and sizes
Wooden lamination for an up-scale stylish setting
Stone inlaying for climate sustainability
Rustic/ distressed hardwood flooring or using textured tiles that mimic the look of hardwood
Vinyl tile flooring
Natural stone-finish tile flooring
A revived floor can be further used as the perfect setting for placement lighting which is so much in trend these days.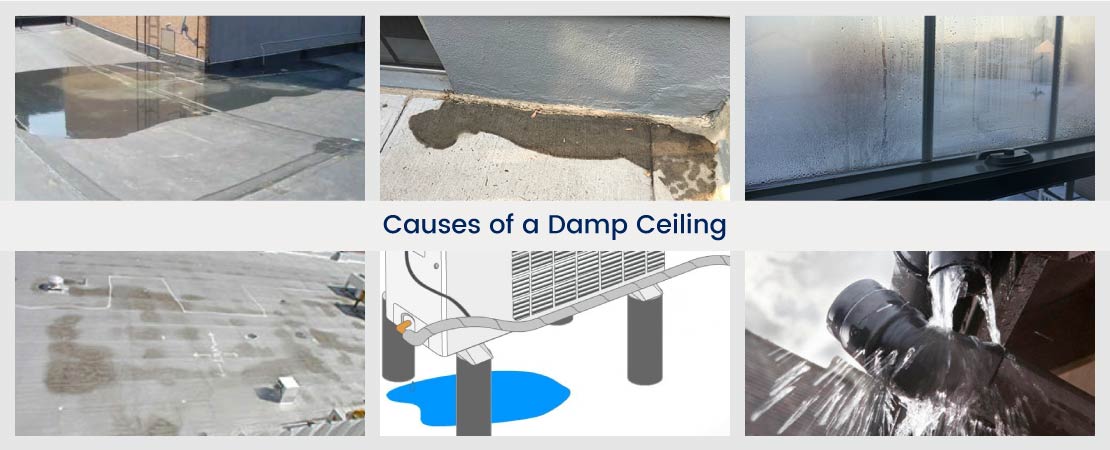 Ceiling décor post-damp-proofing
Ceiling plays an important role in uplifting the overall décor of a home since it occupies the largest visual space. However, most of the time, this important part is left uncared for. Damp watery spots on ceiling appear and go unnoticed for days until the spots turn watery and leaky. Like in other parts of the home, there can be many reasons behind damp ceilings. It could be due to a leakage in the AC outlet pipe or water pipe of the building, excessive indoor condensation, defective waterproofing, or leakage in a rooftop tap. It is important to detect the cause and resolve it to get a lasting solution for your ceiling.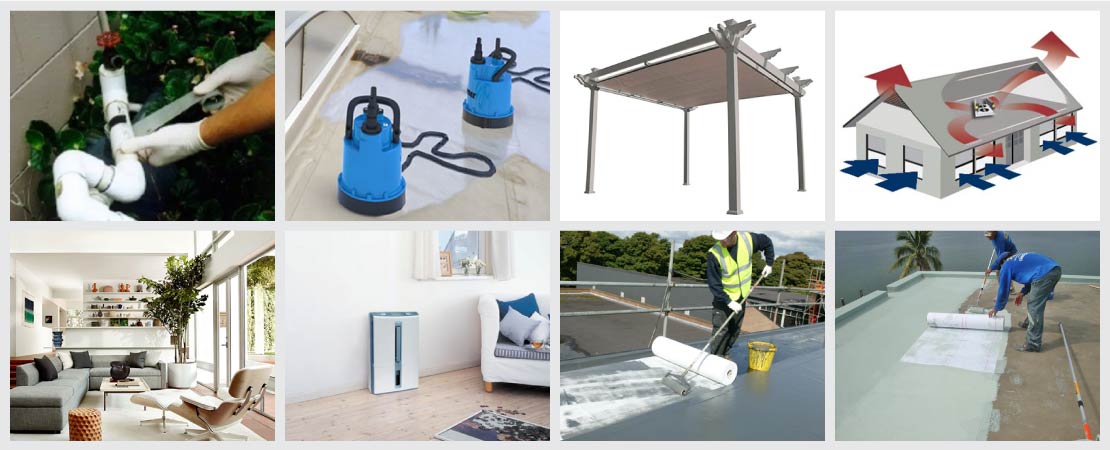 How to repair a damp ceiling?
Repairing leakage in the exterior pipeline
Addressing water-logging on the roof
Covering the roof with a vinyl canopy so that rainwater cannot stand on the roof floor
Improving ventilation of the room
Allowing sufficient daylight inside the room
Using a dehumidifier in the room
Water-proofing the roof4 and the ceiling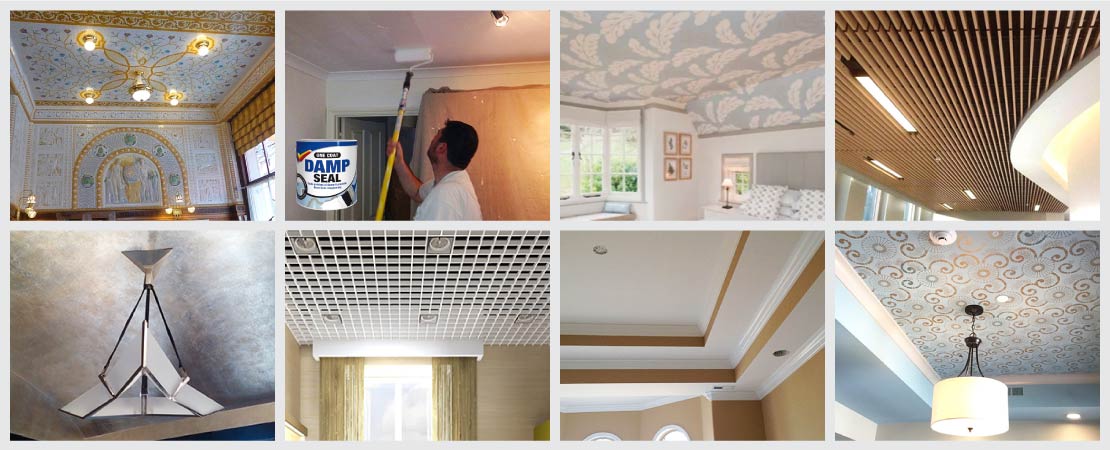 How to revive the ceiling?
After damp removal, you can bring the ceiling back to life by applying one of the following methods of ceiling refurbishment:
Porcelain tiled ceilings
Painted ceiling using advanced damp-proofing paint solutions
Wallpapered ceiling
Tongue and groove slat ceiling
Silver or golden leaf ceiling
Lattice design on ceiling
Shallow tray ceiling
Bold and subtle stenciled ceiling
Good interiors have a direct impact on our health- both physical as well as mental. An aesthetically pleasing home makes us feel happy and spending time there relieves us of all our stress and pain. Likewise, damp-free healthy home helps us stay in the pink of our health. There is no excess moisture in the air, and hence, no fungal growth and micro-organism whatsoever. In the absence of any allergen, we can live happily without having to pay regular visits to the doctor's clinic with complaints of allergy and various skin problems. However, an interior designing plan can never reach its desired goal unless the dampness problem is resolved in a property. So, if you want to give a long-lasting facelift to your home through professional interior designing, make each penny of your investment count. Get a home inspection, and most importantly, a damp-assessment done to ensure your home is the perfect setting for any artistic value-addition.
There are many more ceiling décor ideas which you can follow; your main motto will be to make the ceiling look fresh and spacious so that every time you look up you feel safe and thankful for having the much-desired "roof over your head."
Other areas of a home that need proper damp assessment and remedy are woodwork, doors and windows, and furniture. You must eliminate dampness from each of these elements to make your home 100 percent damp-free. The best way to do that is to replace the damp and pest-infested door, window or the furniture piece with a new one. There are several options available these days. You can go for one of those furniture types that come with enamel acrylic high gloss paint for longer life and better aesthetics. Remember, even a single piece of furniture with damp issues can invite back the problems that you took so much pain to remove from your home.