A home is a reflection of an individual's personality and we understand the importance of its value to home-owners. It is important that homeowners focus not only just on the painting but also on the maintenance of the home.
It is often observed that several factors create damage on the walls of the home if proper attention is not given to them. The common problems that homes face include dampness, cracks, seepage and leakage, which will affect its structural integrity.
People face a lot of problems due to leakage of water or seepage or dampness in buildings soon after construction and during life of buildings. Problem is faced by the occupants for repairing the same on a permanent basis. This is also a source of unhygienic condition, health hazard, etc., besides life of the building is shortened considerably.
In this case, usually people call vendors for repairing, some suggest you can have waterproofing or damp proofing. Although we use the terms waterproofing and damp proofing1 interchangeably, there is a significant difference between the two. There is a precise difference between damp proofing and waterproofing. The general aim of both is to minimize the travel or passage of water through a material.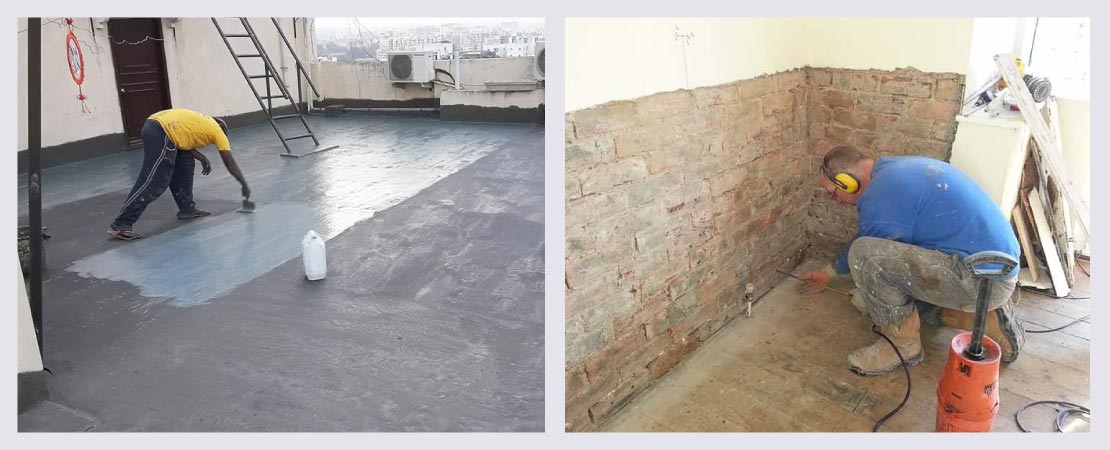 Waterproofing is mainly done on the positive side i.e this is done on the surface of wall that comes in contact with water. This is done on roof, wet areas and external parts of building whereas Damp-proofing (wall) is done on the negative side i.e where it affects like internal wall problem, seep-in and ventilation. Suppose there is wall without waterproofing in your bathroom so this will cause dampness in this wall which may be common to room causing problem in the internal wall. Waterproofing is more effective as it keeps water in its various states from crossing a surface, therefore moisture from the soil, water vapour and water under hydrostatic pressure2 is efficiently barred. Whereas damp proofing only controls water vapour from the soil moisture and will not stop the inflow of liquid water.
Therefore damp proofing will only keep the dampness out from element of your building, it cannot prevent water from seeping in through cracks. On the other hand, waterproofing is effective in preventing water from entering through any holes or cracks. Since waterproofing materials are more flexible in nature and are applied as a thicker layer, it helps to keep the cracks covered and provides better insulation to the element.
Waterproofing also eliminates the inflow of water and moisture that can enter the home through the ceiling, wall and roof cracks; therefore these are areas that must be waterproofed to ensure a lasting solution. Damp proofing them may not be sufficient. But damp proofing will increase the capacity of wall to retain moisture.
Conclusion
Quality waterproofing can be the difference between a strong, long lasting, healthy home and one that constantly requires repair and maintenance.
Our objective was just to make you aware about the difference between Water-proofing and Damp-proofing, so that you can wisely make the correct choice when you face the problem in your home.
Of course it is a very vast topic. To know more about it, click here3.