The decision to buy a house is always a major one. There are tonnes of considerations to be made before zeroing in on the one you like. But our work doesn't really end there, does it? After buying the property, we need to be 100% sure that it is in a liveable condition. That is a tonne of work as well, right? – Inspecting the home for every teeny-weeny detail and then running behind the developer to get it fixed. The job is even more tedious if it is an old and comparatively less looked-after property. Then it is almost like a guilt trip that you have been avoiding embarking on all this while.
We have a simple solution for you. Home inspection, which is already in high demand in the West, is now slowly but steadily finding a place in the Indian market too. Although the concept is fairly new to the Indian audience, it has managed to gain immense popularity in the real estate value chain. Homeowners – old and new, builders, buyers, and NRIs – it is a win-win deal for all.
What is home inspection all about?
For those who are relatively new to the idea, a home inspection encompasses a wide range of services that aim at digging out problems affecting the exterior and interior components of your property. These include walls, railings, doors and windows, plumbing and electrical, and the like. To learn more, click here.
Importance of Property Inspection
We, at MACJ – A Buyers Choice, specialise in providing inspection services not just for homes but also for commercial spaces. This is because we believe that one tends to spend a major portion of his day outside the house& in the office for various works. So, it is equally important to keep that space free of wear-off and risks. Seriously, just think, how many of us are aware of the safety status of the office building1 we are walking into everyday?
Detailed below are some of the places where we offer property inspection services: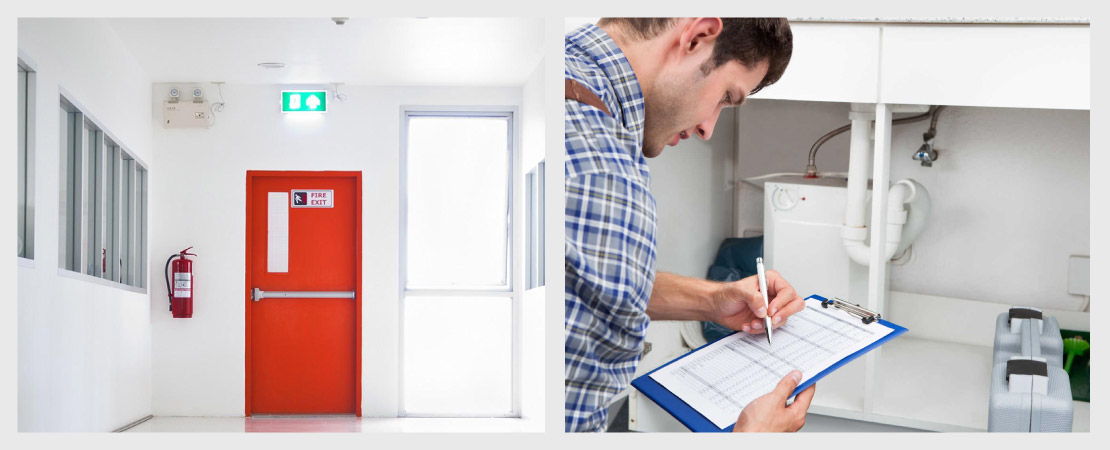 1. Offices
We spend nearly 10 hours of the day here. It is a lot of time! So, it only makes sense to ensure safety at the workplace. And by safety, we do not only mean fire safety. That is a bare minimum requirement. You must have your compliances met and the fire safety equipment ready at the right places. But at the same time, you must also see to it that there is adequate number of fire exits in the office and that the pathways leading to those exits are wide enough. The staircase is not slippery. There are no hollow tiles on the floor. The false ceilings are sturdy enough and not made of inflammable material, and so on and so forth.
What are the other things that you as an employer must be proactive about? – Paying heed to any complaint coming from employees about a plumbing fault in the bathroom, water dripping from an AC unit, a persistent musty smell inside the office, or a stinking basin in the pantry area, etc. You must engage a professional property inspection team and try to resolve these issues from their roots.
Remember – a healthy and happy workforce is the true resource of an organization. Make safety a 'hygiene factor' for them and see their energy, commitment, and productivity soar higher.
2. Schools
Another crucial place that is a must-include for inspections for the simple reason that they are occupied by children. You just cannot take any risk with them. Plaster falling out from the wall or ceiling means a child might put it in its mouth, loose hinges may cause a door to fall anytime causing casualties, or worn-out and slippery staircase may lead to serious accidents.
Keeping dampness at bay inside a school is also of paramount importance. As school authority, you can always hold parents responsible for their wards' ill health and absenteeism but you cannot turn a blind eye to your own responsibilities. Can you?
According to the research titled, 'Coexistence of allergic rhinitis and asthma in Indian patients: The CARAS survey'(Vikram Jaggi, 2019), in India, the burden of allergic diseases2 has been on a rising trend in terms of prevalence as well as severity. The All-India Co-ordinated Project on Aeroallergens and Human Health, New Delhi, in 2000, showed that 30% of the Indian population suffers from these, and that 15% develops asthma.
So, do not look at maintenance as just a rulebook thing. Precede the job with a thorough property inspection to ensure utmost safety to the children.
3. Hospitals
They cannot afford to take any chances with the health and safety of their patients and patient parties. A minor plumbing or electrical issue can literally put a crucial surgery on halt and cost life. Excessive dampness can lead to the growth of microbes and spread deadly infections.
This is even more important for ICCUs and ITUs where critical patients are kept. Bed sores in aged, bed-ridden patients are not uncommon in old hospital buildings; no amount of disinfection and sanitation seem to be enough for preventing these infections. Dampness, if not the only reason, is certainly one of major causes behind such uncontrolled proliferation of micro-organisms.
Then there are the weak, poorly-managed building parts like doors, gateways, partitions, and false ceilings. A sudden collapse of any of these structures can cause huge casualties. Hence, it is important to ensure that the health of all the buildings inside a hospital compound is as good as that of its patients.
4. Multiplexes/ Malls
Another popular area infested with people almost all times of the day. They need to look good at all times too. That is how they would attract crowds. Plus, the interiors and other utilities always need to be in good shape for use by the masses.
Pleasureful factors play an important role in increasing the footfall in a multiplex or shopping mall. A consistent negligence in maintaining the basic hygiene and safety can lead to a significant drop in popularity.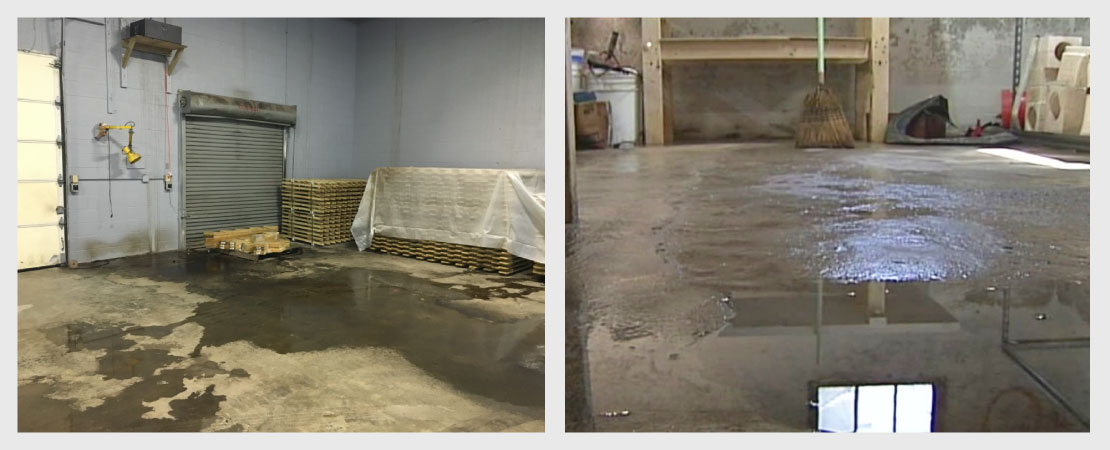 5. Warehouses and retail chains
Storehouses are common housing grounds of seepage, fungus, and bacteria. It can mean immense damage to the stocks lying therein.
Similarly, retail chains like supermarkets, house tonnes of perishable and non-perishable goods for consumers. Both the places always need to be high on maintenance to ensure longer shelf-lives of the stored items and keep customers happy and coming.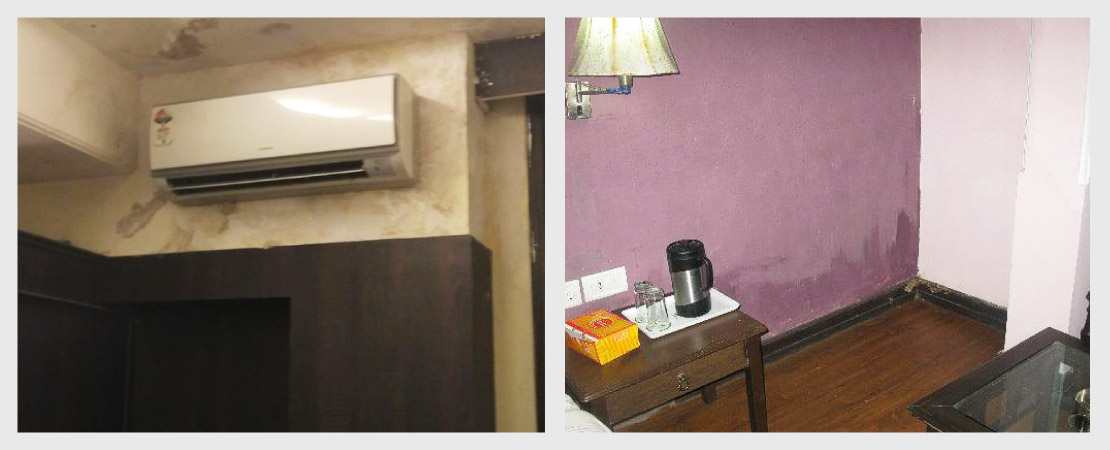 6. Hotels
If hotels have a damp/ seepage problem, then these can create bad reputation infront of customers and also can create various health problems too if not rectified soon.
There are sometimes electrical safety hazard3 happened which could have avoided if some safety measures have been taken earlier. Have a inspection done to have a healthy and safety place.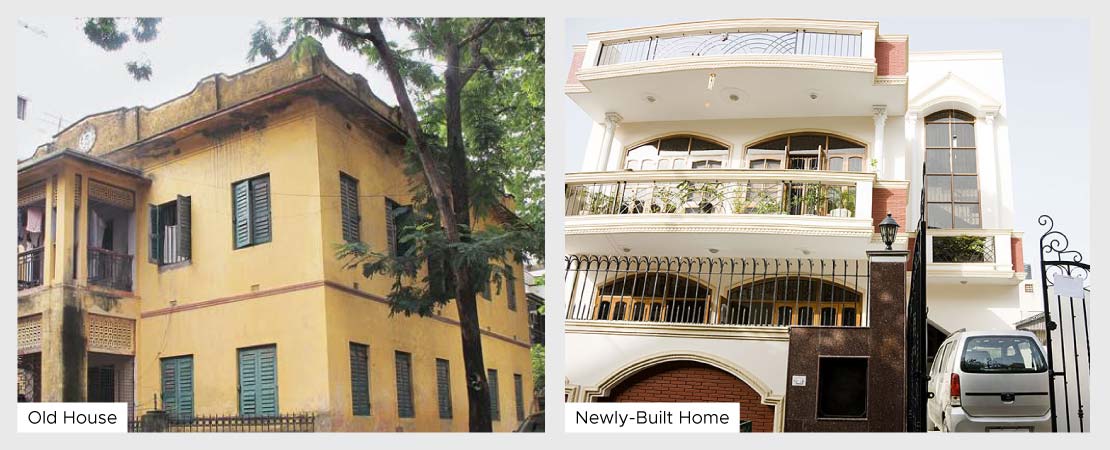 II. Residential Properties
1. Old Houses
Property is a lifelong investment but we often forget to maintain it for a lifetime. Homes that turn old with us need equal maintenance as our own bodies. This is where home inspection can play a significant role. Our inspectors would conduct a 3D-coverage of your property detailing all the issues in both the exterior as well as interior parts. We would then assist you with solutions for the same.
2. Newly-Built Homes/ Flats
The general idea is that since a flat is newly built, it is already in perfect shape. On the contrary, new homes too have several hidden flaws, which as a buyer might concern you. They usually come to the surface only as you start living in it for a while. The construction may be weak, plaster may start peeling off, or faucets may become loose. A thorough home inspection before moving in can help.
A Variety of Inspection Services for Homes and Commercial Properties
Now we know that a complete health check-up is equally essential for your living space. Most importantly, property inspection is essential not just for your home but for all kinds of commercial properties as well. This is why we, at MACJ, offer a diverse range of inspection services, all under one umbrella, to ensure that every party in the real estate value chain is benefitted.
Real estate inspection services for buyers/ sellers
We understand that buying and selling of real estate are crucial life decisions. This is why our inspection services are available both at the time of buying and selling a property. Our inspectors thoroughly check all areas and components of the space under a deal and provide a seal of approval to go ahead with the transaction, so that you do not risk of losing your valuable money.
Construction finishing inspection for new homebuyers and builders/ developers
Sometimes it isn't easy to figure out any loophole in construction which may have been left by the builder/ developer in newly built homes. A third eye to the whole situation can actually be of immense benefit, if any minor/ major issues can be brought to light and fixed at the initial stages itself, it can save considerable inconvenience and expenditure later on. Even builders and realtors appreciate our service because it helps them create long-term loyal relationships with their clients.
Home inspection for existing residents
Our services are not just meant for new buyers, we also assist existing homeowners in the upkeep of their properties. You can call us anytime if you feel that your house needs a complete check-up.
Complete property care for NRIs
Living abroad with your property back home is always worrisome. Will the property be safe from rain, seepage issues, plaster wear-off, electrical and plumbing breakage? We're here to put all your worries to rest. Just hire us before you leave and we'd be happy to take care of your property in your absence.
Not just for NRIs, our home inspection services are ideal for cross-city residents as well. If you need to move cities for work or other reasons, you can bank on us to take care of your property back home while you are gone.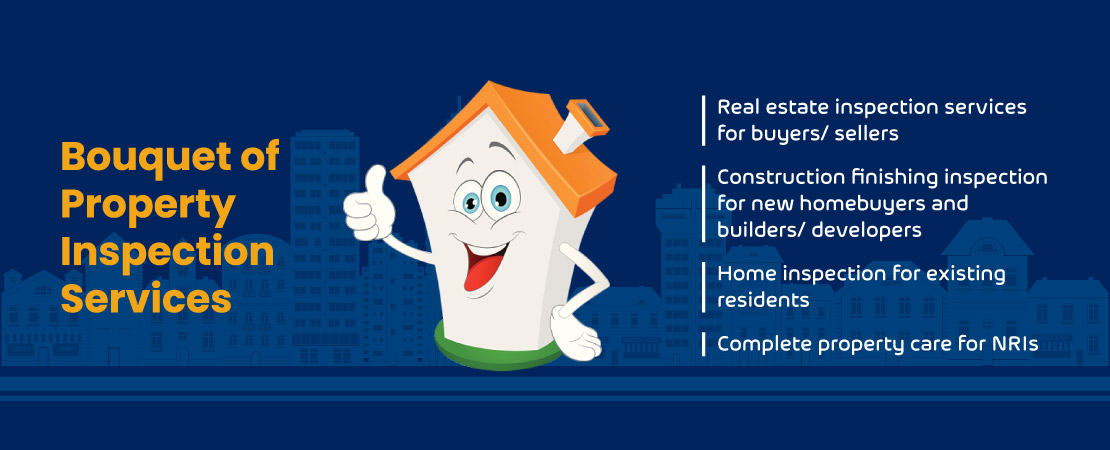 Our entire bouquet of property inspection services for you. To know more, Click here and go into Our services section.
Home inspection is no longer a luxury. It needs to be looked up to as a bouquet of necessary services that concern your most valuable possession – home. Hire us today to take care of your asset and we'd do so just like our very own.