Festivity is in the air!! The essence of festival along with lightings and happy faces all around resonate the message of MaaDurga's arrival.
Durga Puja is one of the major festivals being celebrated all over the country. It is a celebration of the victory of the Goddess Durga over the evil demon Mahishasura. Goddess Durga is worshipped and the festival is celebrated with great glory in Bengal and other parts of India.
Durga Puja is one of the most famous festivals celebrated in Eastern and North Eastern states but most famous one is particularly of Kolkata in honour of Goddess Durga during the period of Navratri. It is celebrated for ten days, however starting from the sixth day till the ninth day, the Pandals with grand idols of Goddess Durga are open for visitors. The idol is then decorated with flowers, clothes, jewellery, & various sweets are kept in front of the Goddess.
And in northern and western parts of India, this nine-day festival is celebrated in another way which has a different legendary story behind it. It is the victory of Lord Rama over the cruel and demonic Ravana, the one who kidnapped his wife, Sita. The nine days of the navratri see the recital or enactment of the epic 'Ramayana' and the tenth day is the final fight between lord Rama and Ravana. Rama kills the ten-headed Ravana by shooting an arrow in his navel, the source of his power and Ravana dies. The same is also presented in Ramlila which concludes on the tenth day, that is Dussehra. However, in the Southern states of the country, Navratri is celebrated by worshipping different goddesses and celebrating their victory. In navratri, many peoples keep fast during this nine days.
While there are different reasons behind the celebration of the nine-day festival, but every story has one theme in common – the victory of Good over Evil.
This was all about this festival, now just jump into our topic for the day without further wasting time. People use many things like artwork, furnishings, decorative items and other things to improve the interiors of their homes in the Durga puja time. Most people like to choose very beautiful and expensive things for this purpose. It may surprise you that some waste things that we usually throw away can be used for decorating the house. It is an unusual and uncommon idea.
You can make beautiful decoration pieces using a little bit of creativity and thinking. It will also help in saving money as using the waste material is quite inexpensive. It is also possible to reuse old and unwanted things to make something new thus avoiding wastage which is eco-friendly in current scenario.
Let us go through some home decoration ideas from waste material this Durga puja: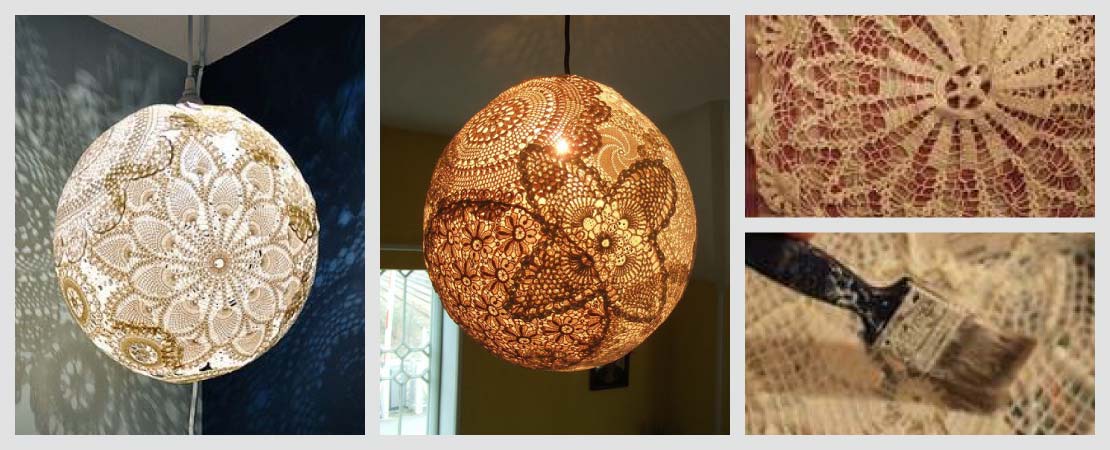 1. Lace Lamp
It is hard to believe that beautiful hanging lace lamp can be made at home with little more than some creativity. Lace isn't just for clothes anymore. Learn below how to decorate any room with a beautiful lace lamp:
Requirement for making Lace lamp
Lace material
Big balloon
Wallpaper glue
Pin to pop the balloon and a basic lighting kit
Directions for making it:
First, blow up the balloon and tie it.
Collect all of your lace, paint and soak them with wallpaper glue or fevicol (in little dilute form).
Hang your balloon on a string and place your glued lace all over the balloon, making sure they all overlap each other. Add another coat of glue after the lace is completely covering the balloon.
When the glue is dry, pop the balloon and attach a nice cord to it. To insert the bulb inside you just cut a small tear on the top of it, insert the bulb. Use a LED light for maximum security, they are very cold and won't affect the lamp. You are done and can start enjoying it.
To get more idea, you can click here1 to watch the video which is a little different in steps but result is same.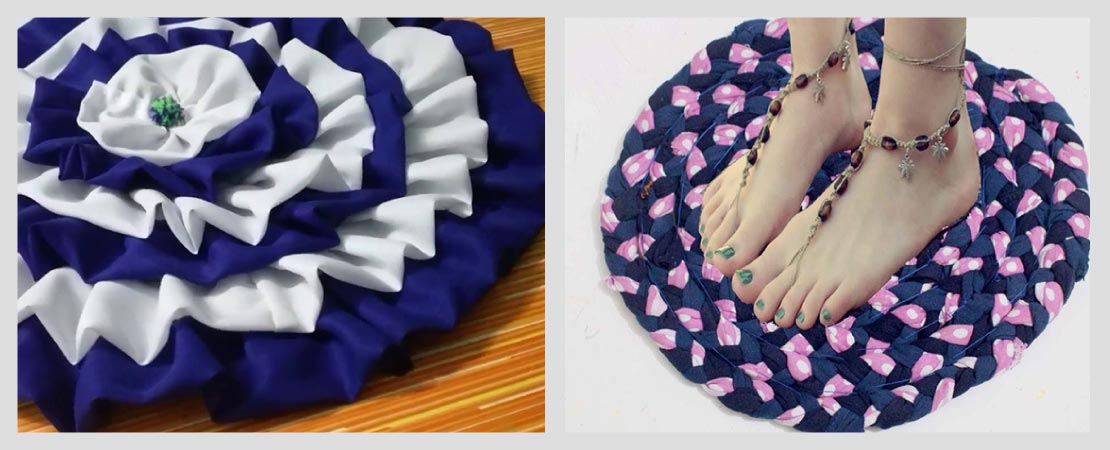 2. Make Rugs Out Of Old Clothes
If you have old clothes that you no longer wear, turn them into a beautiful rug for your home. For this, take fabric to make the bottom of the rug. Make strips from old clothes by cutting them up. Attach the fabric strips to the base by tying it with thread or any other option. Place the rug on the floor. For your better understanding of how to do this, click here2.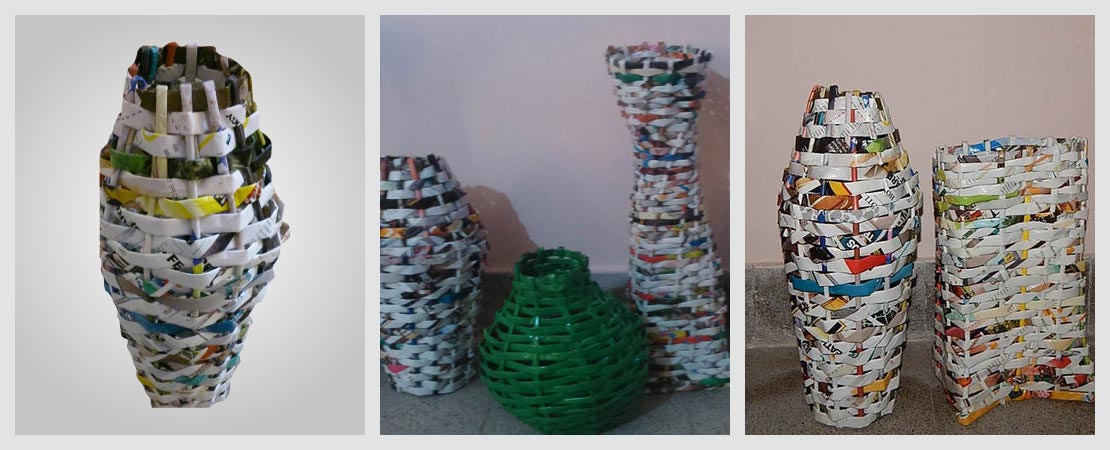 3. Flower vase with Magazine paper or newspaper
If you are interested in arts & crafts, you can learn something new like making flower vase with magazine paper or newspaper. Advantage of this is you can easily use old magazine paper or newspaper which is usually stacked at home in a corner. You can read an article by instructables3 to get an idea to use magazine paper for making vase. And also can watch a video by Home madearts4 for making vase from newspapers.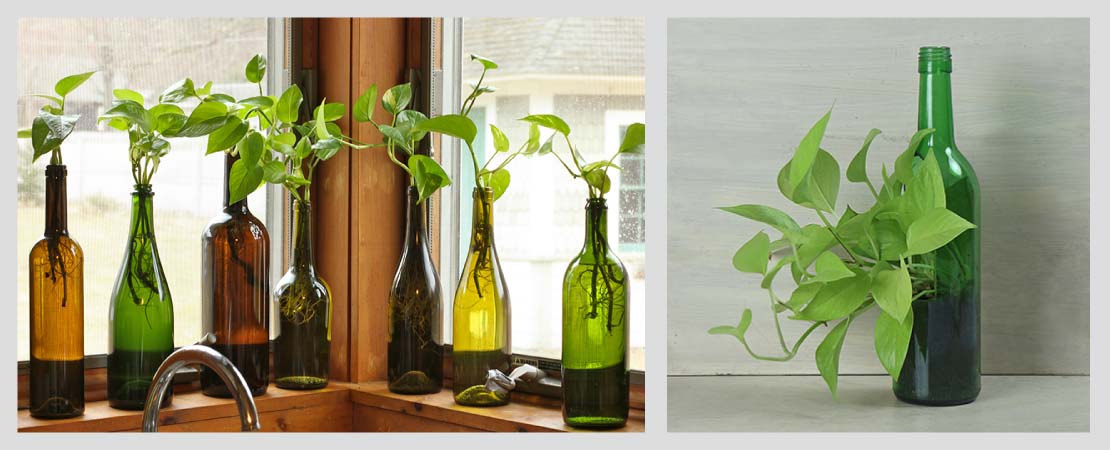 4. Use glass bottles for growing indoor plant
This is very easy way to decorate your home. For this you need a glass bottle which are easily available in home like empty bottle of ready made sauce, pickle etc. Best indoor plant which can grow in water is Money plant, which can survive using minerals in the water. This gives very positive energy and also have other benefits beside adding to beauty of home. You can read an article by Jewel pie5 to understand how it can be done. Additional tip, just take care that you should not fill the bottle completely with water as it requires some air to grow.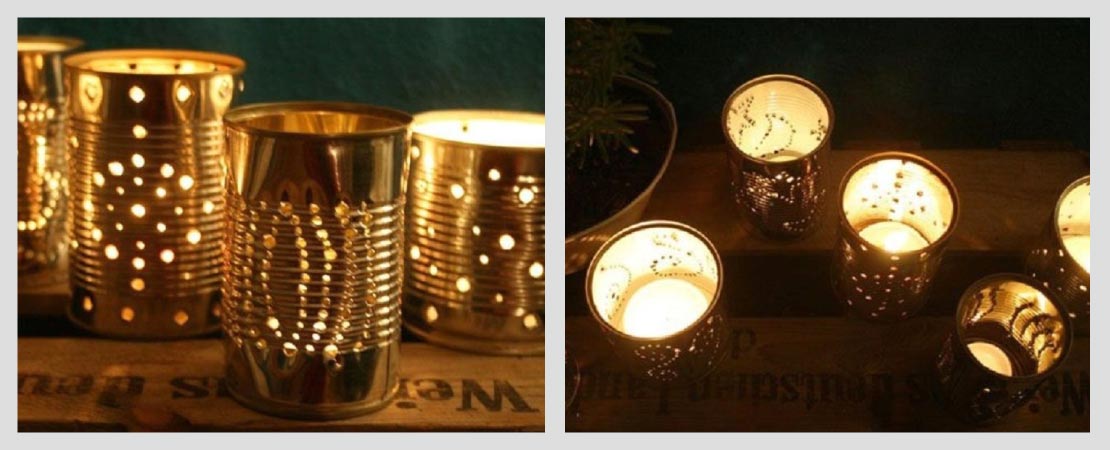 5. Tin Can Candle
Tin Can Candle is one of the economical way of decorating home with light in this festival. They look very beautiful and unique. For this you would require tin can, bigger nail and tea candle. For more understanding of how this can be done, click here6.
You can also make some home decor things from the plastic bottle. To know more regarding it, click here7. By recycling your plastic water bottles, you can positively impact the environment in several ways.
Conclusion
This eco-friendly and economical ways could be useful for decorating your home. If you want to do your bit for the planet, you can decorate your home in this Durga puja with these ways. So that with arrival of Goddess Durga you can take a step towards improving environment and also stay happy.
We would like to give you heartily wishes for this festival. May the divine blessings of Goddess Durga enrich your life and fill your home and heart with happiness and joy. Along with it give you and your family a healthy life.
Always ready to serve better. We ensure Long, Safe & Healthy Life of your Dream Homes.