Generally, flooring is the term for a permanent covering of a floor. Floor covering means any finish material applied over a floor structure to provide a walking surface. Various flooring materials are available in the market. Marble flooring is one of the common kinds of flooring materials.
Marble is a metamorphic stone, formed under intense heat and pressure that ultimately transforms the rock composition. For flooring purposes, it is mostly used in the living rooms, bedrooms and bathrooms. Suitable for almost any space of your house that you wish must be eye-pleasing and well-maintained. Marbles are an elegant preference to go for and score high on aesthetics.
Marble flooring is being used for centuries for residential houses. There are advantages and disadvantages of marble flooring, which a homeowner should know before either installing or renovating the flooring. So we thought to share with you advantages and disadvantages of marble flooring in brief.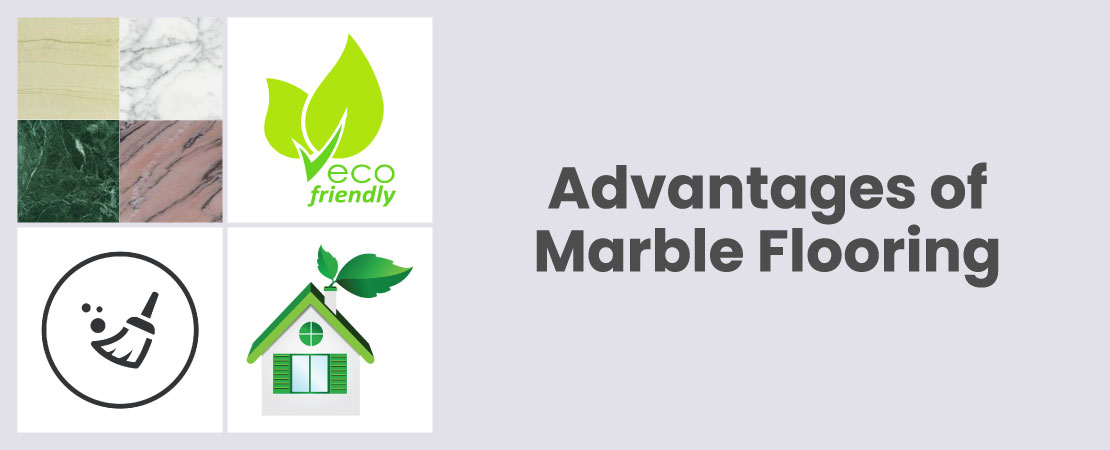 Advantages of Marble Flooring
Marble is available in broad range of colours, patterns and designs, thus you can select from a variety of designs. No other material looks as elegant and beautiful as marble.
It has a smooth finish and when polished, it gives a luminous shine.
For hot climates, marble flooring is favourable as one feels relatively cold underfoot.
It is eco-friendly material as no chemical process is involved in its manufacturing. Also, it is degradable at the end of its life.
Marble flooring is extremely durable and long lasting, it can withstand any external pressure, and any sudden change of weight can easily be handled by it. Thus it is suitable for high traffic areas such as restaurants, hotels, etc.
It is very easy to clean marble flooring.
It provides a good indoor air quality as it does not catch allergens. It is non-porous and can repel the particles that make you sneeze. To know more, click here1.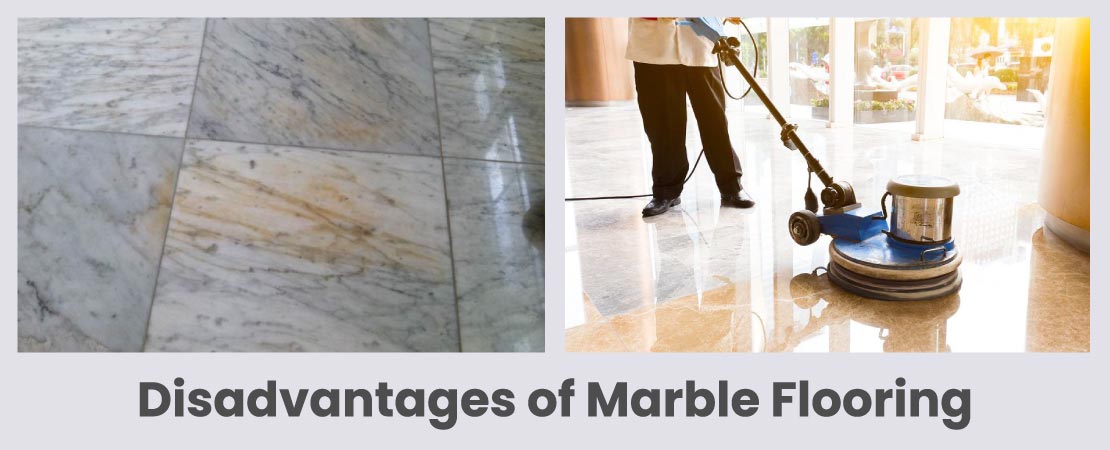 Disadvantages of Marble Flooring
It is expensive as compared to other flooring materials.
Marble is a natural material which reacts easily with an acid. Their interaction results in stains on its surface.
Marble flooring gets quite cold in winter season. Hence, it is not suitable for cold weather regions, as you cannot walk barefoot on it.
Marble flooring requires proper care and maintenance. Marble flooring should be polished periodically. If you want to read Do's and Don'ts for maintaining marble flooring, then click here2.
It is difficult to change/ replace marble flooring once installed, as the stone of same colour and design is hard to find after few years.
If not cared for with diligence, the marble surface may get scratches, leading to its deterioration.
Conclusion
Marble flooring gives classic and timeless look to your home, but comes at high cost. Hence, it is important for you to consider the both advantages and disadvantages, before buying it.