There are plenty of ways to give our apartment a ravishing makeover. But we prefer taking advantage of the largest open space we have-the walls. The wall almost serves as a blank canvas on which we let our imagination play. We paint it, wallpaper it, handprint it, hang murals, paintings, and photo frames on it, and even mount lights, furniture pieces, and air conditioners on it to make it look unique in every possible way. Again, the décor of the walls differ with the room type. Our living room wall looks completely different from our bedroom wall, and in each case, the wall décor reflects the person who we are- our taste, our preferences and even our mood we are mostly in. However, a statement wall loses its beauty when dampness attacks it. Soon ugly patches of moulds/ peeling/ paint popping/ deterioration begin to appear on it and it is no more capable of holding anything.
Have you ever cared to check the health of your walls? Don't let dampness on a wall to spreading of moisture in the whole home.
You never know, the damp problems that you are encountering just on the walls have actually gotten deep inside the entire structure of your home! Until and unless you resolve the problem from its root you will not be able to remove dampness from the wall and decorate it once again. Seek the help of a home inspection service provider and get your home assessed for damp (www.macj-abuyerschoice.com/damp-seepage-assessment-with-solutions-through-thermal-imaging-technology). It is highly important to find the cause and resolve the main sources of damp /seepage before embarking on a treatment for repair and prevention.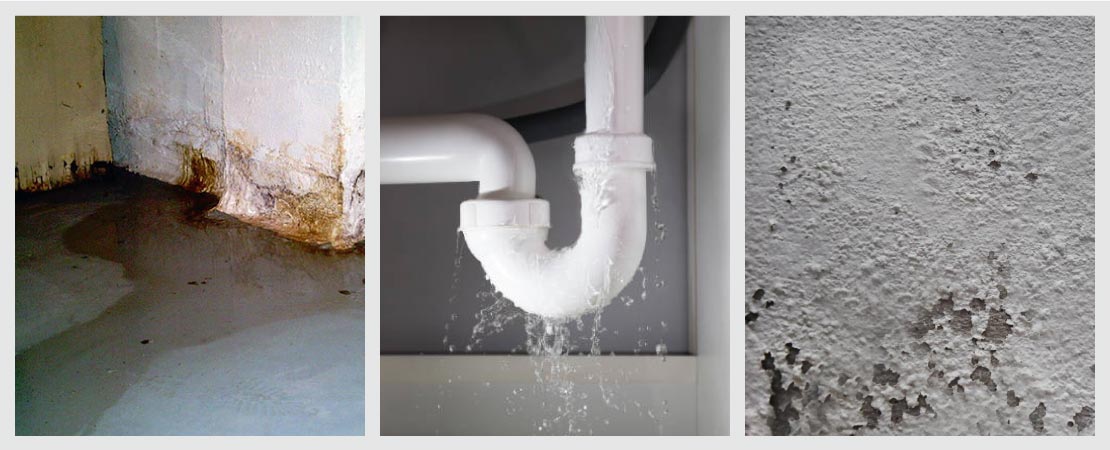 Basically, Damp/ seepage can happen due to moisture intrusion in your home. This can occur due to following key reasons:
Seepage from the wet area
Leakage from plumbing lines
Seepage from cracks and gaps on external wall/ windows, etc
AC drain pipe & condensation
Others – Paint & finishing issue or entrapped moisture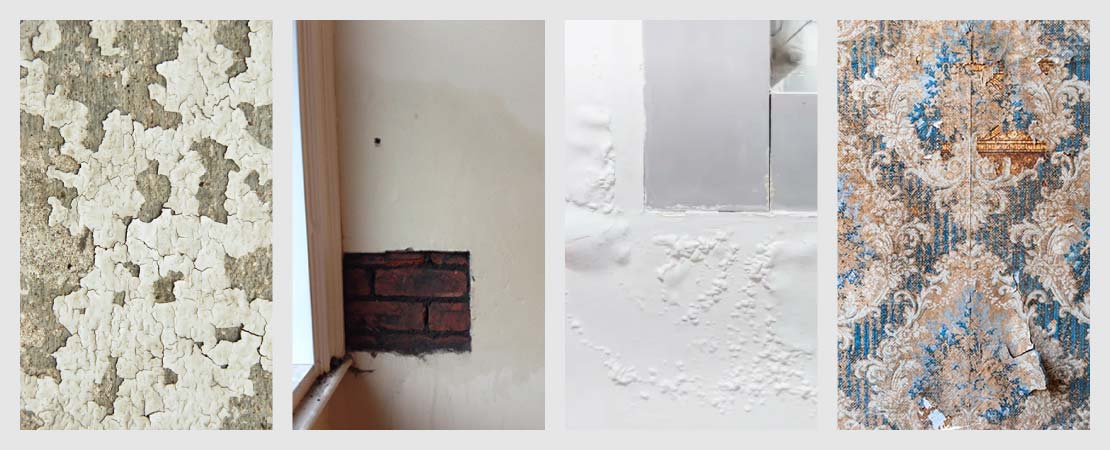 Do you know, most of the time, you misinterpret clear signs of damp on your walls?
Yes, unfortunately, most of the time, you tend to misinterpret the signs of damp on your walls no matter how explicit they are. Here are some instances:
You notice popping off paint in one corner of the wall and you think it must be due to the poor quality of the paint.
A wet patch on the wall invariably makes you think it is due to a localized leakage/ seepage the origin of which lies at the immediate back side of it. You visually scan the other side of the wall. If it is luckily shared by another room of your own apartment, you feel sorted. If by chance it is shared by a neighbour's apartment, tension begins to build up.
You even hold direct sunlight entering your home guilty for making your wall paint chip.
Peeling wallpaper and loose wall racks make you think that it is due to mounting or installation defect.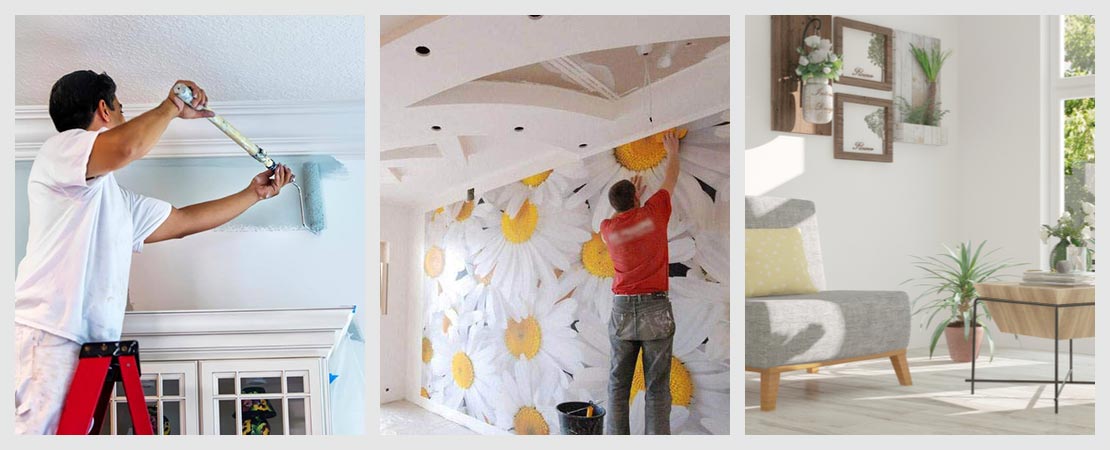 What do you do to repair your visually defective wall?
You look for a quick fix to remove dampness from the wall which you think is a localized problem and in most certainty, a temporary one.
You give a call to your home painting service provider and get a quick repaint job done on the wall showing popping paint. You may also consider getting a localized waterproofing done not knowing to what extent it is actually needed.
You re-fix the wallpaper or use a fresh one and re-mount all racks and appliances on the wall.
You wait for dry summer to come and make your wall's watery marks disappear.
Do these attempts to remove dampness from walls give you desired results? No. Not Long Term.
You soon figure out that this was much ado about almost nothing. The watermark on the masonry remains as is, the damp patches do not seem to dry out ever or even if they fade, make a comeback after every monsoon; and a musty smell permanently fills the air inside your home. Before long, the more serious effects of dampness begin to make your life miserable.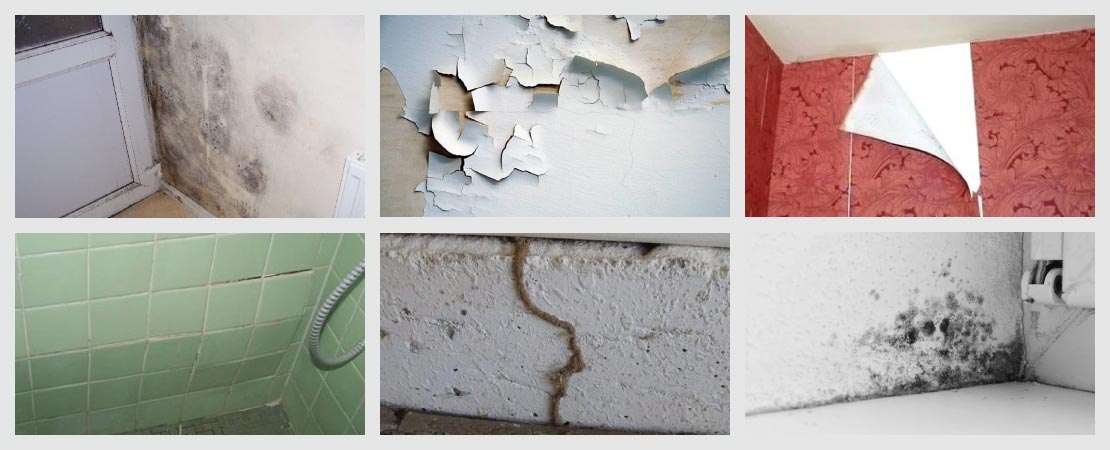 Effects of severe damp on your wall
Aesthetics of your walls go for a toss when dampness becomes severe and you are unable to control the moisture content of your home.
The damp patches turn darker and more watery as there is seepage in the wall
The paint fades and starts to peel off at multiple places
The wallpaper, if any, refuses to stay on the wall
The tiles on the wall (in the bathroom and kitchen) start to bulge out
Woodwork mounted on the walls deteriorate
Termite tubes grow on the wall
Brown to black patches of moulds appear on the wall
Talking about moulds, they are quite a hazard to your home. They not only make your beautiful walls look ugly but also pose a serious threat to your family's health. Moulds are proven allergens and breathing in mould spores can lead to severe respiratory problems and allergic reactions.
There are many other health risks of high indoor humidity which you should aware of. However, moulds being the most serious of them, you must take extra care to remove them as soon as you notice a small speck on the wall. Remember, even a small spot of mould on the wall can be a sign of a larger infestation.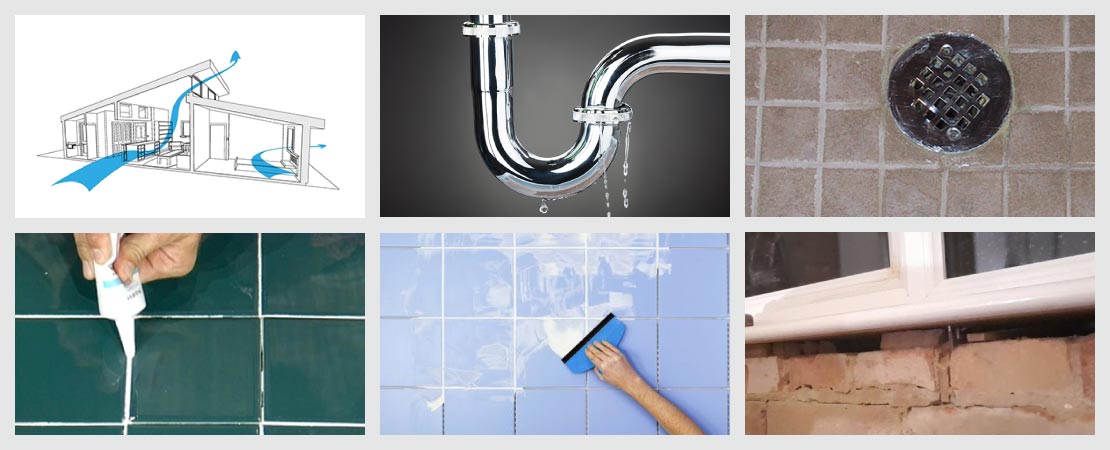 How to fight damp?
Damp spreads over the inner layer of your wall silently but fast ruining your most precious physical asset. To check whether your home is in danger, you must consult a home inspection company. Their team of professionals will visit your home, scan every part and component of it using thermal imaging technology tools and generate image-based reports showing exact areas of damp. Based on the reports, you can take the necessary actions.
Following is how you can control damp in your home:
Ventilating your house more often. Ensuring ventilation at home will provide a route for moisture to escape from your home.
Checking for leaking pipes and getting all plumbing failures repaired as soon as possible.
Check grouting around floor drain outlet of wet areas. If they are not done properly, can be a pathway for moisture intrusion.
In Bathrooms and kitchens, check the tile joint filling. If they are deteriorated, get it repaired as soon as possible to avoid future moisture spreading in adjacent/ associated areas. To understand more, how gap at tile joints can create a path of moisture along with its solution read our knowledge series post – www.macj-abuyerschoice.com/do-you-know-from-where-the-moisture-monster-seepage-is-coming.
Check the gaps at the external wall and window frame are filled properly or not. If not, get it rectified as soon as possible to avoid entrance of external rain water through the gaps.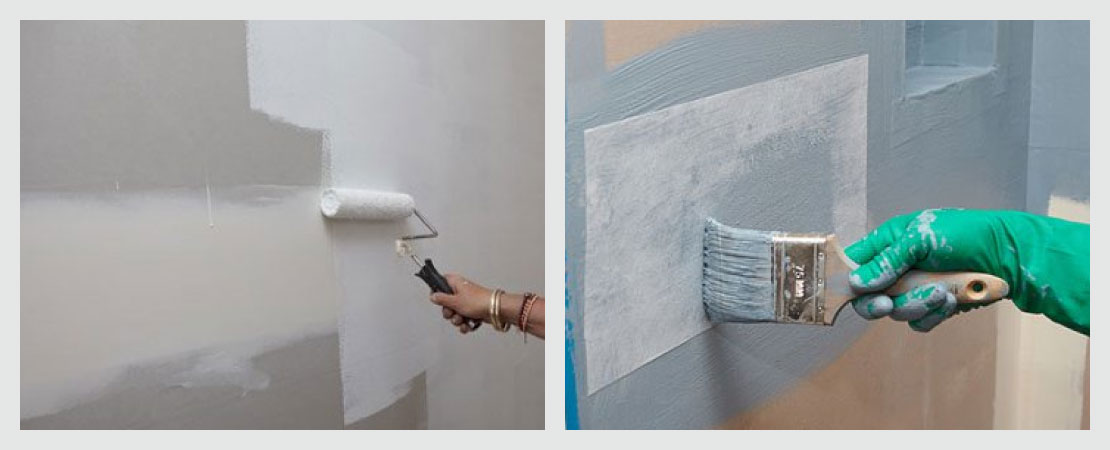 How to remove dampness from walls?
There are many remedial waterproofing methods by which water barrier in your walls can be successfully restored. This is only applicable to the positive side of water like bathroom/kitchen side; not in the bedroom or living room side. The leading waterproofing contractors/materials manufacturers in India are Dr Fixit, Fosroc, Dura, MasterSeal, Krytonite, BASF, Newcoat, Proofex, Sika, CICO Technologies, etc.
To know more about it. Read a blog of common floor – www.commonfloor.com/guide/how-to-remove-dampness-of-walls-in-your-apartment-1681.html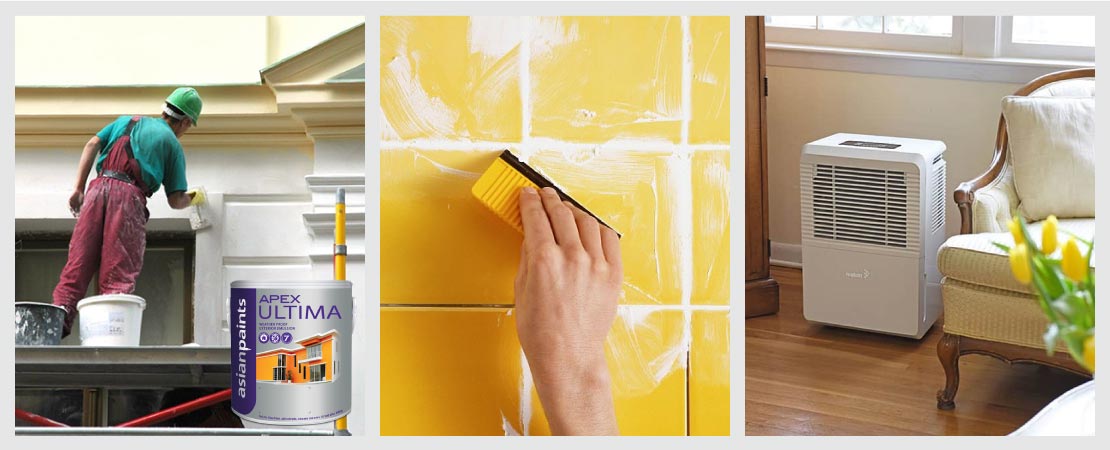 How to renovate a wall post-damp removal?
Once you have been able to remove damp problems successfully from your walls, your next job is to reconstruct it. Do the following to ensure further safety for your walls:
Apply waterproof coating on the walls
The exterior walls of your home face the brunt of the weather. So, it is not enough to just paint them with normal pigmented solutions. You must apply a waterproof coating on the walls to avoid seepage and/or leakage. For interior walls, waterproofing primers are available which prevent moisture from showing up on the painted surfaces. Check the product portfolios of renowned paint brands like Asian Paints, Nerolac, and Berger Paints for the right waterproofing paint solution for your home exterior and interior. To Know about what is waterproofing, you can read our blog – www.macj-abuyerschoice.com/what-is-waterproofing-a-raincoat-for-your-home.
Prevent grout corrosion and adhesion problems on tiles
Already mentioned above in brief about checking tile joints in how to control damp in your home. Let's discuss it more, Tile joints should be filled with epoxy based products up to at least 10mm depth to check the corrosion of grout due to household cleaners. High-quality tile adhesive should also be used to prevent tile slippage or de-bonding. Tiling errors can lead to seepage; so, must be repaired without delay.
Use a dehumidifier inside home
A dehumidifier is like a vacuum cleaner which sucks in air from the interior of your home; takes the moisture out of it; and blows it back out into the room. The moisture collected drips through into a collection basin that is emptied from time to time. By investing in a dehumidifier you can reduce the humidity level of your home and prevent mould from affecting your walls in the future.
Once you have done the basics, proceed to beautify the walls as per your choice.
There is a strong connection between beauty and health. If you are not healthy, then your beauty is of no use. The same goes for your home. You must check its health regularly to maintain its good looks & life for years. Get a professional damp/ seepage assessment done and keep decorating your damp-free walls following the latest interior designing trends.