Clean up loose dust or dirt on the floor
Choose the proper floor mop & cleaning products
Dry the wet areas of the floor
Provide an Extra Protection
Check if your floors require Repairs
The floors of a home take the brunt or burden of our everyday activities and are usually the first surfaces to reflect wear and tear. Sooner or later, time and traffic & daily usage will take its toll on any floor covering.
There is no denying the fact that floorings of homes are expensive. You need to protect your hard-surface floors from scratches, damage, general wear, and tear, etc.
Apart from this, Flooring plays a vital role in decorating our home and matching the theme of our living room, bedroom, and other rooms. Most of us ignore this and focus on every other detail in the room.
Want your floors to last for a long time? The key is to keep them clean and maintained. As we discussed in our previous Blog www.macj-abuyerschoice.com/5-effective-wall-maintenance-tips-for-your-home maintaining the floor is also a part of home maintenance.
The fundamentals of floor care include understanding the importance of cleaning and maintaining your floors for safety, appearance and cleanliness. Following a routine maintenance program that helps protect your investment on the floor.
There are various types of flooring which are used in India – Tile flooring, Stone Flooring etc. This flooring also has other subtypes.
According to Gharpedia content "Most Popular Types of Flooring Materials for Your House" www.gharpedia.com/types-of-flooring-materials – Amongst all the type of flooring used in the house, "tile flooring" is very common and popular. So we will try to focus more on how to clean and maintain tiles. After that, in brief, will discuss Stone flooring.
Tile floors are an extremely durable, long-term investment that should be regularly cared for, to preserve both their appearance and value. In fact, a well-cared tile floor can last a lifetime.
Let's have a look on few tips to clean and maintain tile flooring: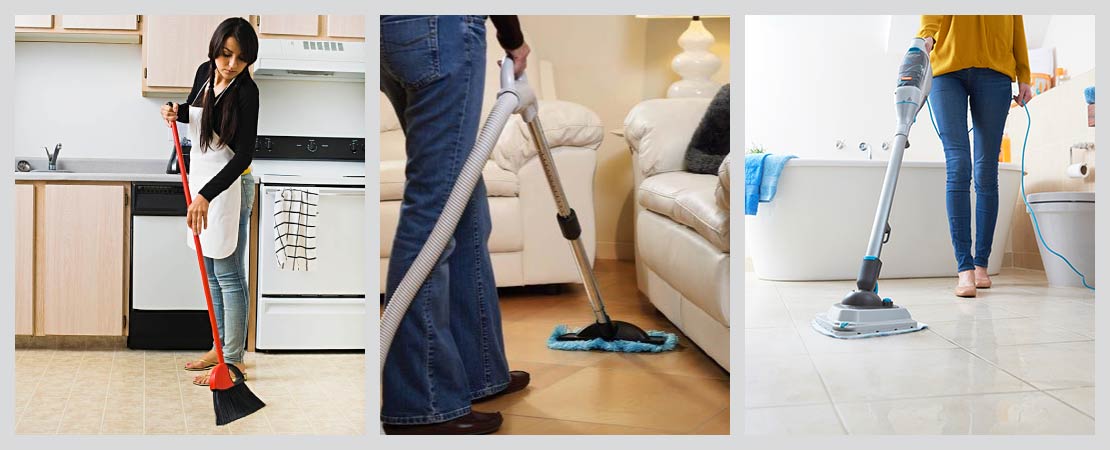 1. Clean up loose dust or dirt on the floor
Sweep or dust mop or vacuum clean your floor daily to remove dust and dirt before it gets embedded in your tile and grout. This is the easiest and fastest way to maintain your flooring. This will avoid it from getting dull.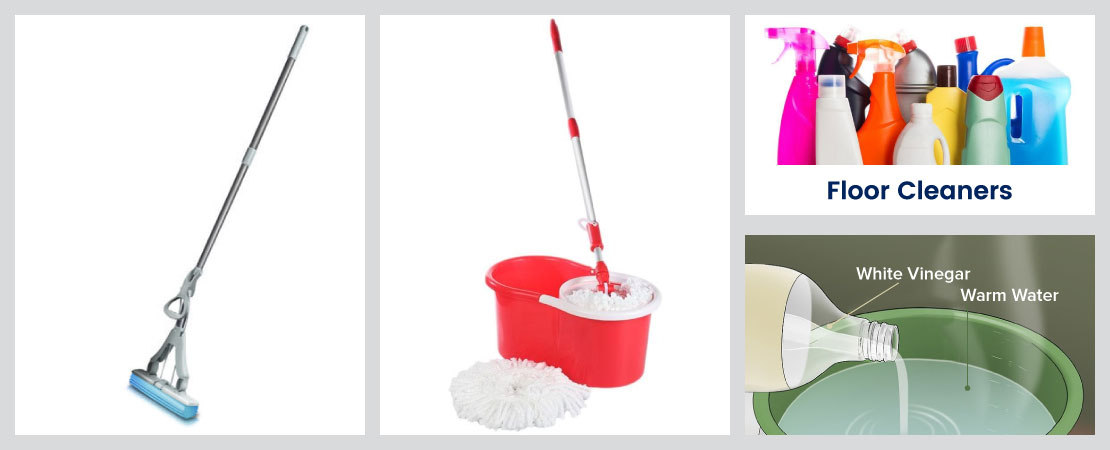 2. Choose the proper floor mop & cleaning products
According to a blog of Cleanipedia www.cleanipedia.com/in/en/floor-and-surface-cleaning/how-to-clean-floor-tiles.html – For regular maintenance mopping with warm water is an effective method. Be careful when choosing a cleaner – if it is a store-bought, it's wise to opt for the one that is recommended by the manufacturer. But if you're feeling to try some product make sure to always test the cleaner on a very small patch of the floor first to ensure it won't do any harm to the tiles. White vinegar mixed with warm water can be used as a mild and safe homemade cleaner; it won't just leave your floor shining but will also act as a natural deodorizer, getting rid of any unwanted smells. But be careful – do not use on marble floors, as it can cause damage.
Use a rag/ strip or flat mop rather than a sponge mop for cleaning purpose. Rag /strip and flat mops are better for cleaning tile because sponge mops tend to push dirty water into the grout lines, making them harder to clean. Change your bucket of cleaning solution often to avoid having a dirty mop that leaves a film of dirt on the floor.With proper cleaning, stains on tiles can be avoided.
If you want to know the importance of tile maintenance for bathroom tiles, you can read an article by BMAS www.bathingmobility.co.uk/importance-tile-maintenance-mobility-focussed-bathrooms. And regarding cleaning the bathroom floor, you can read our blog – www.macj-abuyerschoice.com/8-ways-to-remove-bad-odour-in-bathroom-keep-it-clean.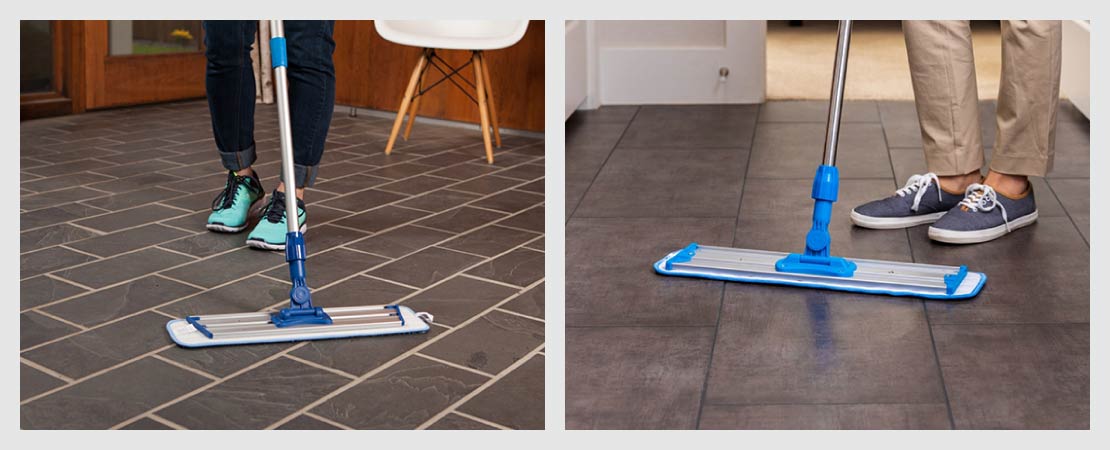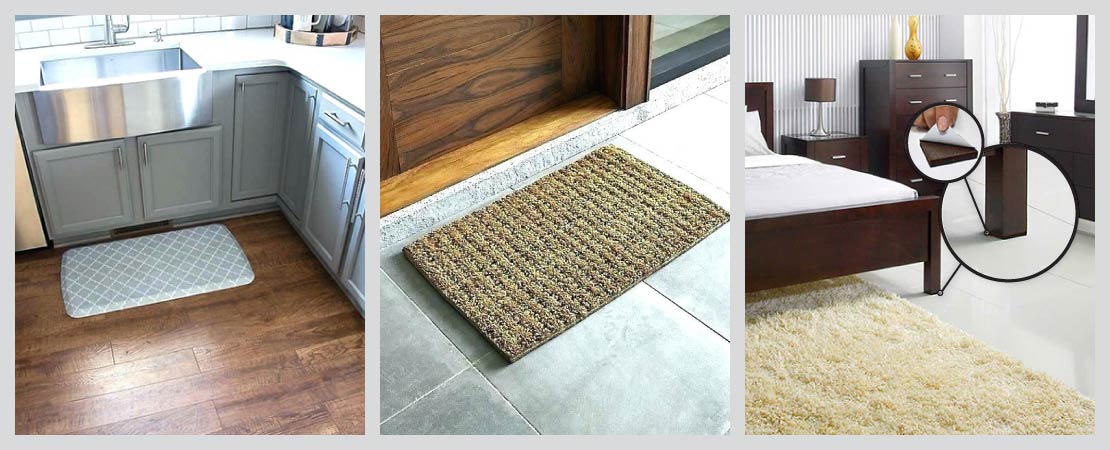 4. Provide an Extra Protection
Invest in good quality floor mats and protective pads under heavy furniture for an extra layer of protection to your tile floors. If protective pads are used, it will prevent the tiles from scratches or other damages. Place floor mats at entrances and exits—they collect and trap unwanted substances that can be tracked in, like dirt, sand, oil, grit, etc. This will also eliminate mud or water from getting tracked indoors during rainy weather. Placing mats at most used areas – kitchen sinks, and stoves—is an effective way to reduce tile wear. Additionally,door mats can be used at the bathroom entrance for keeping the floor dry near the bathroom.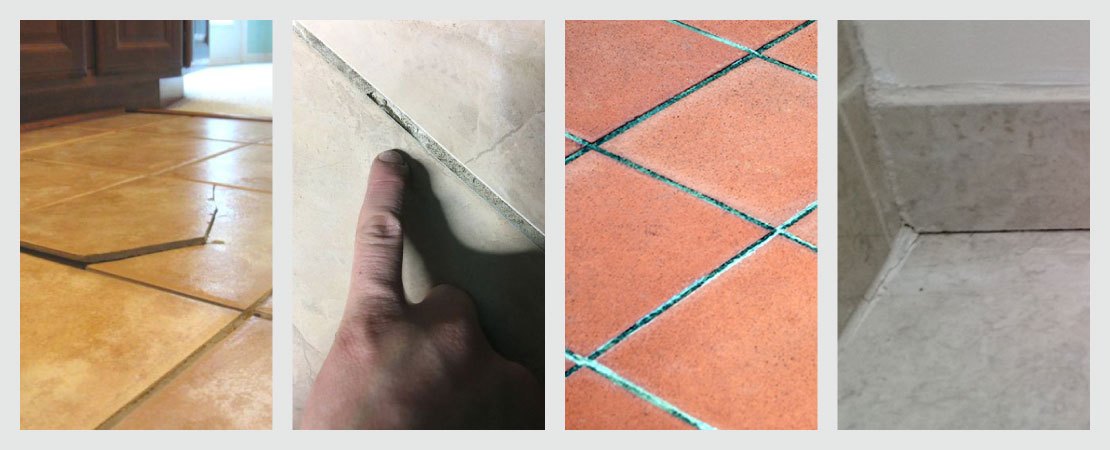 5. Check if your floors require Repairs
Tile floors do not need to be refinished, resurfaced or reglazed during their lifetime. However, they may need to be repaired. So try to check the floors of your home if they required any repairs for – cracked or broken tile or Tile joint filler is not provided at some portion etc. You may consider this as a small problem like related to tile joint filling, but this small gap at tile joint can create problems if not taken care of. To know more about it, read our post www.macj-abuyerschoice.com/do-you-know-from-where-the-moisture-monster-seepage-is-coming.
If left unattended cracks and other deterioration can also reduce the integrity of the floor. We would suggest that if you got some issues while checking it and you feel that you need a professional for inspecting/ checking condition of your flooring or want to have a whole home inspection for maintenance you can visit our service page www.macj-abuyerschoice.com/home-inspection-area/why-home-inspection and also can go through our Blog,to know more about home maintenance – www.macj-abuyerschoice.com/maintain-your-homes-because-your-dreams-are-sown-here. An Inspection helps prevent small issues from becoming large problems.
Now let us discuss how to clean and maintain Stone flooring. Amongst the building stones, marble occupies a unique position and are popular. Marble is a beautiful stone that makes a luxurious addition to any home. However, marble is also a delicate stone demanding great care to maintain its shine and to prevent scratching.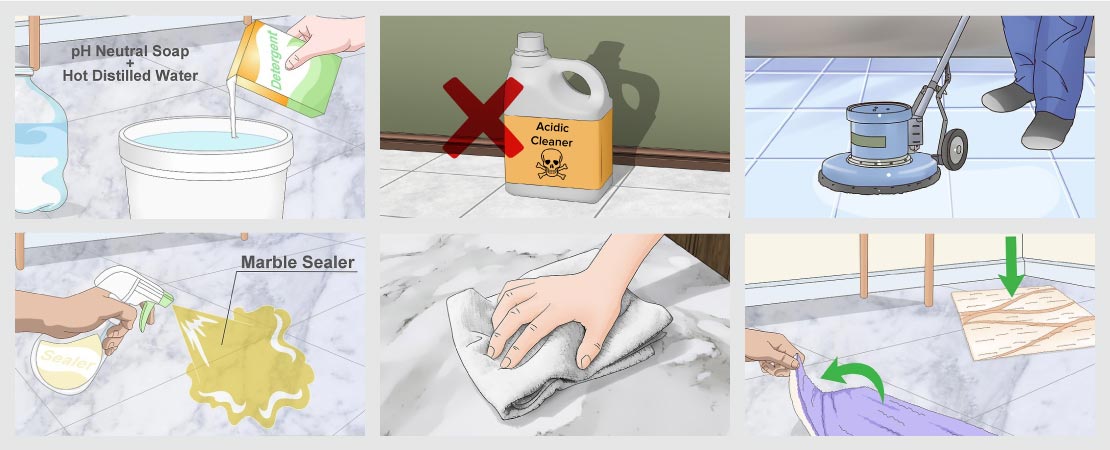 Tips for Marble Stone Floor Care
Cleaning marble floors start with preventive care and regular maintenance. Sweeping or dusting and mopping on a daily basis will remove any dirt or surface dust that could scratch or otherwise harm your marble. It is also important to take care of spills as soon as they occur so that water or other liquids aren't allowed to stain your floor.
Few tips for maintaining marble stone Flooring:
It is important that the cleaning solution for marble be pH neutral. To know more about it, you can read a blog by wikiHow www.wikihow.com/Wash-Marble-Floors.
Do not use acidic cleaners on your marble or it will scratch and lose shine.
After finished mopping, we will advise you to dry the floor using a soft, fluffy towel. Because marble is such a porous stone, standing water can seep into the stone and cause stains.
Now a question arises about the polish of marble stone – How long will my newly polished marble floors last? Answer for this is given in a blog www.pmac.ie/blog/long-will-newly-polished-marble-floors-last. According to this, some floors may last up to five years without requiring attention, but this would be in low traffic areas. Whenever you require re-polishing, hire the professionals for this work.
If you want to know more about Do's and Don'ts for Maintaining Marble Floors, you can read a blog by Common floor regarding this www.commonfloor.com/guide/dos-and-donts-for-maintaining-marble-floors-45738.html. As told earlier about our home inspection services which can check other problems and give the solution for your floors.
Conclusion
Likely, the first thing someone sees when entering your facility are your floors, depending on how clean or dirty they look, can shape their perceptions of how clean and maintained the entire unit/ home is. Floors that appear dirty, scuffed or dull can convey the impression that the facility's cleanliness standards are lacking. Moreover, it is a horizontal component of a building structure, which divides the building into the different level for the purpose of creating more accommodation within a restricted space and provide support for a building. Hence, very important to clean and maintain it.