Whenever you want to give a new and fresh look to your house, painting is the absolutely correct way to change the ambiance of your home.
You have decided to get your home painted. But the question is – Is it just paint or there are some other things that make your paint finish better and last longer?
Yes, it is wall putty which makes your painting shine, makes it strong and saves cost, too. When it comes to a perfect finish, wall putty is important prior to paint application. So, before you start, it is necessary to know about wall putty.
Let us first understand, what is wall putty and what are its benefits & types.
Wall Putty
Putty is essentially a cementious substance, whose primary function is to even out the surface and create a levelled one for further coats of paint. Putty also helps in filling minor cracks and pores, removing any kind of undulation on the wall.
Putty application is the preliminary step, for long lasting painting results. A minimum of 2 coats would be required.
During repainting, provided the wall conditions are good, without any major cracks or seepage or moisture trouble, putty need not be applied over the entire surface but touch ups to be done wherever required.
In general, wall putty is nothing but the materials with high plasticity which are similar in the texture of clay. It provides a protective smooth base for paint application. It also acts as a filler as you can fill cracks or any patches on the wall. It allows all types of colours to be applied over the walls. Putty comes in different colours and consistency. The good thing about wall putty is that it can be easily used on both exterior as well as interior surface whether it is old or new.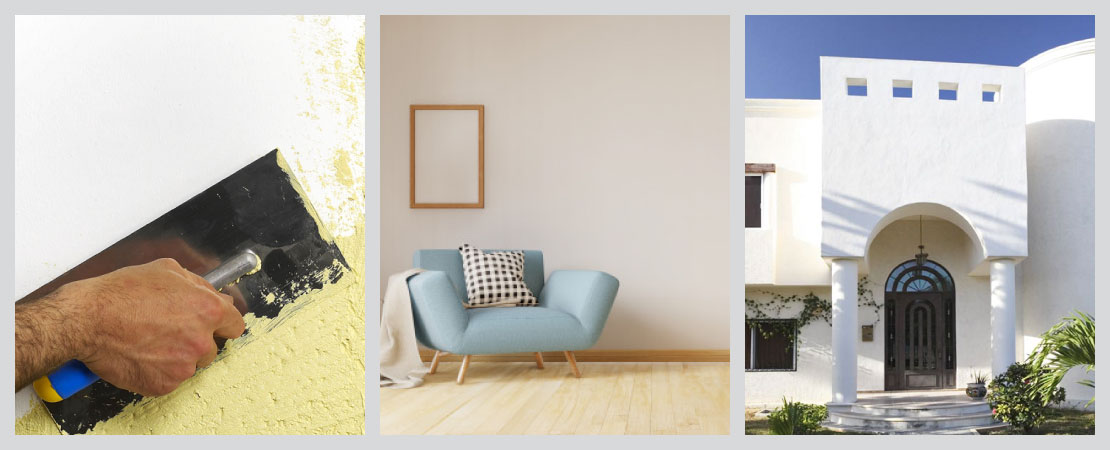 Benefits of Applying Wall Putty before Painting
Smooth Surface for Painting – When applied appropriately to the walls, wall putty fills the imperfections, cracks and faults on the surface. Wall Putty forms an excellent bonding to the base concrete or plastered surfaces. Therefore, when applied over exterior or interior walls of a home, application of wall putty can create a smooth undulation-free surface for a good paint finish.
Elongates Life of the Paint – Wall Putty has excellent adhesion and tensile strength, thus, when applied on to walls before wall painting it adds to the life of the wall paint. Apart from this, wall putty reduces deterioration of walls by making it water and flake resistant.
Multi-purpose usage – Wall Putty can be applied to the interior as well as exterior walls. Moreover, the mixture can be used on both dry or wet, old or new walls for a fault-free surface.
Different Types of Wall Putty
There are various types of wall putty available in the market based on different purposes such as for interior and exterior walls. Basically, wall putty is differentiated into two types:
White cement based putty
White cement putty is the most popular type of wall putty used nowadays. It is made by a mixture of white cement, mineral and polymers. White cement putty is ideal for indoor as well as outdoor walls. It comes in a smooth and glossy finish.
It is white cement, mineral and polymer based putty formulated to give white coating, bright, smooth and superior finishes on wall surface essential for wall painting.
Some properties
Areas of Application: It can be applied on exterior/ interior/ exposed surface.
It is cement based putty, hence good binding property.
Water resistant: Very good resistance to dampness.
Strength: High strength due to cement. It has a good tensile adhesion strength, compression strength and bending strength
Some features:

Excellent adhesion strength
Good work ability
Excellent abrasion resistant
Resists growth of algae and fungi on wall
Reliable and long lasting
Excellent finish and paint effects
Less paint is required because of its low absorption
Low maintenance
Non-toxic
Well suited for all types of paints
Acrylic Putty
Acrylic putty is a water-based wall putty which is made by white pigments, acrylic emulsion medium and additives. It is mostly used in interior surface and not on the exterior surfaces. Acrylic wall putty has a smooth and matte finish.
Some properties
Area of Application: It can be applied on interior/ ceiling surface. It can not be applied on external surface.
Binding property is lower than cement based putty.
Water resistant: Not much resistance to water. It wears off quickly and requires a re-finish every year.
Strength: Low strength.
Some features:

It is ready to use
It has a better alkali resistance
It gives a smooth finish
It is suitable for all kind of paints
It dries fast, thus ensuring faster completion of a job
Apart from this, using putty also depends on thickness of coverage and other features, for this you can go through specification of Asian paints, asian wall putty1, filling putty2 and Acrylic putty3 and use accordingly.
Conclusion
Many people believe that paint selection alone is enough for a good wall finish. However, the perfect walls need a touch of more than just the best paints. Wall putty is that extra effort that can add to appearance of your home walls. The correct application of wall putty has a good impact on the final results of the wall painting job.