Put Home / Family Safety First when stringing up the lights
Electricity is part of our lives but comes with its own hazards:
We use it from the moment we wake up and throughout the day and when we are asleep as well. Although we feel intolerable without electricity, the fact is that numerous accidents, mostly fire related, are caused due to electric hazards. We sometimes forget how powerful and dangerous electric faults can be, and so though not always but at maximum times we are the ones to be blamed for the electrocution or fire caused by electricity. The simple reason is negligence from our side be it while laying an electrical layout, while supervision of work or during usage e,g. wire connections, wire jointing or wire gauge. Hence, ensuring that the electrical system at your home or property is upto the mark and safe should be one of your prime concerns.
Electrical damages / hazards
Electrocution
Short circuit
Blowing off lamps and electrical components
Fire accidents
Injury / death of person (shock, severe burns, heart attack, or electrocution)
Property damage
Common Symptoms of Home Electrical Problems – Warning Signals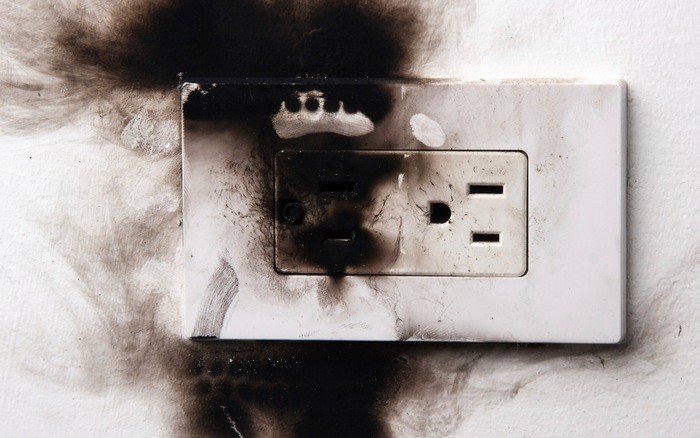 Majority of the times general accidents occur due to electrical issues from the symptoms that are in front of us but we generally overlook those things. Some key signs that you need an electrical inspection / repair include:
Flickering or blinking lights.
Electrical shocks – even a mild tingle.
Sparks or burning odours.
Frequent blown fuses.
MCB (Miniature Circuit Breaker) that trips frequently or sparks during operating.
Overheating – Wires getting heated quickly (though not visible usually), discolored switch plates or outlet covers.
Damaged wire insulation (though not visible usually).
Some Causes of Electrical Fault and Hazards:
Under rated wire Gauge
Overheating wires and electrical components
Unbalanced and over load distribution at phases
Improper position and installation of switch / socket boards
Safety Issue: Double phase power used in single phase switch board.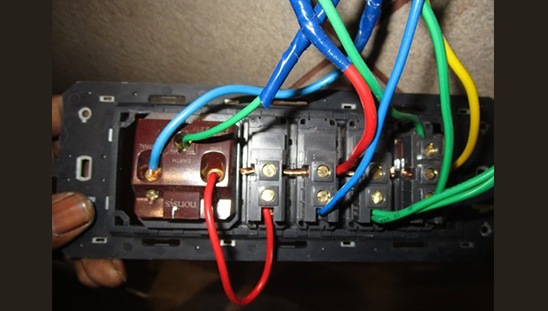 Naked wire used for switch to switch parallel connections, will increase current loss and decrease efficiency.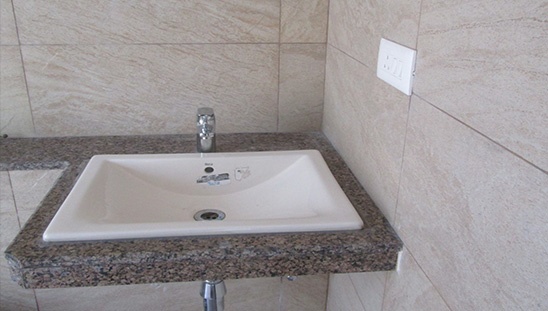 Switch socket board close to sink, will get affected due to water splashing during sink use.
High Risk Areas & Components are:
Meter room
Distribution Box in your home / property
High wattage electrical Appliances
Overheating wires
Socket outlets and lighting fittings
When to schedule an Electrical Inspection?
"If it ain't broke, don't fix it" is good advice… sometimes. But when it comes to your home's electrical system, there are certain circumstances in which it makes sense to schedule a thorough electrical inspection:
When buying a home / properties
If You Have Sudden or Reoccurring Problems
Common Symptoms of Home Electrical Problems – Warning Signals show up as given above
Before Major Home Upgrades / Home Renovations
If You Live in an Older Home
After DIY Electrical Work / Electric Repairs
If You Didn't Get a Proper Inspection Before Buying
Severe weather events / natural calamity damages
When Your Homeowners Insurance Company Requires It
Key Parameters of Our Inspection:
Electrical Safety (Our first priority during inspection).
Thorough inspection of the electrical wiring system (Detailed Wiring connection & Wire Gauge).
Inspection of each and every switch / socket boards (Operation and wiring).
Position of installation of electrical fans, light points, switch & socket boards.
Need Based DB / MCB charting (Value added service giving you the exact location of the load distributed from each MCB)
We ensure a home, free of electrical shock & electrical accident, and better service life of electrical equipment along with electrical safety.
Scope of Electrical Inspection work
General electrical inspection on the present condition of the electrical system comprising of Power / UPS socket, electrical switchboards, D.B accessories, lights, etc.
Inspection of wirings (findings include faulty / loosely connected / old /under gauge wire which may result in electrical leakages and short circuits).
Earthing System inspection.
Three phase Load Distribution.
Inspection of the three phase meter /sub meter (For ensuring that there is no fault at the meter).
Electrical Safety & Fire safety aspects.
DB Charting (in case required).
Detection of overheated wiring / electrical components through Thermal Imaging technology
Since in the present times, concealed wiring system is used, tracing an overheated wire is difficult that are concealed as well as tracing an overheated wire from a bunch of wires is exhausting but the detection of such wires is possible with Thermal Imaging Technology.
Electrical components and equipment generally get heated, but it is hard to trace visually that whether the heating is normal or the equipment is getting overheated. This can also be detected by using thermal imaging technology.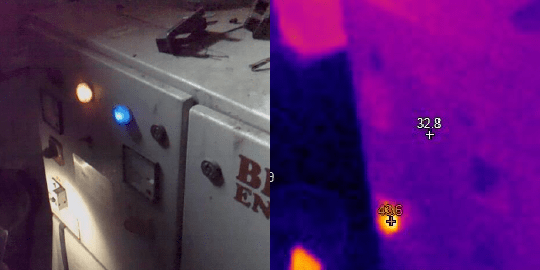 Visual Image & Infrared Image of overheating M.C.B in Electrical Panel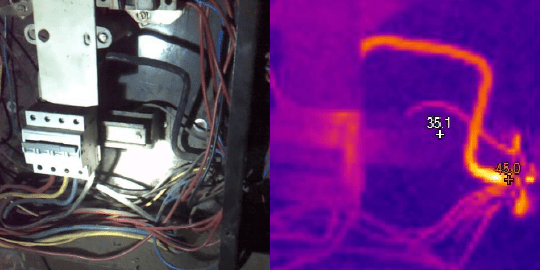 Visual Image & Infrared Image of overheating wire in Distribution Box
Our experience and expertise – MACJ – A Buyer's Choice Home Inspections
We being a professional home inspection company comprise of experienced technical personnel and we have inspected more than 800 properties at apartments, standalone units, bungalows, Office space and even heritage type buildings where we have been able to detect and provide remedy for numerous electrical problems / issues which have benefitted our customers. Infact, most of them have rectified there problems / issues as per our advice and are happy and satisfied that they got their home inspection done at the right time.
We inspect your home as our own. Your Safety is our first priority and a proper home inspection is our commitment.
Our Motto – Customer Satisfaction
Least Damage
Low Cost Repair
Long term solution
Resulting in Long & Healthy Life of your Dream Homes / Properties