Although the concept of home inspection is new in India, the demand for the service has been on a steady rise. A large number of Indians, as well as NRI homebuyers, are opting for home inspection before investing in a property, new or resale. And interestingly, it is not the homebuyers only who are getting benefitted from it; all the stakeholders in the real estate space including sellers, resellers, builders and developers, and interior designers are reaping benefits from home inspection. It is turning out to be a win-win proposition for all. This remarkable end-user response is drawing support from the government as well. Recently introduced RERA also encourages quality check of the real estate property purchased by an individual. So, clearly, home inspection as a service has a bright future, which means, one can consider it as a lucrative field to build a successful career.
The job of a home inspector
To know if you have a career in home inspection, you must first try to understand what all the job of a home inspector covers:
Studying the property details:

Whether a property is under construction, newly built and ready to move-in, new but second hand, or old; an apartment in a housing society or a standalone house, etc.
Construction and repair history
Location details: Proximity to a water body, low-lying area, elevated area, the climatic condition of the place, etc.

Visiting the site
Inspecting each and every component of the property – exterior as well as the interior: walls, ceilings, floors, doors and windows, plumbing system, electrical wiring system, furniture, appliance outlets, driveway, roofs etc. Learning how to use advance scanning devices.
Documenting the observations made.
Producing a report combining text and images.
Advising the best possible solutions to the damages detected.
Who can be a home inspector?
To become a Home Inspector, the requirement and qualification are not too difficult. Even a graduate, the diploma holder, retired professional, educated housewives or non-technical people can become home inspectors. They need to be smart & intelligent enough to run & manage their business. They have to do a home inspection certification course along with related practical training. They can enrol in an online or offline home inspection certificate course1 and learn the nitty-gritty of the job.
This is also a good career option for engineers and interior designers. Home inspector is a new career option for them. For the core job, people from streams like civil, mechanical, electrical are better suited.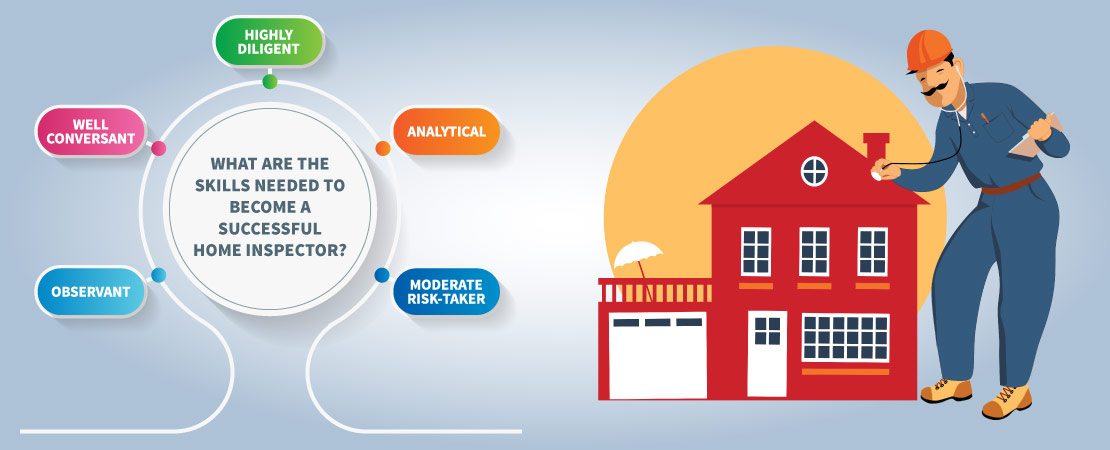 What are the skills needed to become a successful home inspector?
More than a degree it is the following skills that are needed to become a successful home inspector:
Observing skills – the person must have an eye for detail.
Well conversant with the construction processes and materials used.
Highly diligent, non-tiring
Analytical
Moderate risk-taking ability
A basic sense of aesthetics is a must if you want to join this profession because without that you may not be able to read some subtle signs of damage in a home.
Career prospects in home inspection: An outlook
The sky is the limit for students qualified in home inspection. There are huge, untapped skill development and business opportunity waiting there for them to explore. They must go for it before the competition rises and the field becomes saturated just like the way it has happened in many other sectors. Instead of waiting for a conventional job or landing a not-so-satisfactory job after completing graduation / post-graduation, they must educate themselves in a new subject like a home inspection. After completing the home inspection course2, they can kick-start their career by interning with one of the premier home inspection companies like MACJ – A Buyers Choice in India and then choose to go for a full-time job. The median annual salary for inspectors in 2019 is around Rupees 3 to 4 lakhs. The projected growth rate for home inspectors in India is almost similar to the average of all the emerging occupations in India.
However, there is nothing like starting your own venture in home inspection. You can be your own boss from Day 1 and start earning around Rupees 50,000 or much more per month!
Here's how you do it: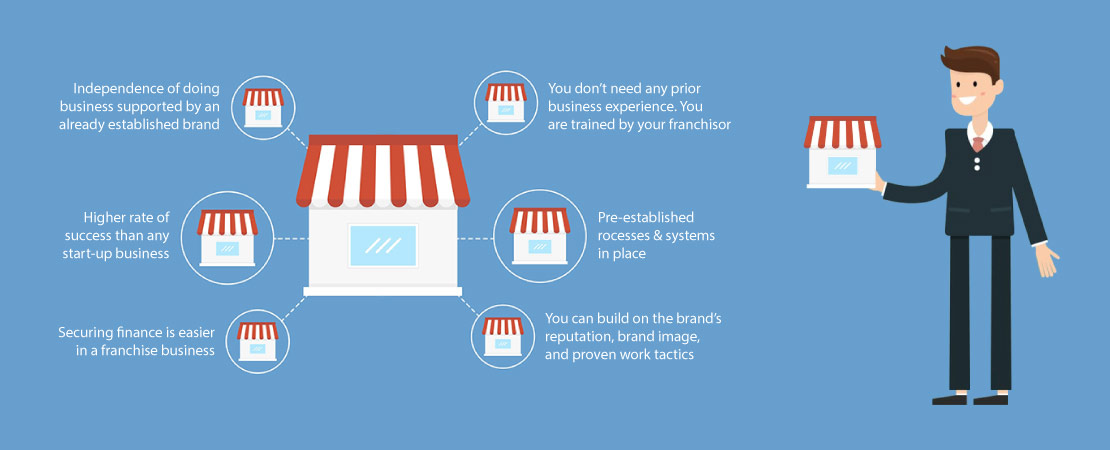 Franchise opportunity in home inspection
The concept of franchising in home inspection is gaining popularity in India. Entrepreneurs who once used to run their own standalone businesses are now considering a shift to the franchise model for growing their business. The reasons are pretty simple. Buying a franchise reduces the risk of going through the entire process business set-up to a large extent. The franchisor provides a franchisee with an already established business model, all the necessary guidance on an ongoing basis, and assistance in terms of systems and instruments (in some cases), inspection/marketing, etc – everything in return for a fee that can be one-time or periodic in nature. Other general advantages of buying a franchise3 are:
Independence of doing business supported by an already established brand
You don't need any prior business experience. You are trained by your franchisor.
Higher rate of success than any start-up business
Pre-established processes & systems in place.
Securing finance is easier in a franchise business
You can build on the brand's reputation, brand image, and proven work tactics
Entrepreneurs with prior experience in construction and home remodelling or interior design may find this business model suitable as they already have a working knowledge of the same. With a perfect team of professionals, a couple of licenses, training, and a proper business plan they can start earning handsomely from it from the first year itself.
Viability of the franchise model in this sunshine industry in India
Home inspection is still largely an unorganized sector in India with only a few big names like e-Ghar, MACJ – A Buyer's Choice, HomeInspektor, measurement, check prop, Nemmadi, etc making an impact. The industry is a sunrise sector with little competition at this stage, leaves good scope for promising entrepreneurs to make headway and succeed. Before the socio-economic scenario changes and the sector reorients itself, these entrepreneurs must take the plunge and leverage the success of these brands by becoming their franchisee or start on their own.
If you see yourself as one of these entrepreneurs here are the three reasons why you must not delay any longer:
The sector is new, which means there is a lot of potential in it
The sector serves the heart of the Indian economy – Real Estate
Over 100% ROI potential on an annualized basis
To learn more about this winning business model, click here.
India's startup scene4 is looking brighter than ever. The ecosystem, which is the world's 2nd largest, is estimated to grow at the rate of 10-12% year-over-year. In H1 20195 alone, Indian startups raised US$4.88 billion, an increase of 8.7% YoY. You must cash on this buoyancy. Ride the wave and build a successful career in home inspection.