Common problems or issues in sliding door/window

Operational issues
Installation & other issues

7 Tips for maintenance & Repair
Type of sliding door to be chosen?
Why are doors significant? Some obvious reasons are – privacy, accessibility, protection against natural elements, safety against burglars etc. Doors also offer structural integrity to homes. Available in different shapes, colours, sizes, and styles, doors also serve the overall aesthetic appeal of living and working spaces.
Sliding glass doors or windows are designed for beauty, convenience, and efficiency. They are a great addition to any home. Presently, sliding door/window is one of the most commonly used ones in homes as well as properties due to the following reasons:
The glass doors or window panes they support offer a translucent or transparent view of the outside world.
They let the natural daylight in.
Make rooms look more spacious.
They open sideways; so, you save a lot of space.
As they are an essential part of the design of your home, you will wish to make sure they are functioning properly and safely.
Common problems or issues in sliding door/window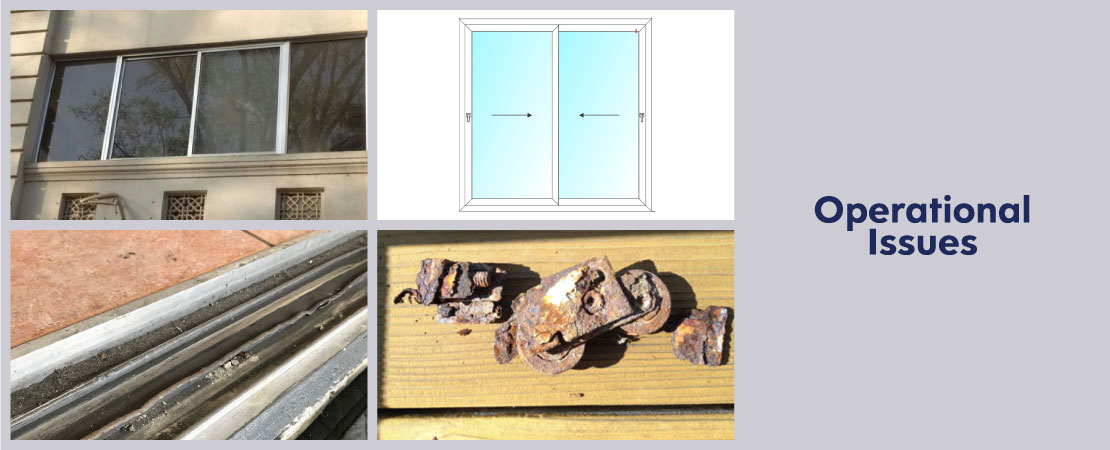 a. Operational issues
Multiple factors can affect the operation of sliding doors:
Rectangularity of frame: It is important to check whether the frame is rectangular or not. If the frame is not rectangular, then there will be a problem in operation of the door as well as the gap will be generated which will cause unwanted elements to enter like rainwater, insects, etc. This can also lead to energy loss in the case of operating an air conditioner.
Track level: It is important that the top and bottom track should be in level. If it is not in level, then door will not be smoothly operating. Sometimes, there can be air gap generated.
Clogged track: With regular use, sliding doors can collect dirt, mud, hair, dust, and rust in their tracks and grooves. The collected debris will increase the friction between the track and roller, causing operational failure. Weep holes should also be cleaned to avoid water stagnancy on the track.
Damaged Roller: Often, low quality or worn out roller cause operational dysfunction of sliding doors. If the rollers are broken or chipped, they won't slide on the track. Besides, if left unrepaired, the impaired rollers can damage the track as well. If the bearing is of low quality, wheel is not properly aligned, lubrication issue, etc will cause operational problems.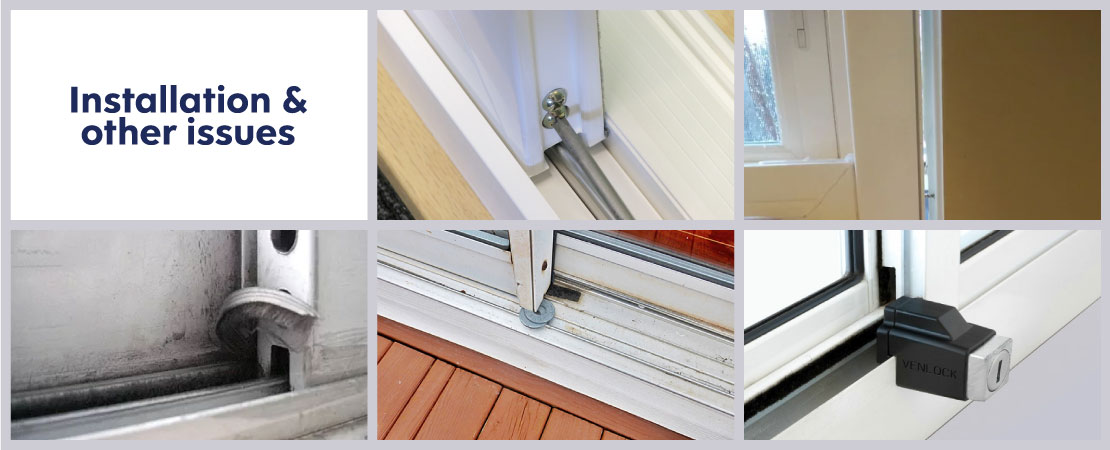 b. Installation & other issues
Apart from operational issues, there are installation and others issues that needs to be taken care of for its maintenance.
Misaligned installation: If frame and panel are not installed properly, it can cause air gap (causing energy loss, moisture intrusion & rattling noise) as well as operational problem. This can happen due to various reasons but usually due to poor workmanship.
No / Damaged Sealant: If there is a gap around door/window frame or sealant has deteriorated, air seeping in and out of these gaps affects the energy efficiency of your home and also allows the moisture to enter inside the house which can cause severe damage in the future. Also, it can create an entry point for pest/insects.
Non-uniform weather stripping: Weather stripping is important for preserving the energy efficiency of your windows and keeping moisture out. Sometimes non-uniform weather stripping can be due to poor workmanship or it has been worn out with time & usage.
No rubber gasket provided: If the gasket is not provided or non-uniform gasket, it can cause loose glass fitting problem, which may lead to breakage of glass.
Improper locking system: This includes misalignment of lock & defective lock system. Also, sometimes the lock can have trouble latching correctly. Especially after years of use and possible bending or damage. A proper locking system is one of the important factors for safety & security.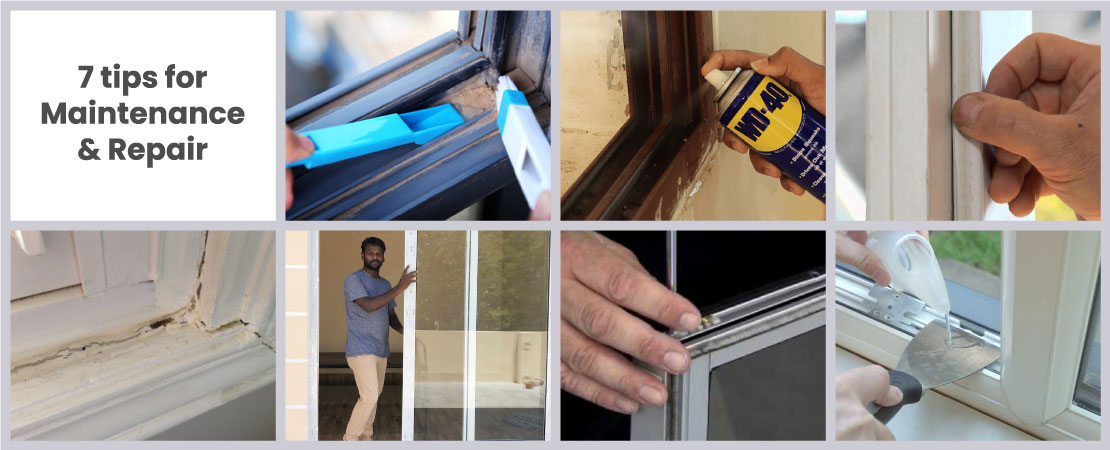 7 tips for Maintenance & Repair
Clean the Track: To ensure smooth operation, regular upkeep of sliding doors is necessary. The tracks should be clean and dust-free for the roller to slide with ease. Loose debris can be vacuumed or removed from the bottom track using a brush. After doing this, wipe the tracks using a household cleaner.
Provide Lubrication: If the track is clogged, it will not function smoothly. For such problems, lubrication can solve the problem. Hardware components also need lubrication for smooth functioning. You can use WD 401 or equivalent for lubrication and rust.
Check the Weather-stripping: Cleaning the weather stripping on your doors/windows can help to remove debris and helps to maintain it. If you notice that the weather stripping2 is worn out or deteriorated, you should replace them immediately.
Check Sealant condition: Whenever you clean windows, include a thorough checking of the areas around the sliding door & window frame. For sealing gaps around window/door frame in the exterior area – Exterior grade silicone sealant should be used as per manufacturer's specification. They are more resistant to external weather conditions.
Handle Sliding Doors Glass With Care: Do not push your sliding doors too hard as the resulting impact can damage the tracks or the glass area. It would also be a good idea to regularly clean the glass area at least once a week, given that stains become harder to remove, the longer they stay on the glass.
Check the rollers: The most common source behind the sliding door not functioning smoothly are dirty or damaged rollers. All that dirt clogs the rollers underneath and eventually, the door gets stuck. Inspect the door's rollers to see if they are broken, or have become loose. If the problem is just a loose roller, tighten or replace the loose screws that hold it in place. If a roller is broken, you will have to replace it (better to get it repaired by the vendor).
Weeping system maintenance: Check for weep hole blockage by pouring a small amount of water into interior sill track. If water drains out from the exterior weep holes, the weep system is clear. If weep holes are blocked, insert a thin wire into it and repeat the test until the blockage is cleared. Further, Weep hole in the window should be provided on the vertical surface of bottom channel. If weep hole is provided on the horizontal surface of bottom channel in sliding window, can create moisture-related problems.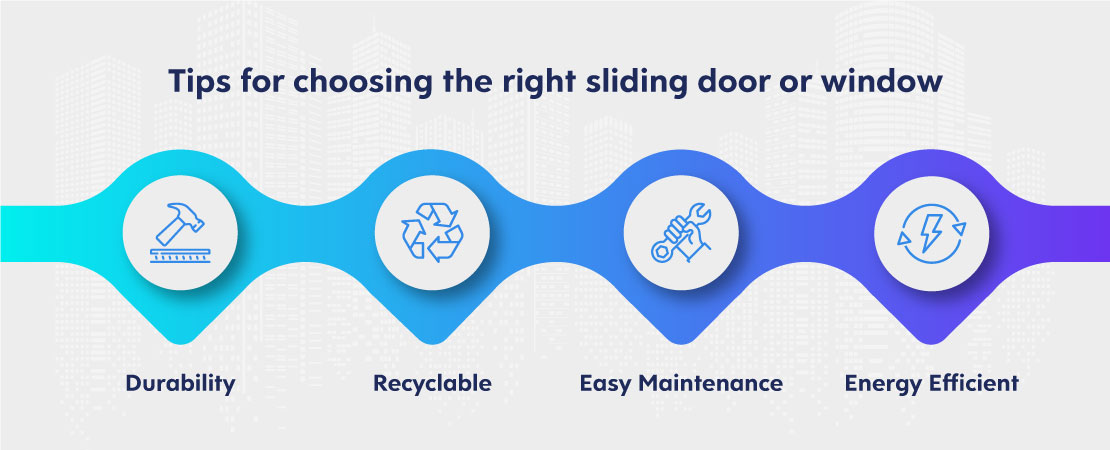 If you are planning to install a sliding door in your home, then there should be a question arising in your mind: Which type of sliding door should be chosen? Among various types of sliding doors, aluminium sliding doors are emerging as a personal favourite of designers and homeowners. This because of the following few reasons:
Durability: Aluminium ranks pretty high on the durability factor. Due to its corrosion-resistant property, it does not rust easily. It is highly weather-resistant and can handle harsh weather conditions.
Recyclable: Choosing aluminium for your home or office also is an environmentally conscious decision as aluminium has the reputation of being an environmentally-sustainable material.
Easy maintenance: Aluminium doors have low maintenance costs and only require regular cleaning to make them look like new.
Energy Efficient: This is undoubtedly one of the best features of aluminium sliding doors. The material offers high insulation3 properties.
The Bottom Line
The biggest issue that makes doors prone to coming off the tracks is lack of maintenance. Sliding doors, like all the other parts and systems in your home, require regular cleaning and maintenance.
Our objective was to make you aware of common problems with sliding doors/windows and related tips. If you keep encountering issues with despite frequently cleaning and maintaining them, then contact professionals who can detect the issues and suggest the solution for its longevity.