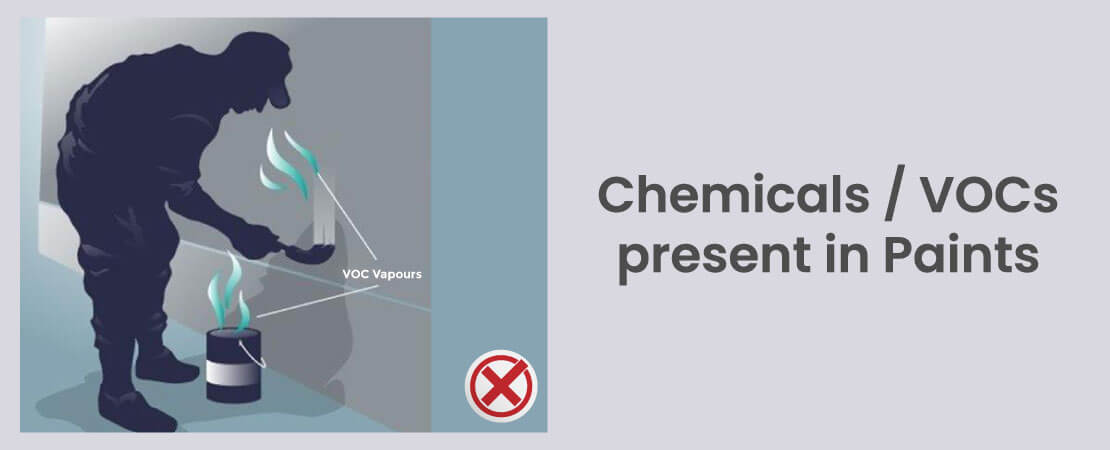 Chemicals / VOCs present in Paints
Painting your home can enhance the beauty of your space and give a fresh new look to a boring room. It forms a part of the maintenance of your home and must be done once every 2-3 years depending on the condition. The unsatisfactory part is the immediate consequence of painting a room, that is, the suffocating paint odour.
The material (or can say chemicals) with which the paint is made, together with the solvent used to make the paint liquid so that it can be easily applied with the brush, stays on the wall even after the paint dries. It is the evaporation of this solvent, which leads to the suffocating odour.
The paints industry has developed multitude of chemicals to enhance the product shelf life, colour, texture etc. These paints are made from a few chemicals that are especially suited for this industry. Many of these are volatile organic compounds (VOCs), which vaporize as soon as they are exposed to the atmosphere. They also contain heavy metals such as arsenic, lead and chromium. VOCs are organic chemicals that are mainly used as solvents for conventional paints. Once they enter into the air we inhale, they can go into our lungs and create a toxic effect on our bodies.
So what exactly is a Volatile Organic Compound(VOC)? VOCs are a large group of chemicals that are found in many products we use to build and maintain our homes. VOCs are chemicals inside paint that are released into the air as you paint a wall.
VOC is a carbon-containing compound that easily vaporizes into the air. When they enter the air, they react with other elements to produce ozone, which causes air pollution and a host of health issues. It is one of the sources of indoor air pollutants.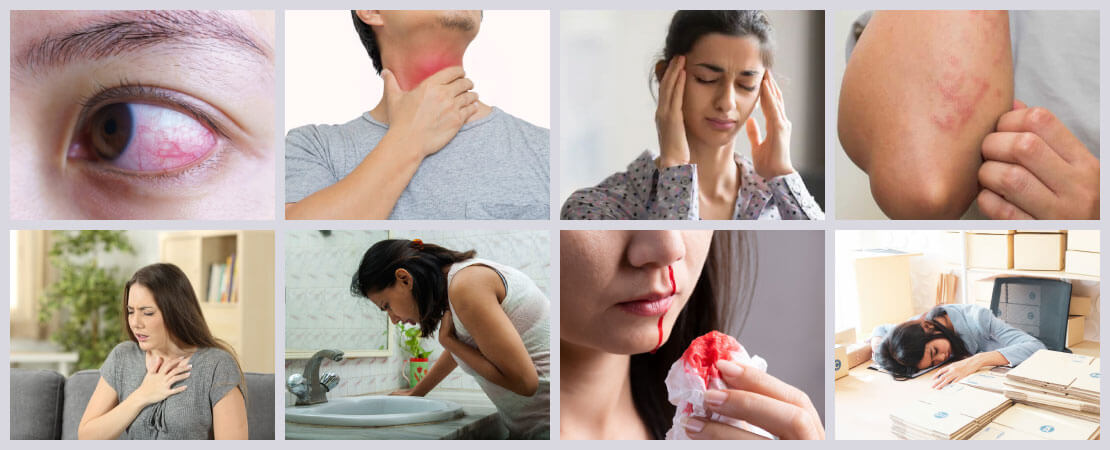 Harmful effects on Human health
Volatile Organic Compounds (VOCs) include organic solvents and organic chemicals. Because they are organic, it does not mean they cannot cause health problems. Apart from paint and solvents, there are other common sources of VOCs found indoors which include: Household Cleaning Products, Dry Cleaning Products, Paint Thinners, Varnishes, Cosmetics, Glues, Pesticides, Aerosol Sprays, Building Materials, etc give off VOCs.
Some of the chemicals can cause short term and long term adverse health problems. After painting, VOCs can be up to 1,000 times higher indoors1 than outdoor fresh air levels. VOC levels are highest during and soon after painting, they continue seeping out for several years.
VOCs from Paints are up there on the list of most harmful toxins to humans, animals, plants and aquatic life. Common Signs or Symptoms of exposure to VOCs:
Conjunctiva Irritation
Nose and Throat issues
Headache
Skin Allergy
Dyspnea
Nausea and Vomiting
Epistaxis
Fatigue and Dizziness
Some long-term effects include liver and kidney damage, respiratory issues and even cancer. These paints not only harm the human body, but also the environment. The by-products and waste of the synthetic chemical industry are detrimental to the environment and it leaves an enormous carbon footprint.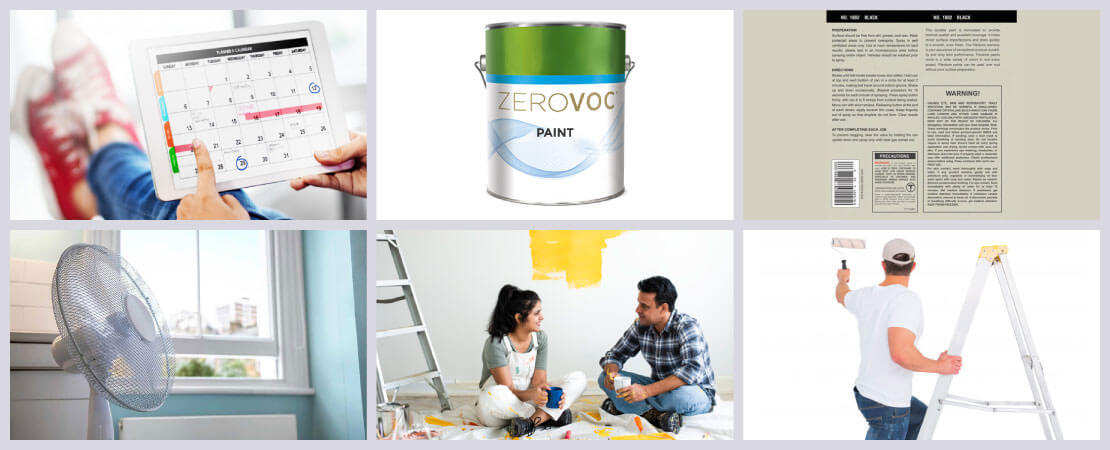 Best practices or tips to reduce Risk & Exposure
If you are going to do painting in your house, here are some best practices that you can follow in order to reduce your risk:
1. Schedule painting strategically
Although there may never be a time where your homes are completely vacant, try to schedule painting when there is minimal number of people present.
2. Select Indoor paint with low or zero VOCs
Be sure you select indoor paints wisely. Select a product that will generate less harmful fumes or VOCs, such as water-based paints. Their low level of volatile organic compound (VOC)2 makes them an environmental friendly option with minimal to zero harmful effects on your health.
3. Follow instructions and safety labels
Read carefully instructions and safety information on the product label before starting the painting process. Note any warnings, first-aid information, or if protective measures like gloves or goggles are required to be used. It is always beneficial to go through certain guidelines and wear gloves or a face mask while painting.
4. Provide Ventilation
It is always advised to have good ventilation with open doors and windows. Always paint in an area that is well ventilated. After painting, keep windows as open as possible for two to three days in order to allow paint fumes to exit the room. You can also consider using a fan in the window to help direct airflow to the outside.
5. Take breaks while painting
Long exposure can worsen the effects of paint fume. Take breaks to breathe in fresh air to help reduce your chances of side effects.
6. General precautions
Ensure your safety and safety of your loved ones by taking the following precautions:
Pregnant women are advised to stay away from wet paint till it is fully dried.
Keep children and pets away from painted areas and equipment.
Keep painted area and paints away from heat sources.
Stay out of the room that has been painted for 2 to 3 days after you are finished.
Close any leftover paint containers tightly to prevent vapors from leaking into the surrounding area. If you choose to dispose off leftover paint, be sure to do it properly.
Keep the paintbrushes covered with plastic bags when not in use.
Try to keep the paint containers covered with their lids as much as possible.
Use ladders safely.
Apart from the above tips, if you are still facing a problem then opt for air purifiers. It reduces VOCs in your indoor space. Consider having an air purifier running in the room you are painting and other rooms (where VOCs may have found their way into).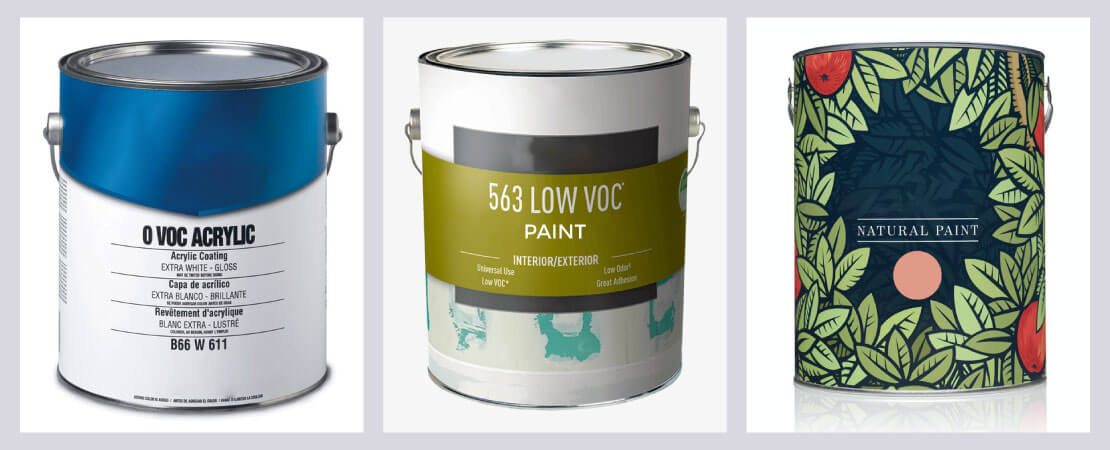 Eco-friendly Options for paints
Eco-friendly paints available in India can be classified into three types:
Zero-VOC paints: The level of VOCs in these paints is negligible that they can be termed as 'zero-VOC paints'.
Low-VOC paints: Low VOC paints are those that contain less VOC or VOC Solvents than traditional coatings. Paints labeled "low-VOC" should contain fewer than 50 grams per liter of volatile compounds3(as per EPA guidelines).
Natural paints: These paints are made of natural compounds such as tree resins, water, plant oil, natural dyes etc. They do not contain any VOCs.
Some paint companies which provide eco-friendly paints include Asian paints4, Berger Paints, Dulux Paints, Kansai Nerolac5, Nippon Paints.
Last words
Many paint products contain VOCs that can potentially cause both short-term and long-term health effects. Our objective was to make you aware of the harmful effects of VOCs in paints on human health and the environment and also to provide you the best tips to reduce risk and exposure.
When painting indoors, you should always do so safely. If you are looking for the healthiest and eco-friendly6 alternative to standard paint, sticking to no and low-VOC options is a good idea.