Kitchen, they say, is the heart of the home. Now every time you cook something up and reach a notch closer to the heart of your family members through the way of their stomach, you do not want to step back into the kitchen and feel like a storm has blown across it, do you? Working in an organized way in the kitchen is possible only when you have an organized kitchen. Flour all over the counter, a spatula here, a cup there, a rolling pin left to be rolling on the counter, sprinkles of oil on the wall in front of the gas oven – all are a pain to the eyes. So, what can we do to keep the kitchen organised?
Why do you need an organized kitchen?
Before we move on to enlighten you about ways to keep your kitchen organized, let usjust have a look at why we need to do that in the first place? Here are the reasons:
You know where to find what, the moment you need something
Be it your visiting sis-in-law, or your favourite girl gang from your college or office, anyone will find it easy to locate things in the kitchen and they can help you out in preparation of food also (there's nothing like cooking yummy dishes together and eating them too!)
Cleaning afterwards is so easy when you have everything at place
With an organised kitchen, you know what you have, how many you have and what you need to add. Thus, you do not end up buying the same thing twice
With everything stacked up in a neat and clean manner, preparation time for a meal is reduced
Lastly, the kids in your house learn how important it is to keep everything organized and they try to follow your footsteps too
9 tips for an organised kitchen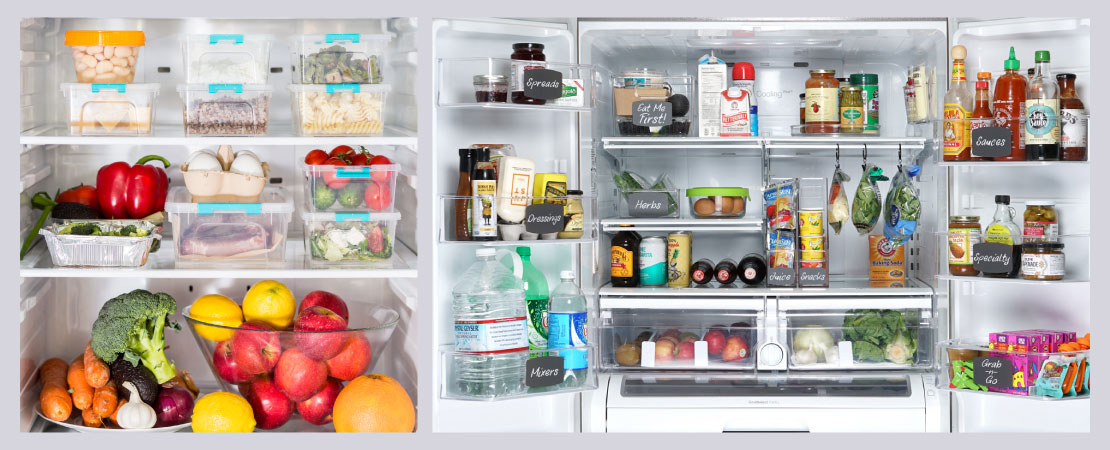 1. Keep your fridge organised
Let us start with the storage units first and you cannot think of anything but a fridge when it comes to vegetables or other farm produce. Storing leftover food also calls for a fridge. Buy fridge bins apart from the vegetable basket that already comes with your fridge when you buy it. These baskets are not segmented and hence you have to search through all the vegetables when you might just need one tomato or only a few beans. It is easy for items to get lost in a corner and when you discover it a week later, it has already gone bad. Transparent fridge bins can be a saviour in such cases. From packets of sliced salamis to fresh veggies- you can see them and reach for them easily.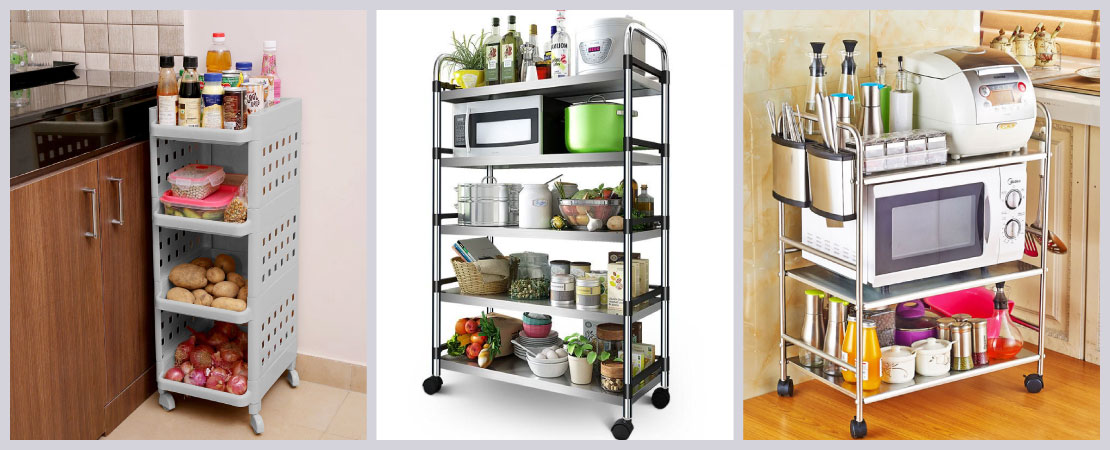 2. Go for racks with wheels
However big a mansion you live in, the average Indian kitchen size lingers around 9'x7'. With a few exceptions, a roomy kitchen is not a thing that you come across regularly. Now add the countertops, wall hanging racks, gas oven and other things in the kitchen – you have less amount of space to move around. Easy to misplace things and burst out in frustration whenever you are midway of cooking up a storm, right? Racks with wheels are the ultimate organizers and space saviours with their narrow shape.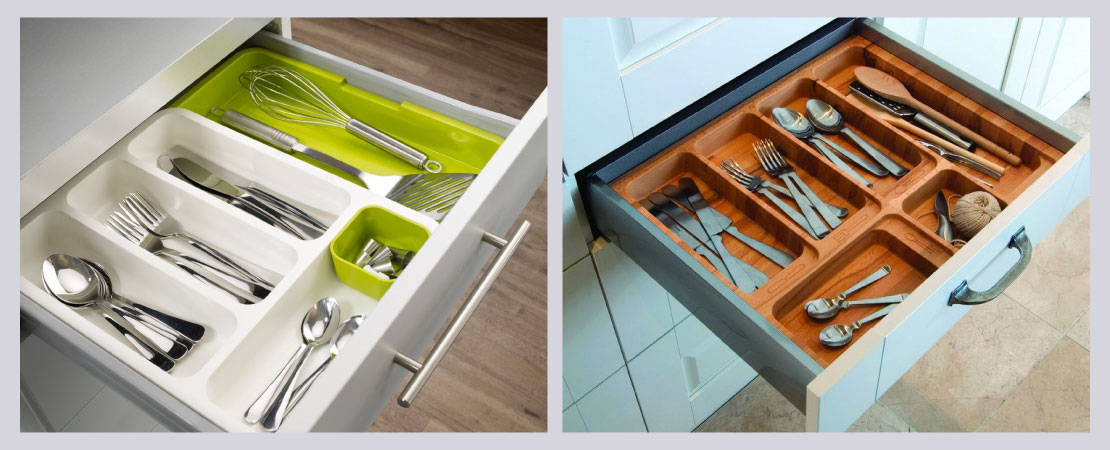 3. Install cutlery trays
You got your hands laid upon almost everything when all you just wanted was the star nozzle for dressing up the cake you just baked – sounds familiar? Cutlery and small pieces like nozzles etc are so easy to lose as you pull open or push the kitchen drawer shut. No matter how many times you put all the same sized spoons and forks together neatly, they get all mixed up. So, what's the solution? Installing expandable cutlery trays1. You can expand them according to the size of your drawer and not even an inch of the inside is wasted. Now you are all ok to have your sundry items, forks and spoons organised.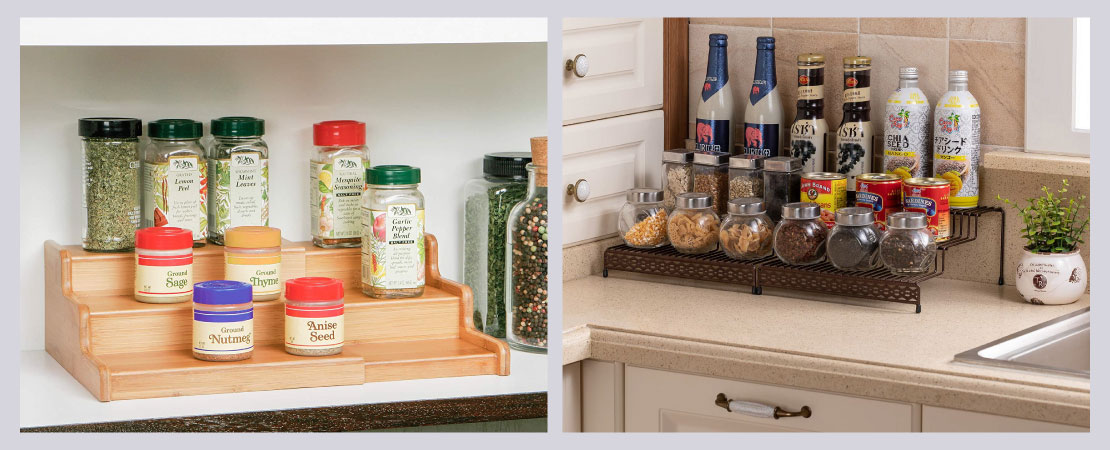 4. Set up step-style shelf organiser
There is no doubt having cabinets in the kitchen, overhead or on the wall, saves a lot of space and helps in keeping stackable items, jars of spices etc in a neat way. But an Indian kitchen is never short of spices, special spice mixes, nani ke haat ka achaar, secret mixes only you know how and where to put in and so on and so forth. All these make it difficult to locate the right item when needed. Step-style shelves designed especially for cabinets can be your saviour. It not only gives you a whole new organizing experience but the step system gives you better visibility and accessibility also.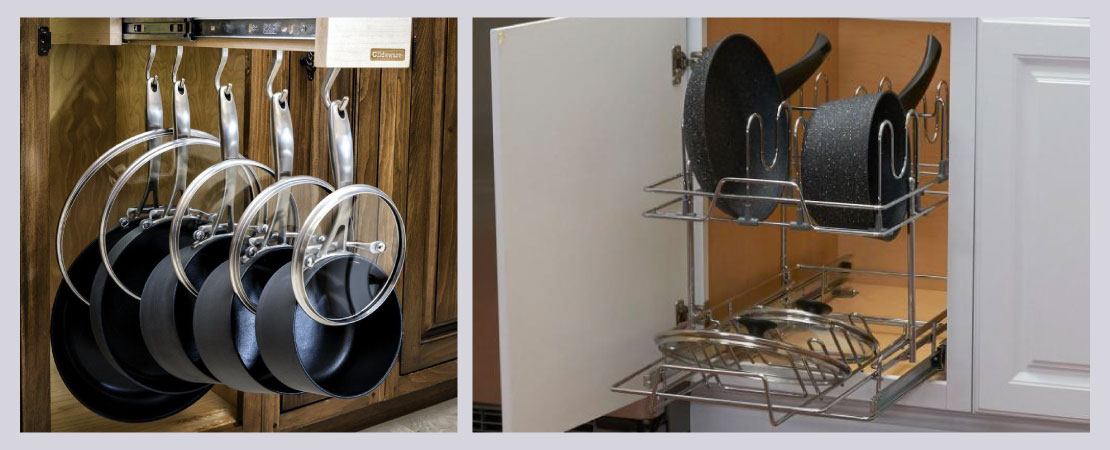 5. Pan and Lid organizer to your rescue
The biggest problem with pans is they are no more stackable if you put the lid with it. Now if you don't put the lid there, where would you? Also, being made of glass they need to be handled with care. Pans and their lid eat up a lot of space in the kitchen and make it look messy. Again, they are not something that you can do without, right? Pan and lid organisers add to that organised look of your kitchen. With adjustable heights of the pan organiser and the ability of the lid organiser to be mounted on the wall just add more ticks against them and make them included in your shopping list.
6. Give a glance under the sink
Yes, you read that right, under the sink. Awkward? Yes. But utility? Amazing. Putting up an adjustable shelf can work wonders for you if you are at a loss about how to keep your kitchen organised. There is enough space to keep things which you do not need regularly but most often we let it go to waste. Instead of stashing away unnecessary stuff, build a shelf around the pipes and put the space to use. Trust us on this and get ready to be amazed.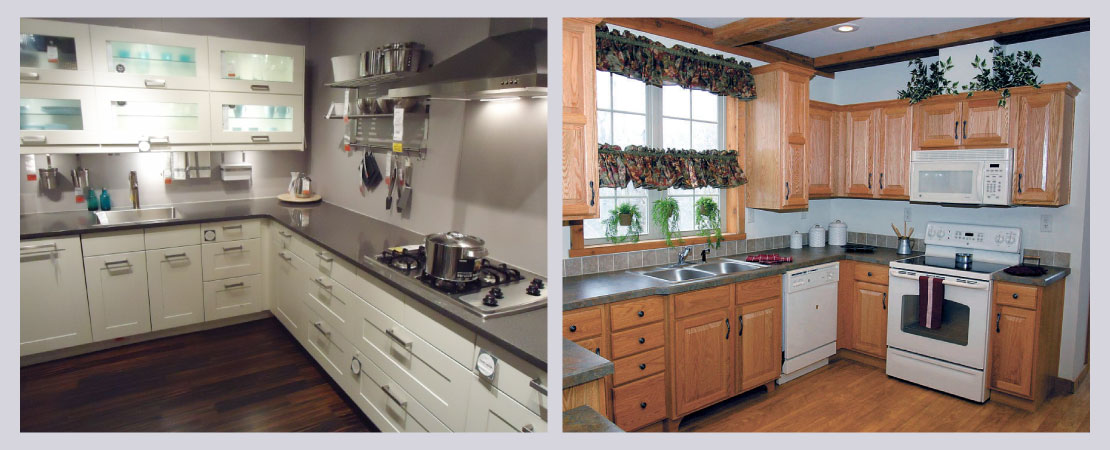 7. How about a modular kitchen
Uber chic and utilitarian – modular kitchens are a homemaker's dream place and for all the right reasons. Mostly customizable, the kitchen designs let you organise all your utensils, containers and appliances in the most impeccable way. You just need to choose the material carefully and check your walls and floor for damp related problems before installing the whole setup. This is because if there is any seepage or damp in any wall or floor and that goes undetected, it will spread on to the modular kitchen cabinets and spoil them in a few years.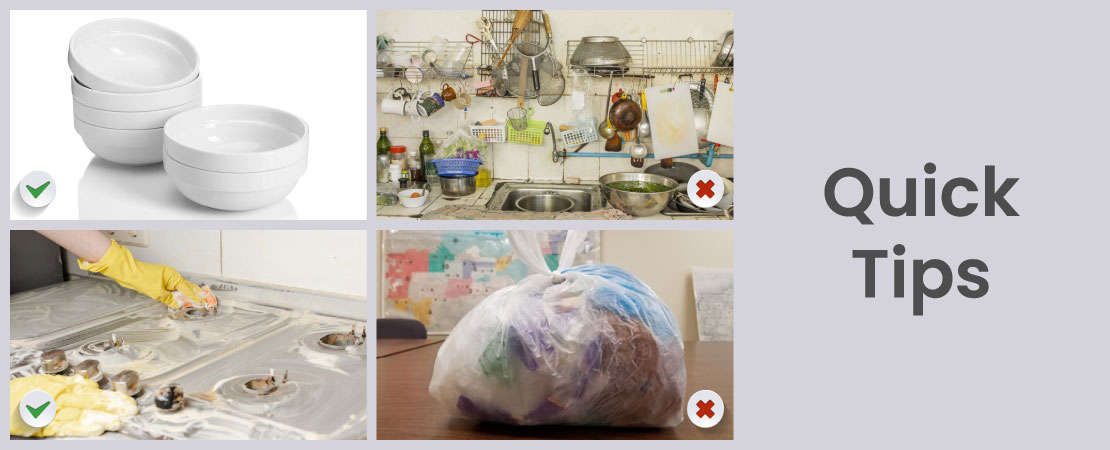 8. Other tips
There are some basic tips which can come to your rescue in all situations. These are:
Bought something new? Unpack it right away and start using them. Keeping them stashed away for afterwards will actually add to the clutter in the kitchen. Also, buy only when you need a particular thing.
While buying utensils like bowls or containers make sure you choose the stackable ones. Thus, when not in use you can put one into another and store them.
Once a while, declutter the kitchen. Every time you do so, you will definitely come up with a lot of items that will leave you wondering, "Why is it even here!" or "I definitely don't need this here."
Cleaning missions will help you get rid of excess items in no time.
Don't hoard empty poly packs and plastic pouches/bags thinking that you may use them later. They only add to the clutter while welcoming cockroaches and ants, too, sometimes.
Reuse containers after a thorough cleaning. For example, you bought tea leaves in a plastic container; after it gets exhausted, don't discard the container. Either wash and dry and use it for storing some other items or refill with tea leaves again – this time bought in paper packaging.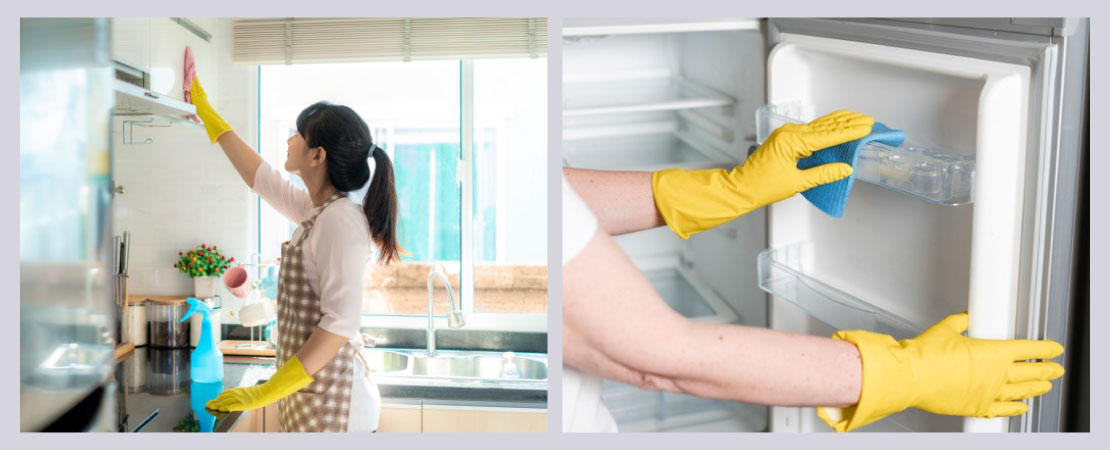 9. Last but not the least, Cleanliness
Keeping your kitchen clean is the first call you can make while you proceed towards making it organised. Look out for damp patches particularly under the sink, behind the cupboard or the fridge. Do not let fungus settle in. A weekly clean up is a must. As foods are cooked here, you can never compromise with the hygiene and cleanliness.
You might be a working woman who spends the longest duration in the kitchen only while making soup or instant noodles. Or you might be a homemaker who spends a considerable amount of time there. You might be a food blogger whose passion is cooking and trying new recipes. Whatever might be the case, having an organised kitchen is more welcoming. Add the health factor to it, and it becomes essential. Hope the tips help!