The reason behind buying a house today is quite different from what it used to be a few decades ago. Our parents and grandparents considered buying or constructing a house when they aspired for a better lifestyle for their families. Securing the future of their children was their main motto. Now, when we look for properties, upgrading the lifestyle is not always the main objective. We either want to buy a house for accommodation or for the investment purpose so that if need arises and when the market conditions are conducive, we can sell it and earn a lump sum amount from it. Generating an income through rent is also on the agenda. Nevertheless, for buyers with an end-use objective, ready-to-move-in flats are a far better choice than under-construction properties.
Before we tell you the exact benefits of ready-to-move-in houses, here's1 what real estate industry experts have to say about choosing a property for buying.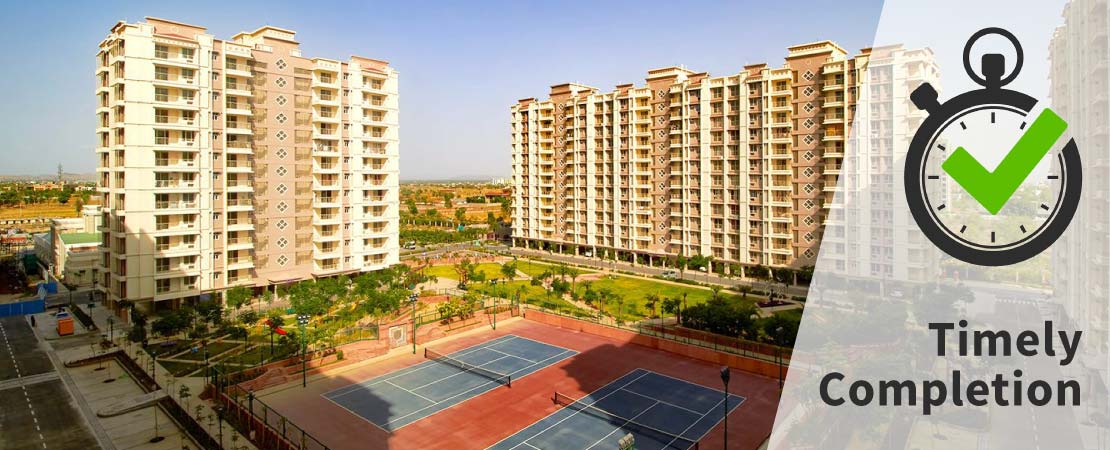 1. Timely Completion
The biggest advantage of ready-to-move-in flats is there is no scope of delay in completing the project. You do not have to worry "Will it be completed in time?" as in the under-construction projects. Instead, ready flats await you to take possession of them. Unless it is some unavoidable reasons on the developers' part, you get to avail the satisfaction of owning a house timely.
2. Home Inspection Facilities
With RERA, it will be easier for you to implement a home inspection service and identify whether there is any issues present or not. Now, if any problems do occur, say a leaky pipe or clogged outlet, you can always ask the developer to take care of it. This way a ready-to-move-in flat saves you from receiving unpleasant surprises once you move in. All problems resolved, a home inspection allows you to start living in your house without the stress of discovering a creaky door, an absolutely out-of-place damp spot behind the cistern and so on.
Following are some of the major advantages of home inspection that come with a RERA-registered ready-to-move-in house:
It reveals all the masked hazards that may go unnoticed during the first walk-through. You are saved from the hassles that may arise from problems in the wiring, plumbing, damaged window and door parts, wrong sloping, and damp walls and ceilings, etc.
A timely rectification saves your money, time, and effort on recurrent future repairs.
If the property has damp issues but still matches your other buying criteria, you consider repairing it at the very beginning. This is because seepage, excess moisture, and dampness bring along with them pest problems and diseases such as allergy, asthma, skin rashes, and depression2.
The home inspectors enlighten you about the condition of all the components of your new home. So, you know when to replace them and calculate your cost beforehand.
You get an opportunity to learn from the home inspectors how to prolong the life of your biggest investment, that is, your home.
A comprehensive home inspection service covers all the indoor and outdoor spaces, plumbing and concealed electrical wiring systems and components, and an in-depth damp assessment. To have all your queries on home inspection answered, click here.
3. Immediate Possession
One of the prime advantages of a ready-to-move-in unit is immediate possession i.e. the absence of any waiting period. So, If you are in an urgent need of an accommodation of your own, a ready-to-move-in flat is the best option. All you have to do is make the payment, go through all the documentation work and move in.
Dhruv Agarwala, Group CEO, PropTiger Realty Pvt. Ltd3, recently said, "Considering 26% of all units set for delivery in the next 15 months are unsold homes, new homebuyers will have plenty of ready-to-move-in options to pick from."
Hope you are getting an idea how many of them are out there for you? Pick any, get a final walk-through done, and move in immediately!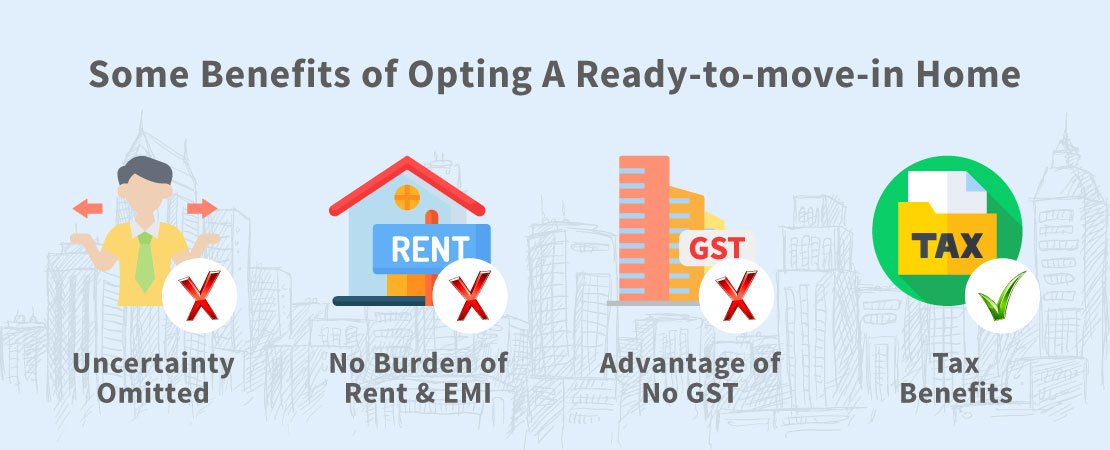 4. Uncertainty Omitted
When you go for an under-construction real estate, you are full of uncertainties. How big will the rooms be? Will the quality of building materials be good? Will I get a good view from my flat? Will all the amenities the developer is claiming to provide be there? And so on and so forth, right? But when you go for ready-to-move-in flats, it is all there in front of your naked eyes. You get to see what you are investing in because, after all, real estate involves a handsome financial transaction. With all such uncertainties eliminated, you experience a simpler buying process. Wouldn't you like that as a homebuyer? You'd love it.
5. No Burden of Rent and EMI
While you choose an under-construction project, you have to bear both the rent of your current accommodation and the EMI of the bank loan you took for the chosen accommodation. But if you rest your eyes on ready-to-move-in properties the financial burden will go easy on you. No sooner do you buy the house than you start living in it. Also, if you do not plan to reside in it, you can always give it on rent and earn a handsome amount. Delayed possession will never be an issue.
6. Advantage of No GST
The GST rate was 8% earlier on affordable homes. But from April 1, it has been reduced to one percent only. Big relief, no doubt. But what if you do not have to pay that even that much? Wouldn't that be great? As you opt for ready-to-move-in property, no GST is applicable for you. GST is only for the under-construction projects. What is better than saving money?
7. Tax Benefits
If you are an income tax payer, you get the benefit of tax deductions while you apply for loans. Section 80C of the Income Tax Act, 1961 enables you to avail about 1.5 lakh INR deductions on home loan principal repayment and up to INR 2 lakh deduction on interest payment. If it's an under-construction project and the completion is delayed, you may lose tax benefit of 60,000-90,000 INR yearly. Thus, from monetary aspects, ready-to-move-in flats are more advantageous than anything.
A few words of advice for you here-while settling for a ready-to-move-in property, go for new ones instead of old resale flats. Old house already goes through the wear-and-tear of time and weather effects. When you get its possession, the old ones have already crossed at least a few years of its lifetime. But with a new property, the amenities and fixtures are brand new and hence, eliminate the chance of being problematic. Also, the previous owners may not agree to take care of the issues you identify due to financial reasons, etc. Additionally, in a few-years-old property, the development of surroundings also increases the price. You have to be ready for these situations. But of course, a prior home inspection will identify any such issues and if you feel, you may back out from the transaction process also.
A recent survey4 by the Economic Times revealed that about 59% people are keen about buying ready-to-move-in flats. The trend is rising in all metro cities including Kolkata, Mumbai, and Delhi NCR, etc. Now when you have all the advantages laid out in front of you, give it a thought. Of course, be cautious about the legal paper works. With RERA stricter than ever before, you don't really have to worry about anything adverse. With more and more similar projects coming up, simply start living your life at your own house from whenever you wish.