Home improvement is a wide term that could include a range of ideas and alterations. To narrow down the options, there are constraints like space, budget and the basic architectural plan. It is important to have clarity on all key criteria to get results that are smart and lasting.
In this blog, we focus on home improvement ideas on a budget. We will explore ideas and options across different levels of budget and effort. Sometimes, replacing redundant stuff with refurbished add-ons can help give a brand-new look to your space. If time, effort and budget allow, a few changes in the design can go a long way in customising your home to suite your taste and style.
Let us explore a few creative ideas in detail.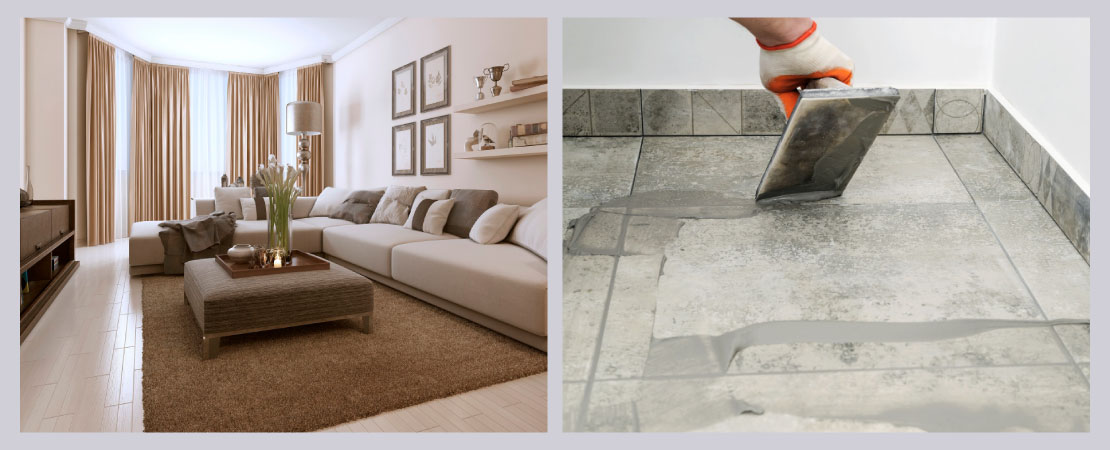 For the Floor
Each component of a home comes together to create an aura that captivates the mind of a person when he enters the house for the first time. Yet, the floor is the very first thing that he notices. So, even a little change there will create a significant impact. But changing flooring within a tight budget is rather difficult. Therefore, what you can do is apply your creativity and add things like these:
Rug and Roll: A chic way to do up your floor is to use mats and rugs. There is no limit to being creative with this option. If you want to keep it minimalistic, nothing works like one big rug / mat that covers the entire floor in a room. If you are a maximalist in terms of shades and patterns, go for a mix of colours, sizes and designs. You could even have layers; depends totally on your style.
A few important points to keep in mind while choosing to have rugs and mats are:
They are great for homes with kids
Not suitable for homes with pets
Need to be vacuumed regularly
Messes and stains can be tough to get rid of
However, it is okay if you want to keep the floor untouched but re-grout the tile joints to increase the floor's longevity as well as prevent moisture damage.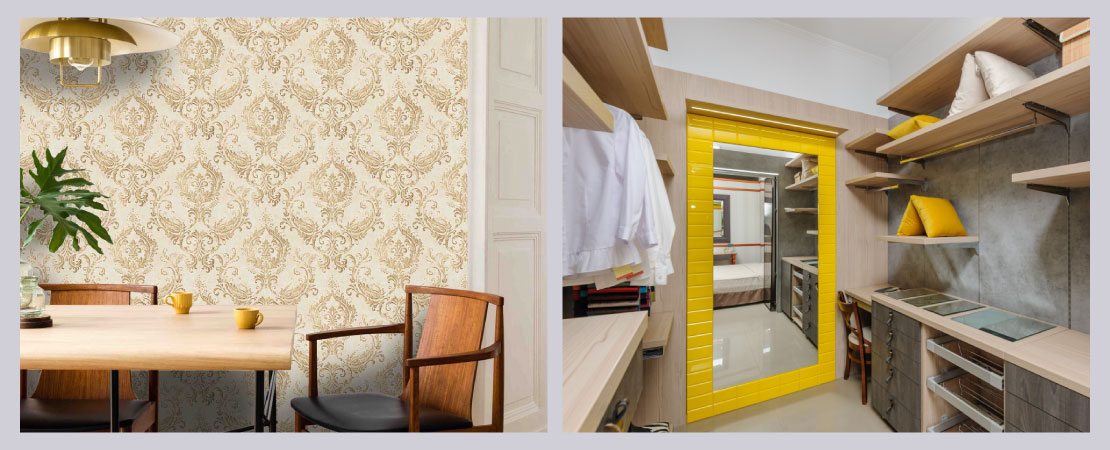 Budget-friendly walls
Colours and Creatives: Paints and wall art can transform the house completely. All you need to do is give thought to the kind of colour combination that appeals to your taste. Each colour has a specific impact on a room's perceived shape and size. Light colours like cream and white, for example, reflect light and make a room look spacious; dark colours lend coziness and warmth; striped paint patterns make a room look taller than it is and so on. You can consult paint experts to get the perfect shade for your house. To add more liveliness to a wall, play around with some wall art. You could opt for paint patterns or go for easily available stickers and posters. For those who cannot afford to paint the whole house due to budget or time constraints, painting or polishing the furniture instead can be a clever alternative.
Mirrors for Magic: Mirrors add a whole new vibe to a room. However, having a complete wall covered with mirrors could turn out to be expensive. Instead, you could put up 3-4 large vertical mirrors to add more reflective lighting. Adding a bit of exciting lighting can really make it an ambient setting on a budget.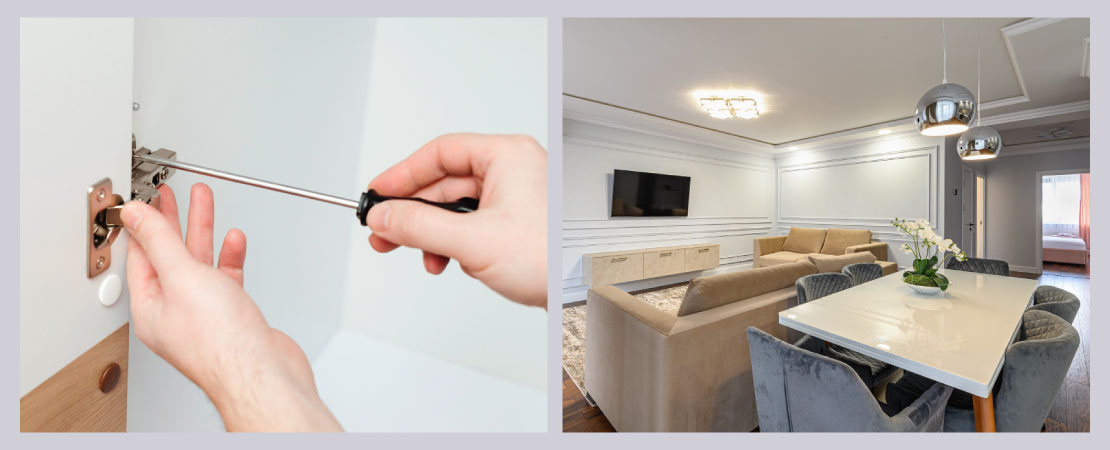 Accents & Affixes
Focus on Small Things: Paying attention to details is an important part of home improvement efforts. Nothing looks worse than chipped sill edges, rusty window latches, loose doorknobs, and noisy cabinet hinges. While giving a facelift to your home, fix these small things like loose nails and screws, rusty doorknobs, loose window handles, and broken frames etc. These small but important elements may not always catch the eye, but help keep the house in a good shape. Make a list of all these things even before starting the DIY home improvement project so that you do not miss out on any.
Lit Up to Liven Up: Spotlights, ambient lights, lamps, shades, chandeliers – lighting options can turn a room into your dream abode. The idea is to liven up space by illuminating dark corners, key elements, and warm spots of the house. Based on purpose, you can choose from task lights (like above kitchen islands), ambient lights (that add a mood), and accent lighting (highlight a specific part of the room). Also, the placement of lights – ceiling, floor, walls, table, etc., is an important consideration. Pricing varies depending on the quality, brand, and technology chosen.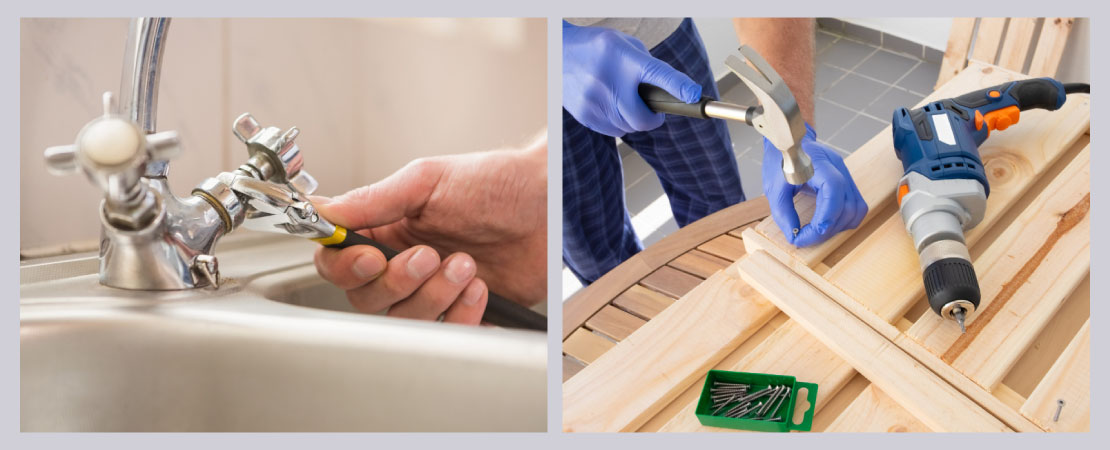 Replace & Repurpose
Bathroom Basics: Pipes, sinks, faucets, and showers are important parts of a bathroom. Timely checks for leakage and seepage help keep it in a good condition. Also, nothing is more satisfying than to use perfectly working faucets and showers. So, get them fixed or replaced to make your bathrooms and toilets more functional.
Recycle & Repurpose: Recycling and refurbishing old items1 in the house to make gorgeous, trendy and useful décor pieces is smart as well as fashionable. Take a step closer to sustainable living by having an eye for things that can be reused with a little effort. It could be redoing a piece of old and broken furniture, like tables, chairs, cupboards, and book racks; stationery items like pen holders and old boards; jars and bottles; even old clothes and bedsheets can double up as lampshades and small curtains respectively. To find inspiration, there are a lot of useful videos available online that you can watch and get ideas.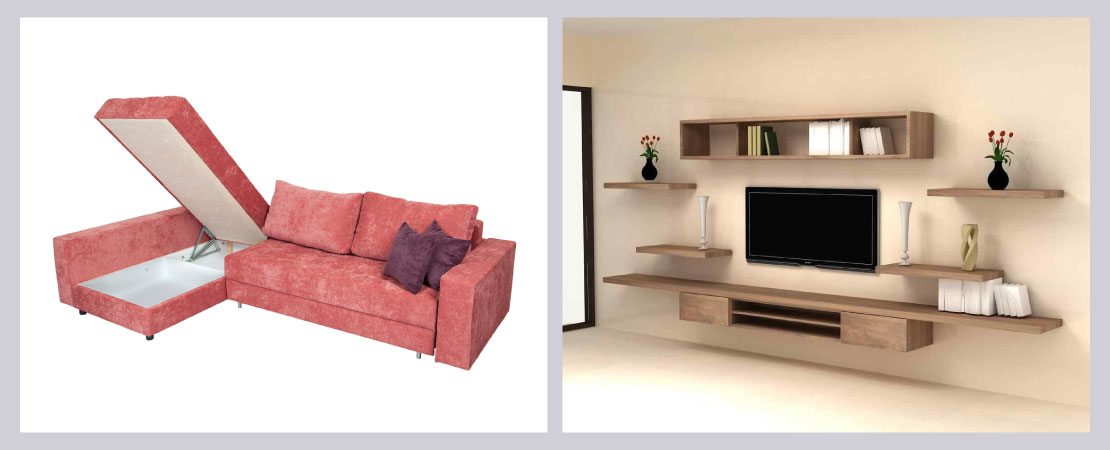 Storage Spruce-Up
Creating smart storage helps optimise space on a small budget. You could have a bed cabinet and sofas that can be used for storage also. If you have less floor area, go for wall-hung bookshelves and TV units to make it look spacious and neat. Also, pick collapsible furniture to save space without losing on basic utilities.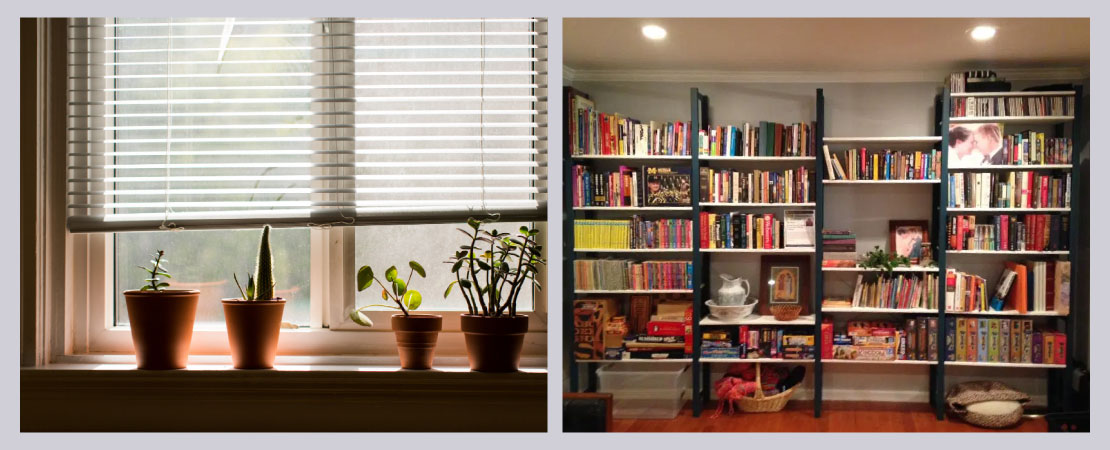 Exciting Elements
Go Green: Plants add soul to space. At home, it is a great way to make your house look revamped. Depending on the kind of space you own, you can have more than one green corner in the house. In fact, plants fit almost anywhere – you can place them in pathways, corridors, in the living room, on the terrace, on kitchen sills, windows, etc. Place them in pots of varied materials, designs, shapes and sizes to add a dash of green to your living.
The Showcase Spot: Home improvement doesn't always mean making a lot of changes. It could be just one change that makes a big, noticeable difference. One such idea is to have a wall that catches the eye as soon as someone enters the room. Let it showcase your true, inner self, maybe through a lot of family pictures, or quotes that inspire you, or an artistic masterpiece you love. You could also have a huge bookstand that stacks your favourite authors or maybe a pinboard full of souvenirs and collectables. The possibilities are endless.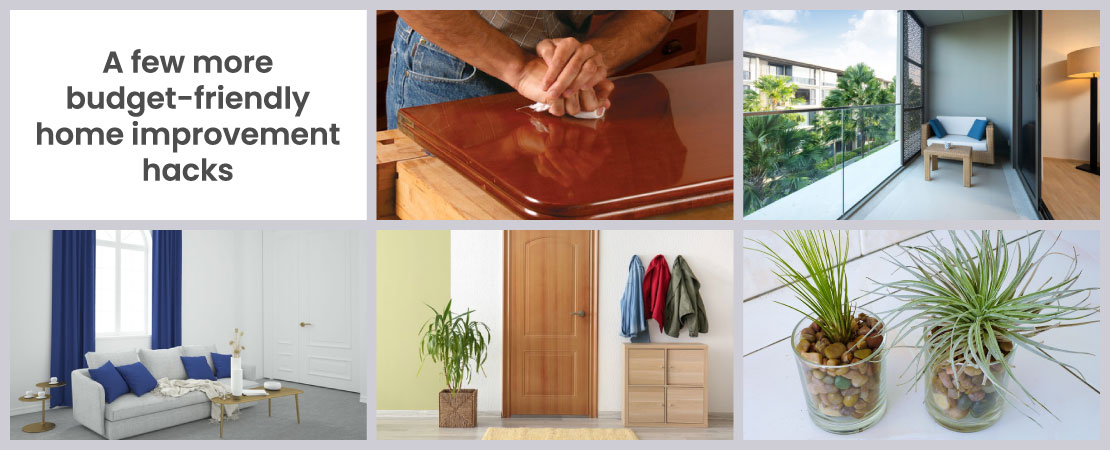 A few more budget-friendly home improvement hacks
Rearrange your furniture pieces. Repair/polish or upgrade them if required. Discard the ones occupying too much space and replace them with smaller, smarter ones.
Create a focal area in your home – it could be in your living room, your balcony, or study corner.
Change the curtains and upholstery. Get quirky or traditional cushion covers matching your style.
Make your corridors interesting.
Get air plants2 for your bathroom.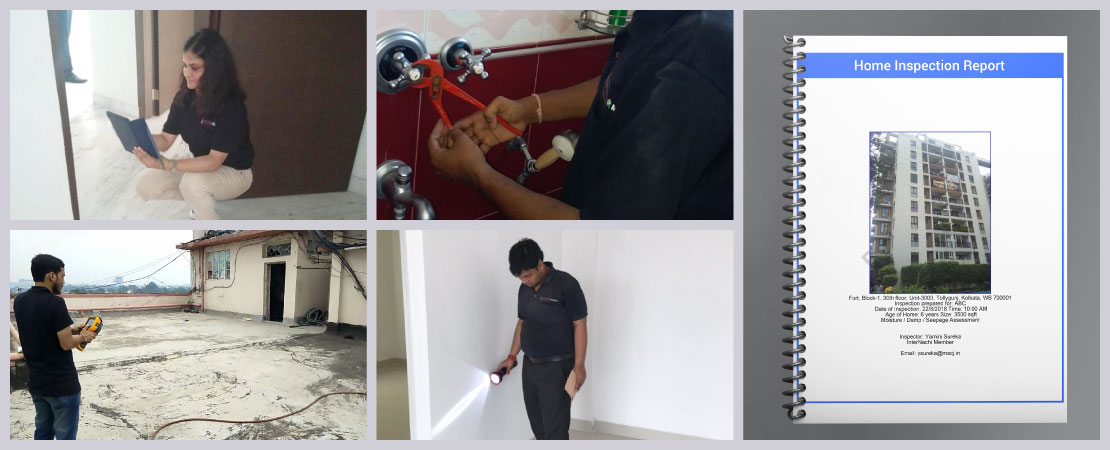 There is no dearth of ideas to improve and innovate your dwelling space, even on a tight budget. It just requires some creativity and effort. However, no improvement idea will be sustainable unless the house is healthy and in a good condition. For that, you first need to address common but critical issues like water leakage, damp, damaged waterproofing, cracks in walls and ceilings, faulty electrical wiring, and so on.
For this, it is recommended to go to trusted home inspection services that can help you arrest all kinds of problems, especially the ones that need urgent attention. Typically, a home inspection service will cover all major areas and elements of the house, including:
Areas Covered: Bedrooms | Living Room | Bathrooms | Lobbies | Balconies | Terrace | Servant Rooms | Alleys | Others
Elements Covered: Walls | Ceiling | Floor | Doors & Windows | Plumbing | Electrical | Cabinets | Counter Tops | Steps | Others
A detailed report of issues will cover the health of all these areas and elements. It will also state the condition of materials, installation & finishing, operations & functionalities, and general safety.
The report must be understood to prioritise tasks based on urgency and importance. Make a list of things that need to be fixed right away and ones that can wait. Address the most important ones, before you even think of other kinds of decor and design enhancement options. Only once these things are taken care of, the money spent on home improvement becomes worthwhile.