What is a dehumidifier?
Signs that you need a dehumidifier
Advantages of using a Dehumidifier
How do dehumidifiers work?
10 Features to look for in a Dehumidifier
Tips to use a dehumidifier
Types of Dehumidifiers
Is your home consistently sultry & warm inside despite your best efforts to keep it cool? Are you finding a mushy smell from everywhere inside the house? Well, before you blame the air conditioning system of your home or the room freshener you are using, check for the indoor humidity once. India being a predominantly warm country reports an excessive amount of humidity every year. High humidity causes plenty of damages at the macro level (www.macj-abuyerschoice.com/why-excess-moisture-is-a-threat-to-your-home). In households, humidity or high indoor moisture content leads to multi-dimensional damages that may need costly fixes. So, preventing humidity at the very initial stage is necessary for your home as well as human health. And using a dehumidifier makes this job easier.
What is a dehumidifier?
A dehumidifier is an electrical appliance that reduces and controls the level of humidity in the air in a closed space. By doing so, it prevents the growth of dust mites and other similar moisture-feeding micro-organisms inside the space and eliminates any musty smell resulting from them.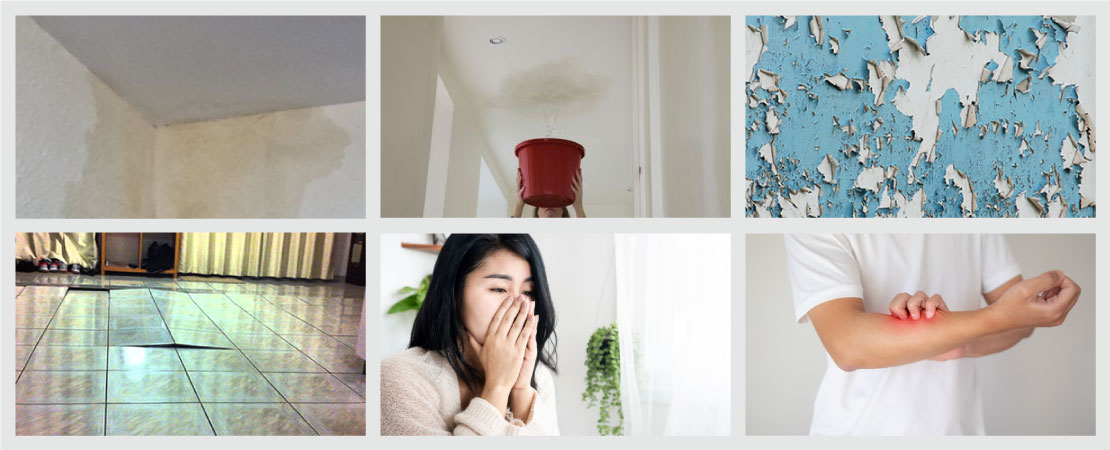 Signs that you need a dehumidifier
Any visible sign of dampness is an indication that the humidity level of your home is high and requires immediate attention. Few such signs of dampness are:
Damp patches on the walls and ceilings
Seepage/ leakage
Peeling paint and wallpapers
Bulging wall/ floor tiles
A persistent musty smell
Frequent incidence of allergy and skin problems within the family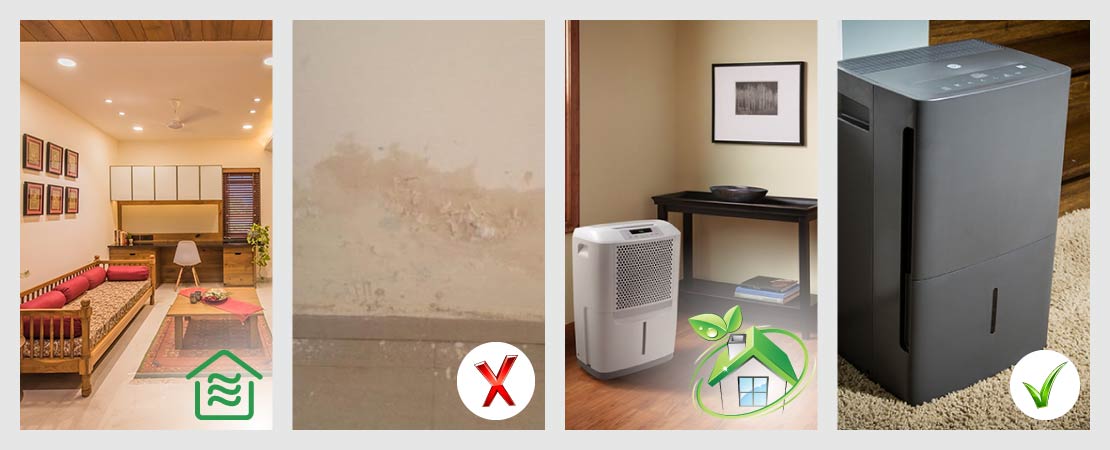 Advantages of using a Dehumidifier
Dehumidifiers are effective units that come with several advantages for your space and most importantly, for your family. Following are some of the benefits:
1. Humidity reduction & improvement of indoor air quality
The quality of air inside a home is measured not only by the number and amount of toxins that one may or may not be breathing in but also by the humidity level of the air itself. A dehumidifier plays an important role in improving indoor air quality by reducing humidity (www.macj-abuyerschoice.com/indoor-air-pollution-one-of-the-top-10-disease-risk-factors-in-india). It makes a home less hospitable for allergens like dust mites. As a result, the home feels fresh and musty odour, if any, vanishes automatically. Allergens being a serious health threat, the incidence of allergy also becomes much less with time.
The aesthetics of the building is also protected and the property is able to retain its value for a longer period of time.
3. Time and energy saving
Designed to further cut down on energy costs, dehumidifiers with an auto shut-off feature use intelligent software to actively monitor the climate of the space where the dehumidifier is applied. It shuts down the moment the desired humidity level is reached.
A dehumidifier with a higher star rating operates in an energy-conscious manner. That way, it saves energy and helps you to cut down on your unwanted expenses significantly.
4. Easy and quick maintenance
Portable dehumidifiers can be easily moved from one place to another, and they allow quick maintenance. They do not disrupt daily life and run quietly in the background without causing any harm to anyone.
How do dehumidifiers work?
Dehumidifiers control humidity (www.explainthatstuff.com/dehumidifier.html) by removing excess moisture from the air creating inhospitable living conditions for dust mites and other allergens. A dehumidifier is much like a vacuum cleaner. It sucks in air from the room at one end, takes the moisture out of it, and then blows it back out into the room again. The moisture drips through a pipe into a collection tank that has to be emptied from time to time.
Dehumidifiers work in one of the two ways: by refrigeration or by absorption/ adsorption.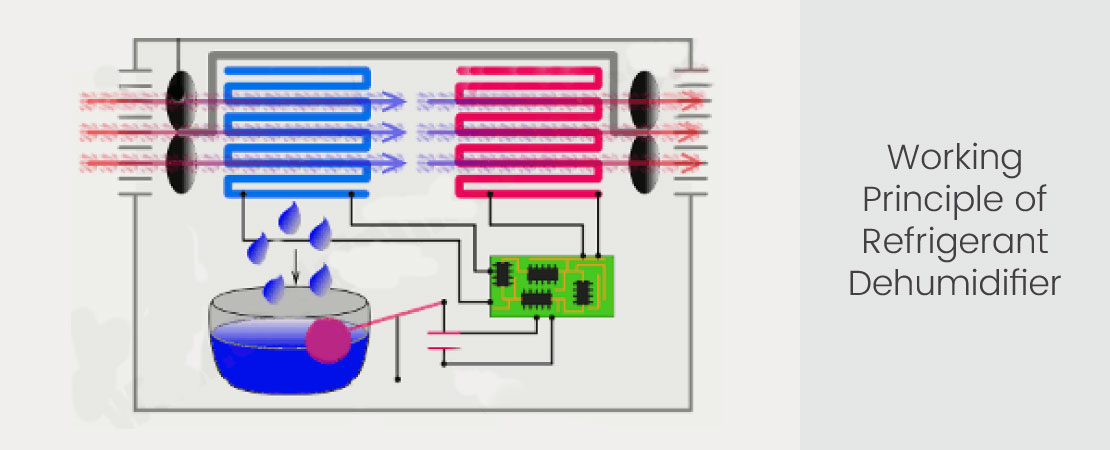 a. Refrigeration
In this process warm, moist air is sucked in through a grille on one side of the dehumidifier. An electric fan draws the air inward. The warm air passes over freezing cold pipes through which a coolant is circulated by a pump and compressor. As soon as the air cools, the contained moisture goes back in the form of liquid water and drips down off the pipes. Now, the moisture-free air passes over a heating element and warms back up to its original temperature.
Another grille blows back the dry and humid air into the room. There is a collecting tray or bucket at the bottom of the machine where the moisture that was there in the air originally drips down into. A 'float'rises upward as the collecting tray fills up. When the tray is full, the float trips an electric switch that turns off the fan and switches on an indicator light telling you the machine needs emptying.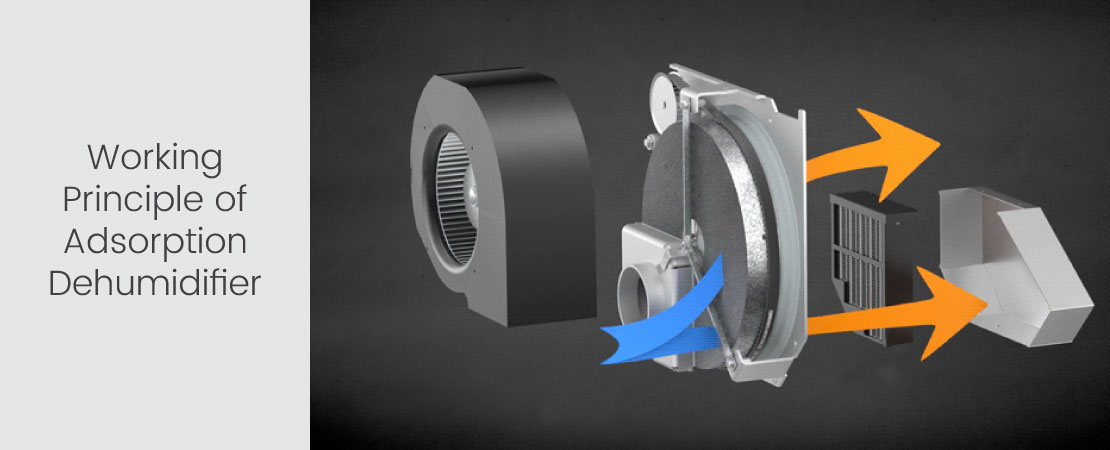 b. Absorption/ Adsorption
Some dehumidifiers work by mopping the water out of the air with a water-holding material and then "squeezing" the water away to remove it. The mopping action involves either absorption (where the water soaks right into something) or adsorption (where the water is picked upon the surface of something).
In this process, moist air is drawn in from the room through a duct. The air moves past a large rotating wheel made of water-absorbing material, which removes the humidity. The air is drawn by a fan operated by an electric motor. Dry air is blown back out into the room. An air duct underneath is kept hot by an electric heating element (yellow). The moisture-absorbing wheel rotates through the heated air space and has hot air blown past it to dry it out. The air is sucked past by a fan and electric motor once again. The hot, wet air is blown out through an exhaust duct.
As per content by Corroventa on Adsorption Dehumidifiers (www.corroventa.com/products/adsorption-dehumidifiers). The picture shows the functioning principle for an adsorption dehumidifier. The air to be processed is sucked in through the inlet with the help of air fan, the air passes through the rotor whereupon the dehumidified air exists through a dry air outlet. The moisture that is adsorbed in the rotor is driven out through a small part of the air that being heated up in a heater. whereupon it passes through a smaller part of the rotor which is regenerated in this way. The damp air is then removed via the outlet to the environment.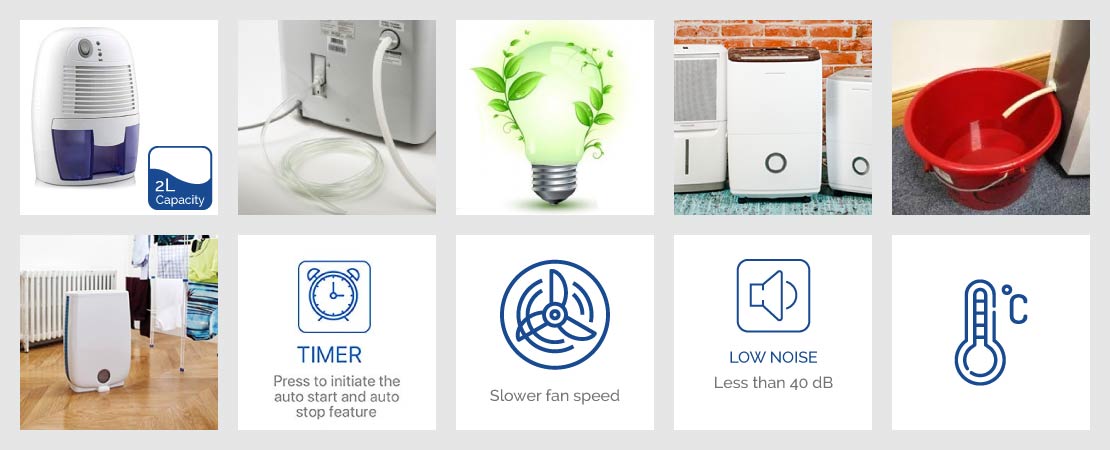 10 Features to look for in a Dehumidifier
Investing in a dehumidifier is obviously a wise decision if you are residing in one of the warmer cities in India. Here are a few simple considerations that you must heed to while buying a dehumidifier (www.dengarden.com/appliances/Choose-a-Domestic-Dehumidifier).
1. Tank size
Dehumidifiers have a tank to collect water. It ranges from a minimum of 2 litres to a maximum of 8 litres capacity. Make sure you opt for the bigger tank so that you do not have to empty it too frequently.
2. Drain tube
Some machines with drain tubes enable the water to drain away rather than collecting in a tank. Remember that with a portable device it will not always be possible for it to drain externally. For example, if you are placing your dehumidifier inside a room, temporarily, then the drain tube will be rendered useless. In that case, you can insert the drain tube into the waste pipe already made for washing machine.
3. Energy usage
The electrical power consumption of dehumidifier and the relative running cost of it can be high. Generally, the desiccant machines use more power than refrigeration machines. So, investing in refrigerant dehumidifiers would be a wise decision.
4. Weight & size
Factors such as weight and size of the appliance are worth considering while deciding to buy a dehumidifier. It is better if it comes with a decent carrying handle.
5. Extraction Rate
Find out how many litres of water a day the dehumidifier can extract. Consider models with more extraction capacity and less power consumption feature.
6. Laundry Mode
Wet clothes drying up indoors during monsoon are an obvious source of excess moisture in households. Dehumidifiers are great for drying clothes. Some dehumidifiers offer a 'laundry mode' designed specifically for drying clothes. Such machines repeatedly extract moisture from the air without measuring the relative humidity of the room.
7. Auto start/off
If you want to run your dehumidifier using a time switch then make sure the model you use has an 'auto on' and 'auto off' feature to ease out manual intervention. It ensures: Power on, moisture extraction on.
8. Slower speed
A dehumidifier typically has more than one fan speed. Slower-speed machines are more economical and quieter but obviously, higher speed will result in more rapid extraction of moisture.
9. Less noisy machine
It is also worth checking if the dehumidifier is generating too much noise. If you want to have it running at night in the bedroom then make sure it runs quietly.
10. Operating temperature
You must check the operating temperature required to extract moisture at the desired rate. If you want to extract moisture from an unheated area then the desiccant models will give lower operating temperatures.
Tips to use a dehumidifier
To get the best from a dehumidifier, vacuum it beforehand to make it sure the irritating dust particles are not spreading around or the air filter is not getting clogged up (if the dehumidifier has one).
Set the machines away from the walls, furniture, and curtains.
Keep the doors and windows closed while the dehumidifier is running.
Empty the collected water out of the dehumidifier after every use and before moving it to another room.
Instead of repeatedly turning your dehumidifier on and off, you can let the dehumidifier do it itself to maintain your desired humidity level. Try to keep a room's humidity somewhere in between 50-60 percent.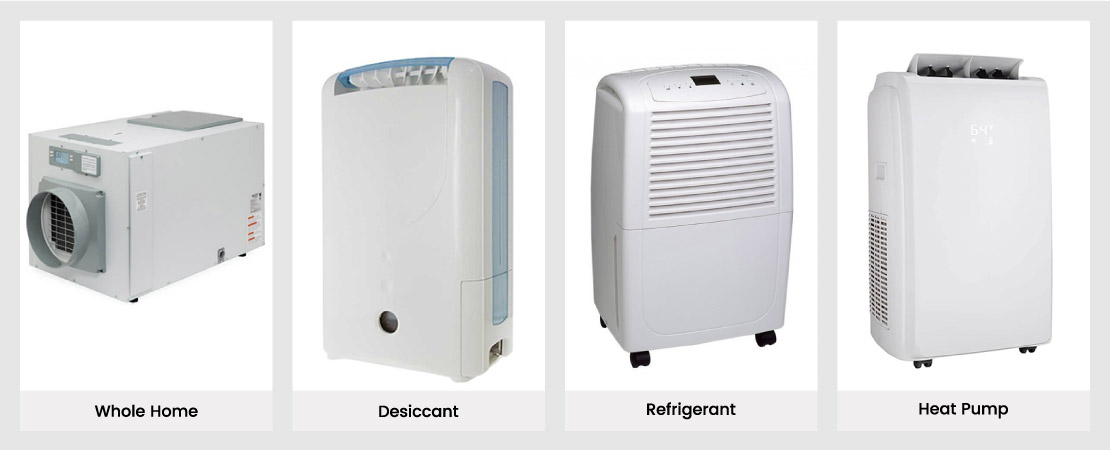 Whole Home Dehumidifier
The whole-home humidification system is the easiest and the most convenient method for adding or removing humidity from home. It checks the home for proper moisture content and then turns on the humidifier or dehumidifier as needed to bring the entire home atmosphere to the ideal humidity level. However, these dehumidifiers are more expensive and require regular maintenance.
Desiccant Dehumidifier
These dehumidifiers operate by passing the air through a rotor which contains moisture adsorbing desiccant material. Once water is removed from the air, there is a huge chance of drying as the dry air can be blown back into the building. Water collected within the desiccant wheel is removed by adding heat so the vaporized moisture can then be ducted out of the building.
The desiccant material is actually silica gel, which is a porous form of granular silica. The internal structure of the gel comprises a network of microscopic interconnected pores. This gel can adsorb moisture by attracting it within each granule. Due to added heat, this moisture can then be released from the desiccant by evaporation. Finally, it is pushed out of the building, leaving the desiccant wheel ready again to collect further moisture.
Refrigerant Dehumidifier
Damp air from within the building is drawn into the dehumidifier and passed over a cold evaporator coil which cools the air below its dew point temperature. This results in condensation. The water droplets formed on the cold coils then collect in a pan which has to be removed manually. Some dehumidifiers have a hose attached to them that automatically purge the water. The dry air then passes over warm condensing coils, which heat it up again before releasing out to the room.
Heat Pump Dehumidifier
Heat pump dehumidifiers remove moisture from the air with the help of a fan, heat pump, and heat exchange coils. By using a fan, the air is sent past the heat exchange coils that are extremely cold. These dehumidifiers provide excellent energy savings and comfort. By installing a heat pump dehumidifier, one can expect to save around 10 to 30 percent of energy cost.
Conclusion
If you do not want to welcome and host excess humidity in your home and other recurring problems associated with it, get a dehumidifier as soon as possible. However, before that, to make your buy worthwhile, get a damp/seepage assessment (www.macj-abuyerschoice.com/damp-seepage-assessment-with-solutions-through-thermal-imaging-technology) of your home done. There are reliable home inspection service providers who scientifically assess the moisture content of your home using advanced technology like thermal imaging. Based on their report, try to find the source and a permanent remedy for the humidity and damp problem. Alongside, invest in a dehumidifier. It will keep your home dry, fresh, and healthy for years to come.