Rohit Jain, 35, is an NRI working with a multi-national oil & gas company in France. He was scouting for property in India. Originally from Jaipur, Rohit wanted to buy a house in Vadodara, as most of the companies of the sector he belonged were headquartered there. It was logistically not possible for him to visit the city and look for properties matching his criteria, in person. So, he chose to go online. He looked up for all the properties on sale on India's leading real estate property sites and finally zeroed in on a duplex in Vadodara.
"I first registered my interest on few of the top home buying sites in India. Then, after researching thoroughly on the internet and making numerous phone calls to developers, property consultants and advisors, and work associates staying in Vadodara, I shortlisted around 7 to 8 properties. I did everything sitting either in my office or at my apartment. It took me two months to finalize a property and make an online transaction," says Rohit. Didn't he need an offline help? "I got my father flown in from Jaipur to Vadodara. He oversaw the entire procedure and acted as my agent in completing the sale agreement and other legalities."
There are many people like Rohit living abroad and looking for properties in India. They don't have the time or scope for property search. They rely heavily on the internet for home buying. But then some obvious questions arise- to what extent can they or rather, should they rely on online portals for buying a property? By depending too much on online search, do they not run a risk of being let down by the seller/ builder/ developer in the long run? How can they be 100 percent sure about the 'quality' of the house they are buying without having someone to see it for them?
There are many more such questions that revolve around online property search and buying and even more number of risks involved in the process. If you are standing with one foot already inside the prospective homebuyer's court then do think about these questions. After all, buying a property isn't like buying apparel. Without a proper offline guidance and home inspection, you shouldn't just go click a link and invest your money in it. There are offline solutions like NRI property management services that take things forward from an online selection of a property. Educate yourself about them and make your investment truly worthwhile.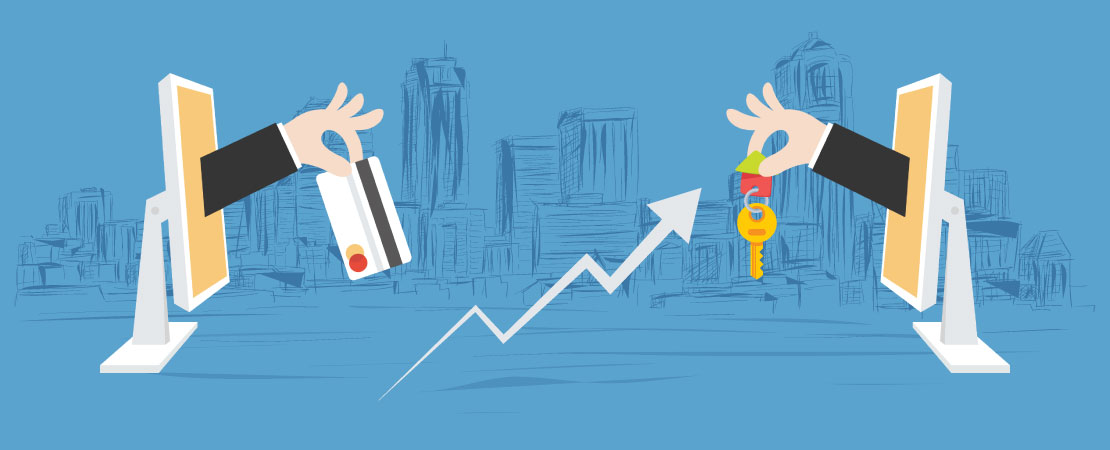 Online home buying in India: The trend and its advantages
The usage of digitally driven media in home buying has become a huge trend1 over the last decade. Home buyers are going online every now and then to gather information about their biggest purchase. They're watching 'How to' videos on YouTube, reading online reviews on various sites, and looking up specific real estate sites on the search engines till they're being able to find their dream homes. The trend has also caught up with the NRIs interested in investing in India's real estate property market.
Statistics show that they constitute a big percentage of online visitors regularly checking the sites like 99acres.com, magicbricks.com, Regrob.com, proptiger.com. And most of these leads do seem to get converted.
According to Business Today, "There has been a sizeable jump in the number of NRI deals in the Indian property market2 in the recent past. In the second half of 2018, Square Yards witnessed over 20 percent growth in NRI transactions as compared to the first half of the year. The total number of deals in 2018 was itself higher by 30 percent over the previous year."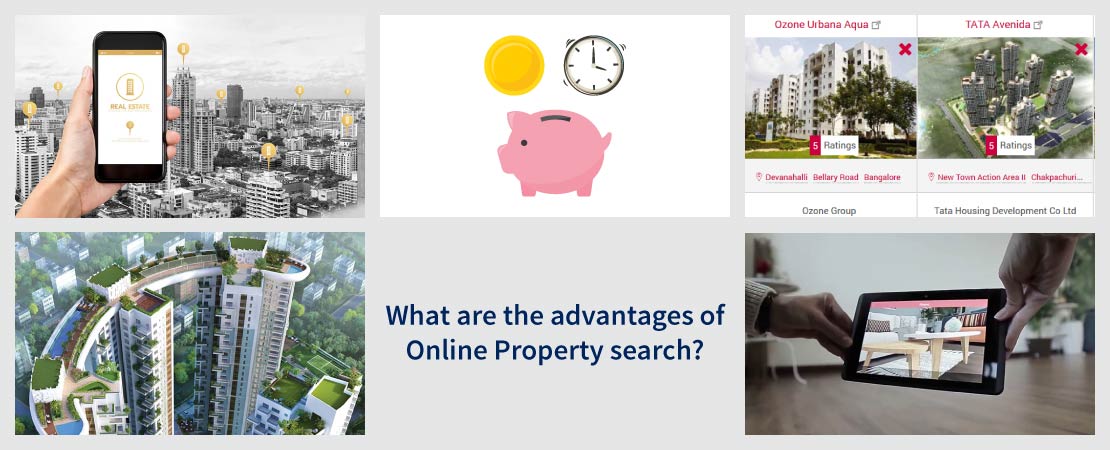 What are the advantages of Online Property search?
Convenience is the father of all technology innovations, and internet-based property buying3, selling is no exception. Other advantages of the process are:
Map-based search: Online searches offer map-based views of the property to help customers understand the physical and social infrastructure. This map-based search feature also gives the customers an idea of the amenities available in the property.
Time and cost saving: Without wasting time or moving anywhere, one can view n-number of properties on a single platform. Just a few clicks and the best of deals are at your fingertips. The money spent on data is also minimal.
Offers comparisons: As a single search generates plenty of results at a time, the prospective buyer can compare them based on various parameters. They can also cross-check by clicking each link separately if needed.
Virtual tour and sky view: These two advantages are mostly for the NRIs or those who can't be physically present to see the property. The virtual tour offers views from different angles of the property at different times of the day using the latest visualization software. The sky view, on the other hand, offers aerial views of the property showing the neighborhood.
Augmented Reality: Due to augmented reality, buyers can 'experience' the properties. All they need to do is point their mobile cursor on a particular real estate advertisement and the 360-degree view of the property comes to life.
Risks and Disadvantages of online property search
A house being a high-value consumer product, online buying comes with multiple risks.
You don't get exact details of the unit and tower.
Credibility of the builder/ developer/ seller cannot be verified easily.
Chances of being misguided or cheated by the channel partners (builder/ developer, property advisor, local agent) are present.
You have no idea of the existence of the amenities that are being promised unless verified by a trusted local agent.
Portals do not take responsibility for the third-party interest and liabilities.
Booking amount is non-refundable in many cases.
Inadequate information available on home loan and project approvals/ project development status.
Most importantly, you do not get to know if there is any construction/ quality issues in the building or not. The online portals do not provide any professional home inspection report or certificate based on which you can take your buying decision. It is only after you decide to move in or give the house on rent that you come to face the discrepancies. Then you have to bear the extra cost to get those problems fixed to make the house suitable for safe & happy living.
So, more than just being a risky process, online home buying is an incomplete process, for it ends with short-listing a property. An offline liaison has to then take over to complete home inspection and other property handover formalities.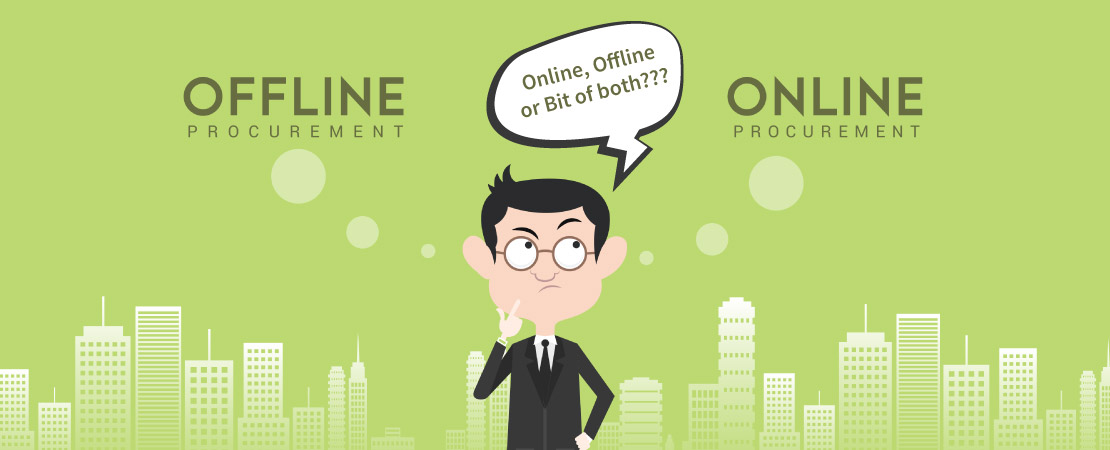 Can 'online' and 'offline' tie the knot?
According to Mr. Nikhil Hawelia, Managing Director of Hawelia Group, "For NRI buyers, online leads will get translated into sales, only if there are friends, family or peer groups, to endorse the project and the developer. Online advertising or online reputation management is not enough to freeze the deal. Once they finalize the deal, they also need a local agent for hand-holding." Mr. Hawelia also included that online exposure is useful only for communicating and connecting with the NRIs but cannot fully suffice the home buying requirements of an NRI.
Now, who these local endorsers are likely to be? Gone are the days when a local channel partner or a friend or relative would come in helpful if you are an NRI. Logistics no longer favour that choice. They can still help you by collecting information about the developer and its track record but only a professional assistant can actually guide you through the home buying process. A professional property manager can make you understand the difference between how the property looks online and in what condition it actually is.
For a better and authentic home buying journey of an NRI or cross city community individual, online media and offline services must tie the knot.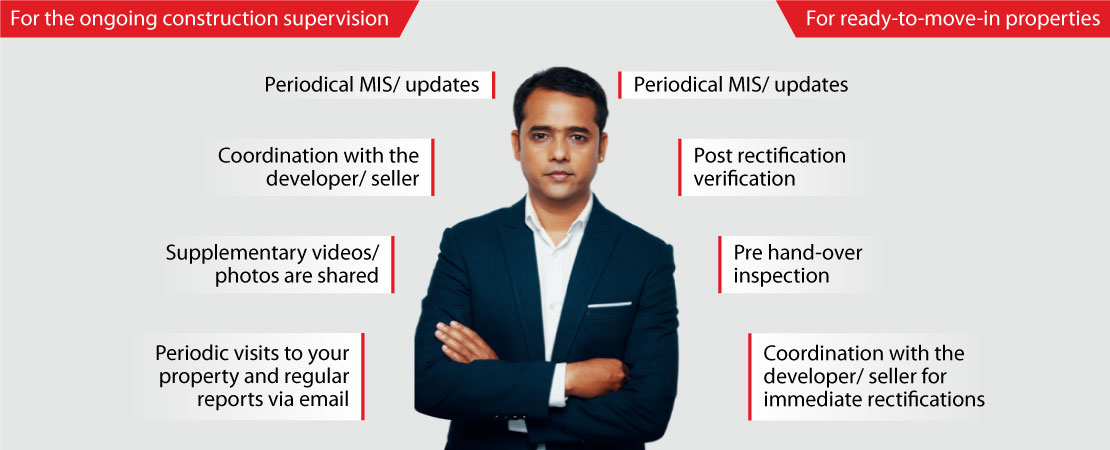 For the ongoing construction supervision
Periodic visits to your property and regular reports via email
Supplementary videos/ photos (live on site pictures) are shared
Coordination with the developer/ seller for immediate rectifications
Periodical MIS/ updates
For ready-to-move-in properties
Pre hand-over inspection
Coordination with the seller/developer for rectification
Post rectification verification
Periodical MIS/updates
Legal assistance and paperwork
Sales deed documentation
Suggesting/ arranging property finance
Complete property handover process including collection of keys, access cards, and documents
These business entities also offer support services by trusted partners and vendors like reputed interior designers, tiling experts and plumbers.
Thousands of miles away from your motherland you can only look for options to find the best home for yourself there. Internet is surely the most important medium today to connect with developers and property owners. You have to keep faith on it for faster communication. But at the same time, you must also take the help of the local property managers. Only a logical blend of online and offline dynamism can make your home buying process free of tension and your buy worth its value.