It is a monumental task to have a home in India. To maintain one is even more cumbersome. The quality of home that one has is often subject to wear and tear. The quality of materials, in a old property, will obviously be worse for the effects of time on it. In fact, some properties have hidden construction-stage issues that tend to surface later appearing as new problems. How to deal with them?
A) While buying a new house, get it checked by the professionals.
B) If you are living in a house for years, get it checked by the professionals!
Yes, there cannot be any other way to assure the quality of a home. Home inspection services are now a reality in India. You must avail of them to put an end to your home quality-related worries.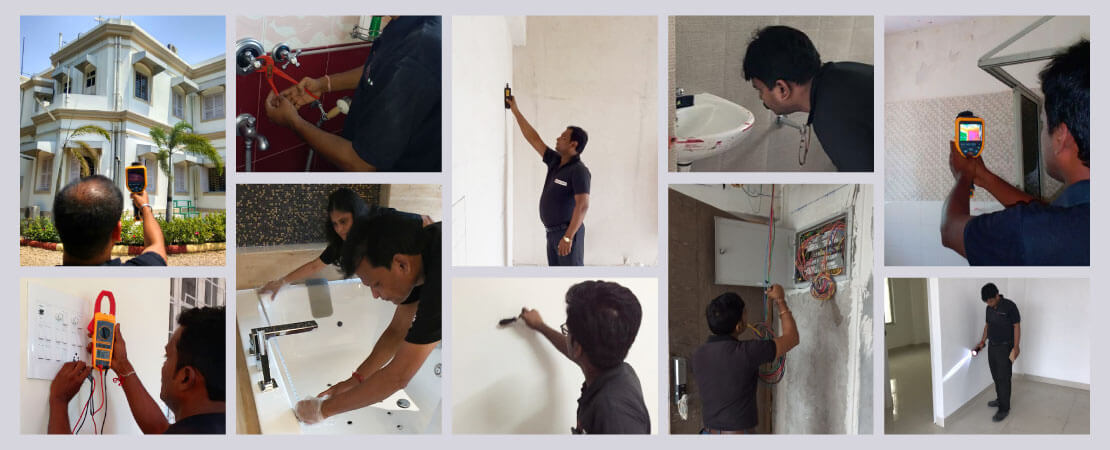 No Short Cut Please!
It is harder done than said. The idea of 'jugaad' is so popular that one avoids doing the necessary thing for one's home also. One likes to save money & effort; and feel like resorting to conventional, low-cost or obvious solutions. For example, if the paint is seen peeling off the wall, instead of checking why it is happening, one tends to put fresh paint on that area only or go for a wallpaper. Worse, damp is seen in the ceiling of the ground floor; one simply puts white cement on the floor-wall joints of the bathroom/toilet on the first floor. These solutions only delay the inevitable and are superficial to the point that they are misleading.
If periodical maintenance or health check-up of any property is not carried out or problems are overlooked, then deterioration will occur and the issues will spread. It will adversely affect both the human health and property life. Taking care of the elements of any property will not only ensure smooth functioning but will also provide these elements a longer and healthy life.
A home/property is a sum of all elements that are part of it. However, there is a tendency to ignore the unit in totality and think of each defective element as a separate thing that in turn will solve the entire issue of property maintenance. In the long term, it will be nothing but one Band-Aid to a body suffering numerous blows. The body needs more than random single-use fix-ups.
Home Inspectors perform the much-needed in-depth inspection of the places where one lives or works. Sometimes, as in the case of a pandemic, both work and home merge into one place. The need to improve the quality of the home increases, as audio-visual representations (prepared for work) from home, get shared more in professional and personal contexts.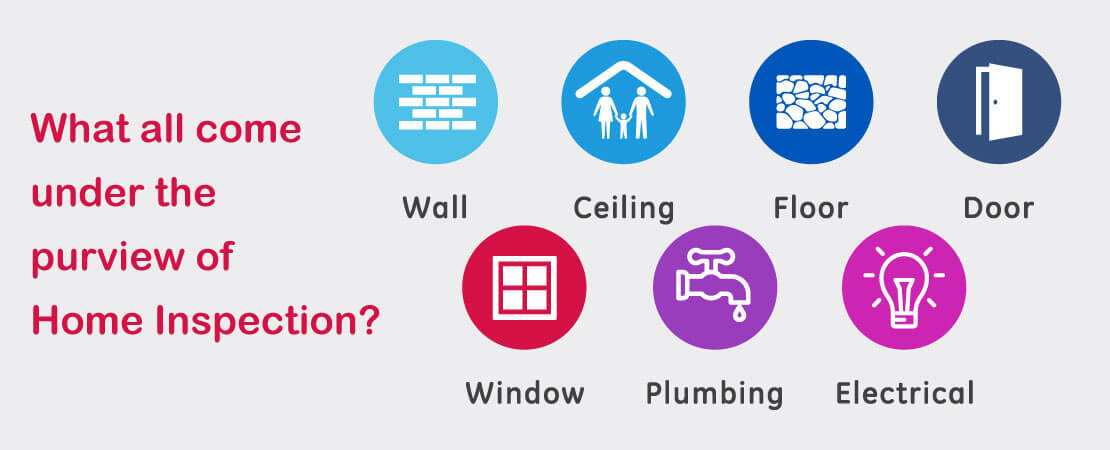 What all come under the purview of Home Inspection?
A home inspection is characterised by the following main features:
Examining basic elements like the type of material used in walls, floor, ceiling, staircase, etc
Assessing the current condition of the property
Analysing the safety of the elements that one has to deal with on a daily basis
Finding the source of an existing problem
Suggesting long term solutions to eliminate the problems that have arisen or may arise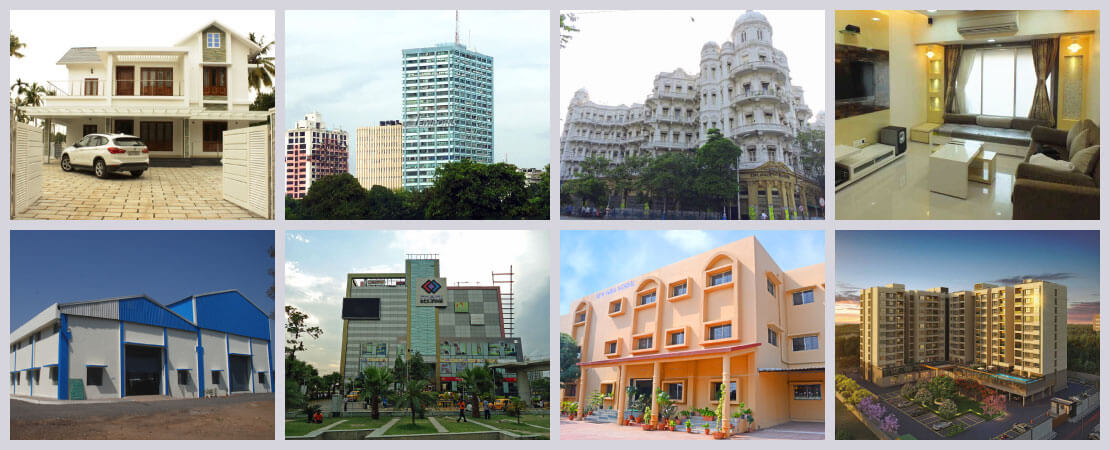 The types of properties inspected are:
New, Existing, Old, Heritage
Home
Big Residential Projects
Commercial:

Offices
Schools
Hospitals and other healthcare buildings
Shopping malls and multiplexes
Standalone retail stores
Factories
Warehouses, etc etc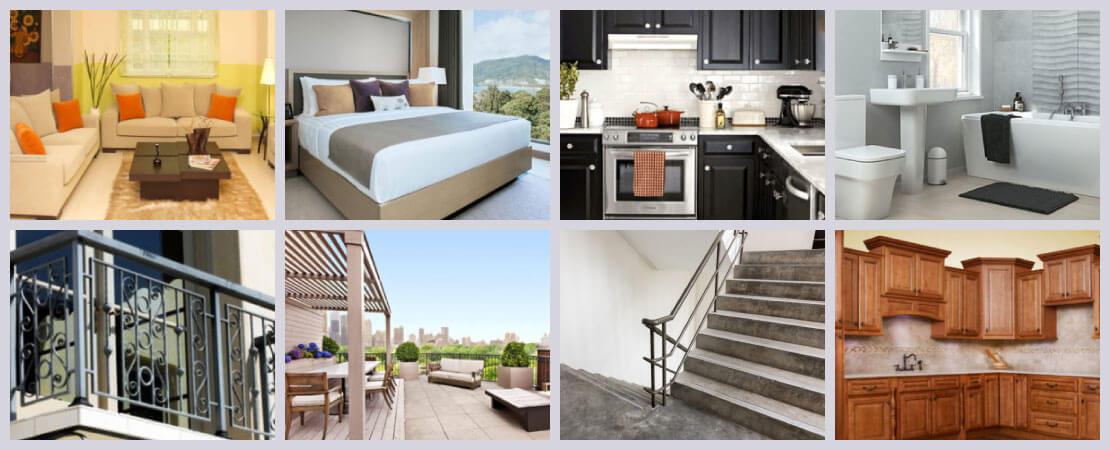 Inspection typically involves non-invasive, visual examination of all accessible areas including:
The rooms – living and dining room, bedroom, study room, storeroom
Kitchen, Bathroom/toilet
Attached areas e.g., Balcony, roof, lobby
Attached structures – stairs, steps, handrails, ramp etc
Elements in each area – floor, ceiling, walls, doors, windows, plumbing, electrical
Add-on components – cabinets, counters, furniture pieces, faucets, sinks and basins, etc
In a nutshell, home inspection represented a complete value-chain with full integration.
One often forgets or rather takes for granted how many elements there are in each room and how interconnected they are. Home inspectors with their advanced tools provide the big picture of what is happening. More pressingly, how well the future would play out. The walls have to bear the load of the house – literally. It is not a question of just looking good, but also how durable it is for future generations. Otherwise, your home will start ageing fast and become uninhabitable within a few years.
So you should use the home inspection services to put your doubts at rest. How your house or office should be from a utilitarian angle should be left to the professionals. They have the technology, experience, tools and solutions and also the know-how to use them.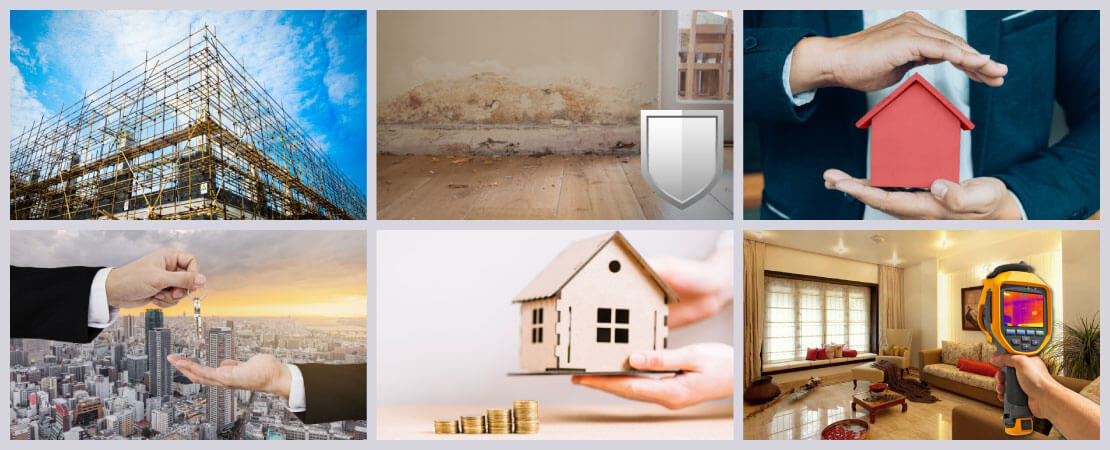 Benefits of Home Inspection
Numerous – one being assessing the durability of the property components, as already stated above. Besides, other advantages of opting for home inspection services are:
Minimizing risks of accidents which may cause due to electrical or construction defects in the building
Getting freedom from dampness and gifting your family a microbe-free environment
Increasing the life of your beloved home
A pre-handover inspection while buying a property ensures your investment is worth it
Getting a realistic idea of the value of the property before selling
Finding salient and hidden defects of the home saves you from future repair and maintenance cost
And this is just a macro view. You really have to look at 'home inspection' as a service from different angles – a homeowner, a commercial property owner, a person buying a new house, a person intending to sell his old house, a person willing to renovate a heritage property, a builder/developer, an interior designer, a realtor and so on – to understand its scope and varied advantages. It is, in the true sense, a boon of a concept in the world of real estate.
You cannot keep on neglecting where you spend so much time and moreover where your name is attached. Having a home inspection might be inconvenient for that one day where you would have to be around when the inspector comes. It would surely save you a lot of potential losses and harassment in the future.
We often think that buying anything that looks shiny from outside or selling something that is defective is effective problem-solving. But this kind of approach is piecemeal and not holistic. We need to acknowledge the basic nature of our house and how much can it take in. A home inspection will be the means of getting that message across. You do not need to fret needlessly or be confused about the resources at hand.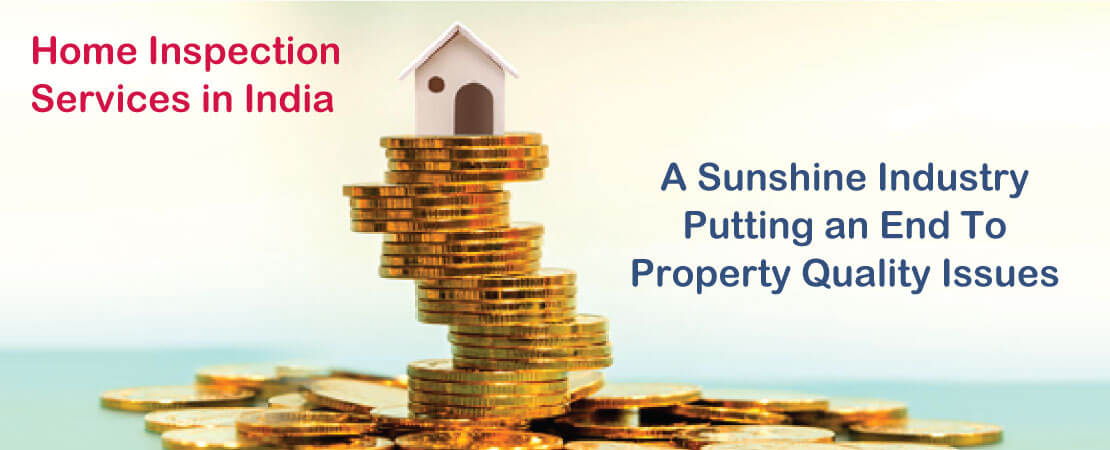 Home Inspection Services in India: A Sunshine Industry Putting an End To Property Quality Issues
It is an exciting new phase in India's real estate history. Home inspection as an industry has come and is growing, and how! Outside India, it is already an established industry. There are professional home inspection services in most of the major locations of the country. They ensure that you have a comprehensive health check-up for your home and still do not have to pay through your nose. After all, with the hard-earned money, no one wants to fall trap to the 'penny-wise pound-foolish malady.'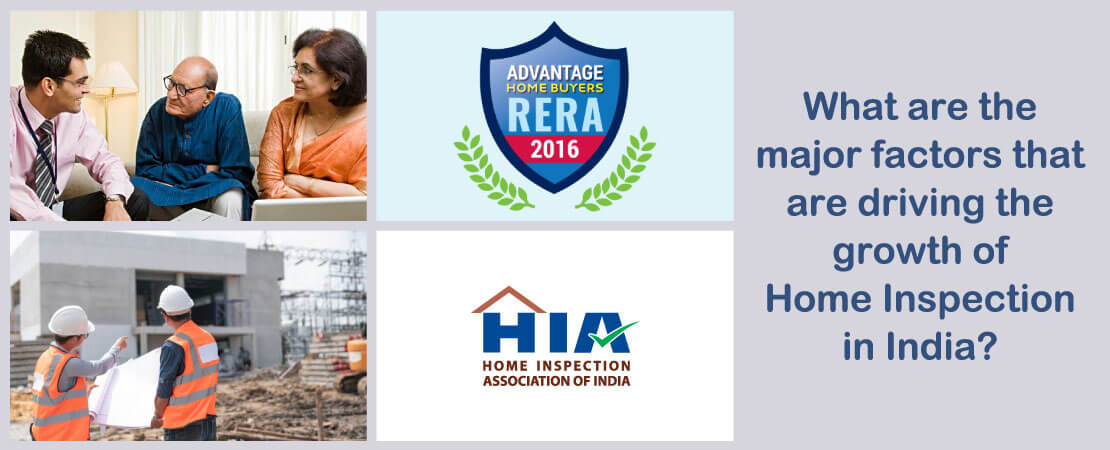 What are the major factors that are driving the growth of Home Inspection in India?
a. Changing homebuyer sentiment
Today's home buyers are a much aware lot than before. They want to be doubly assured of the quality of the home/property they are putting their money in – whether it is a gadget or a property. Moreover, with the real estate prices escalating they want to protect what they already have in their hand. With this, awareness regarding healthy living is also increasing. People prefer to buy and live in a house that will nurture their health and not ruin it over the years. For that, they are not shying away from paying some extra money for a service that has long-term value.
c. Real Estate Developers have also come to realise the important of a construction phase / pre-delivery check-up / inspection of the properties they are building. Senior management cannot always monitor construction & quality. Third party Home / Property Inspection Services ensures reduced dependency on contractors / floor managers, workers, assures quality and adds value to their project and credibility. Leading developers of metro cities have now started using the services of home inspectors / third party property auditors for the residential projects they are developing. India largest online property advisory services company MagicBricks.com has tied up with leading home inspection companies of India and started offering Home / Property Inspection Services under their platform – https://www.magicbricks.com/propertyservices/property-inspection-services4
d. Incorporation of the Home Inspection Association of India
The founder members of the leading names in the home inspection industry such as MACJ – A Buyers Choice Home Inspections, E-Ghar, Checkmyprop, HomeInspektor, Meazurement, etc came forward to form this association5 with the objective to have a common platform of growth, development and regulation of this new industry in India. They are also in touch with various RERA / Government authorities to enable incorporating third party inspection services under the RERA.
Home Inspection with a gamut of employment opportunities is here to stay and flourish. You may be unsure about opting for this new service now. This is a common tendency of any market towards any new service or product. But trust us, it already is a multi-billion US Dollars established industry in the USA, it will only spell benefits for your property. Most of us are unaware of the qualities that our home is endowed with. With the help of a professional home inspection team, unleash these qualities, say goodbye to problems like seepage/leakage, damp, improper earthing, etc and enhance the health and safety of your home manifold.