A dream home is not just a home. It is not the only end goal of aspired living but also a security blanket. It is an important investment that needs to be well thought through. At the same time, new does not always mean perfect and old is not always gold. So, whether you are buying a new house, renting one, or maintaining one from overseas, you need to ensure it is safe and healthy. The best way to do that is by engaging a third-party home inspection service provider. If your builder or seller stops you from doing that get your logic straight and demand for a transparent check. Remember- getting an independent home inspection done is one of the fundamental rights of a home buyer. (Read thru www.legalmatch.com/law-library/article/home-buyers-rights.html)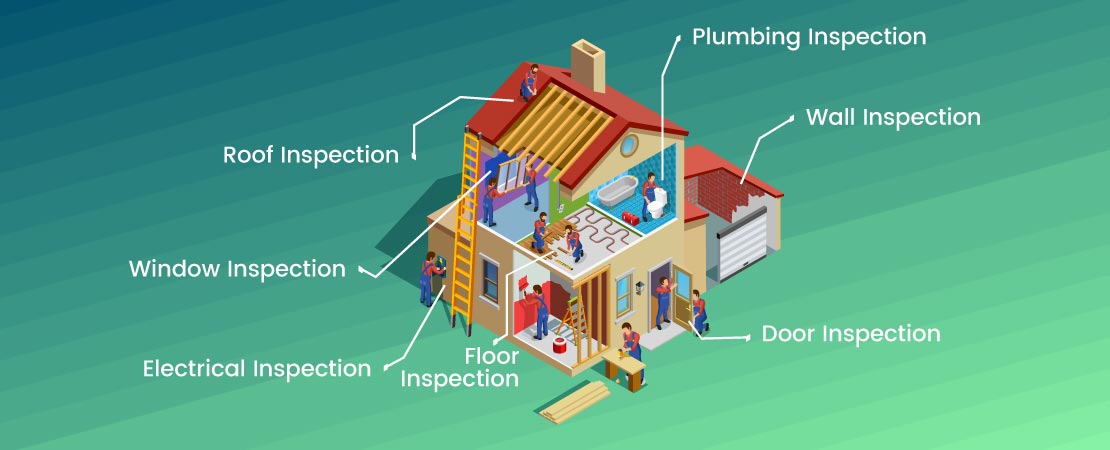 Importance of home inspection for new constructions
While purchasing a house, a new property is always a preferred choice. This is because top builders in India are developing modern homes that make maximum use of space and the latest materials available. Like their international counterparts, they are now focused on maximizing energy efficiency in every project. Additionally, a brand new house doesn't come with the baggage of maintenance issues like older properties. That being said, defects like faulty water-proofing and water seepage, civil, electrical or other related issues can be there in any property irrespective of its age. To detect those defects a third-party home inspection is crucial.
A pre-purchase home inspection is relatively new in India. Builders and developers haven't warmed up to it yet. They feel a third-party home inspection may open up a can of worms they aren't even aware of and thus, risky. Many builders will resort to complicating the situation to dissuade the buyer from engaging in a home inspection. These builders are likely to have compromised on the quality and are the ones to watch out for. On the other hand, trustworthy builders and developers will always welcome a third-party inspection as it will reinforce their reliability to the public.
As a buyer, you must understand that it is your right to carry out an independent home inspection/ appraisal. No builder in India can decline such a request, whatever be the case. If they do, then they should certify all the concerned areas have been addressed. Or else, in worst cases, you can escalate the matter to the consumer court or your state RERA (Read through the related note…… www.macj-abuyerschoice.com/home-inspection-rera-updates)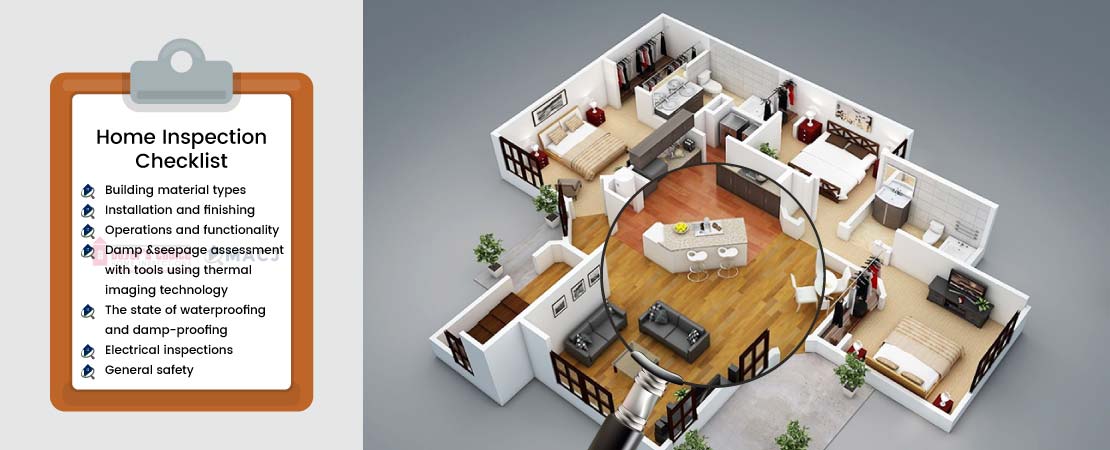 A home inspection checklist for new buyers
A home inspection is largely a non-invasive technique. It is a visual examination of all accessible areas which includes systems and components of a property. The third-party inspection team issues detailed pictorial reports of critical issues observed. Software-driven home inspection reports are generated for the complete assessment. Clearly, a home inspection prior to purchase is- knowing what you are walking in to. After all, nobody likes surprises down the road. Isn't it?
Getting started, a checklist helps:
Building material types
Installation and finishing
Operations and functionality
Damp and seepage assessment with tools using thermal imaging technology
The state of waterproofing and damp-proofing
Electrical inspections
General safety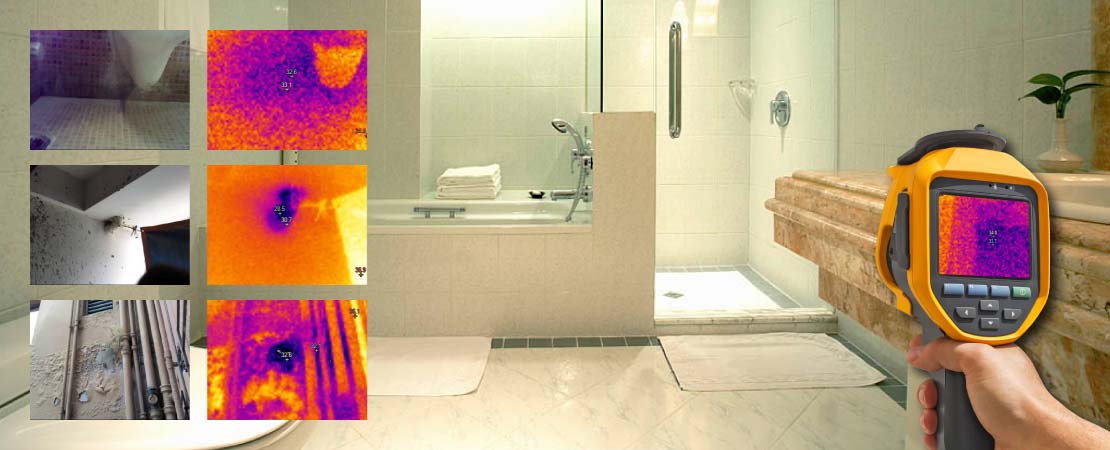 Why you should be extra cautious about leakage/ seepage
India is classified as a tropical landmass and such topography is associated with heavy moisture/ dampness. Ambient dampness leads to seepage in building structures having waterproofing defects for finishing issues, weakening them pretty fast. Other causes that worsen the situation are poor ventilation, rising and penetrating damp and plumbing failures, etc
You will notice rising moisture content creates a ripple effect in the house. There are rust and fungus in toilet tanks, water pipes, HVAC systems, and other machines. The insides of electronics and domestic appliances also start to corrode easily increasing the risk of short circuit. If not detected early, this damp leads to recurring expenses and in case of extensive damage, structural renovations become inevitable. This is also a significant health hazard to the residents (www.macj-abuyerschoice.com/damp-seepage-assessment-with-solutions-through-thermal-imaging-technology)
Depending on the year constructed and material used, moisture can speed up the deterioration process of your home and create an unhealthy living environment. By opting for a home inspection you can nip the problems in the bud. The non- invasive moisture testing helps you to find out the affected and/or vulnerable areas of the property. And you can take necessary action for a long term solution. The net result is no headache of recurring expenditure on things like patchwork waterproofing and repainting after every extreme weather events. Additionally, a well damp-proofed property earns you better returns over a longer period of time.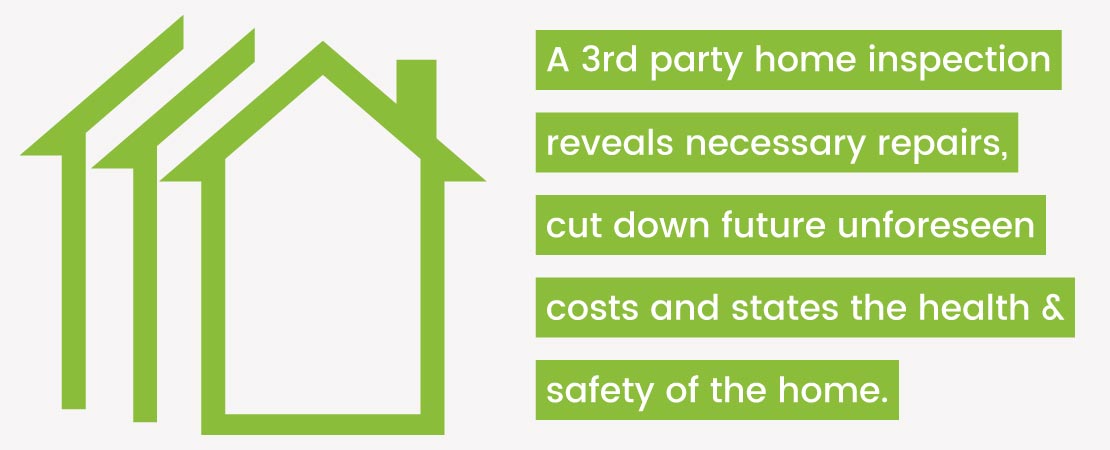 Why are builders wary of the home inspection?
It is human for people to be suspicious of and resistant to new things. Home inspection was not on the buyers' agenda before and awareness about the process has been low until now. Times have changed. Properties are far bigger investments, buyers are savvier, NRIs are buying properties like never before and municipalities/governments (RERA) are imposing stricter quality control. This has created a professional buying and selling environment, thereby requiring a pre-purchase home inspection to come into play.
Many Indian builders regard third-party inspection as intrusive and a challenge to their abilities. Some of them may not have used quality compliant means and processes in their development and are at risk of being exposed. Others may not have an idea of the ideal stringent measures required for quality construction and development and are hence, wary of being caught out.
In this developing scenario, top builders in India have shown greater degrees of acceptance of home inspection and are not obstructive if requested.
For the buyers, a third-party property inspection is a better-to-be-safe-than-sorry proposition. It is certainly not a knock against the developers, builders or municipal inspectors to point out their defects. It simply reveals necessary repairs and cuts down on future unforeseen costs while stating the health and safety of their new or existing purchased property.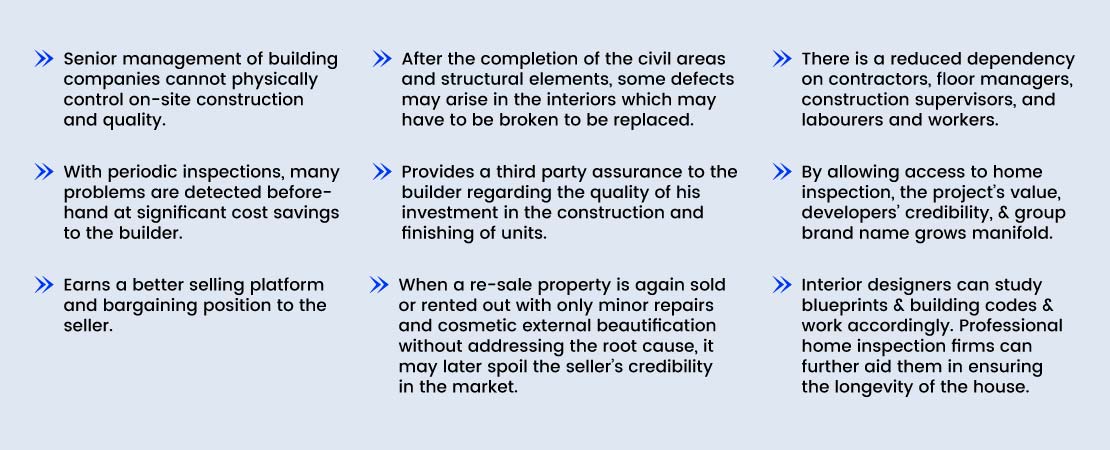 Builders should actually welcome home inspection
Indian Real Estate Developers should actually be open to having their properties evaluated by third-party home inspectors instead of opposing it. It is an opportunity for the inherent construction errors to be addressed before they become major problems. And it is also a free opportunity as it is being paid for by the buyer! Every seller should allow the buyer to have a home inspection done at their discretion and expense before the contract is signed. It is the same thing like buying a car which is a test-driven and inspected from every angle, both from outside and inside, before the final handover. So, why not you must insist for a safe and healthy home for your family which is far more expensive than a car?
Every buyer when buying a new standalone house should be allowed an inspection by the builder or the real estate developer. This should be prior during construction, prior to fittings (electrical / plumbing, doors, windows, floorings, etc) installation and then, before the final walk-through. In the case of apartments too, top builders in India should not oppose home inspection which helps identify minor issues that become bigger with time. This sets a good example for the smaller builders to follow. Also, inspection by the buyer at the construction stage itself can do away with huge unforeseen expenditures for the builder/ developer later. In fact, some of the leading developers in India are already conducting pre-delivery third-party inspections themselves. (www.macj-abuyerschoice.com/our-services-2/construction-finishing-inspection-for-real-estate-developers)
Some of the reasons why builders in India should allow inspection are as follows:
Senior management of building companies cannot physically control on-site construction and quality.
After the completion of the civil areas and structural elements, some defects may arise in the interiors which may have to be broken to be replaced.
There is a reduced dependency on contractors, floor managers, construction supervisors, and labourers and workers.
With periodic inspections, many problems are detected beforehand at significant cost savings to the builder.
Provides a third party assurance to the builder regarding the quality of his investment in the construction and finishing of units.
By allowing access to home inspection, the project's value, developers' credibility, and group brand name grows manifold.
Earns a better selling platform and bargaining position to the seller.
When a re-sale property is again sold or rented out with only minor repairs and cosmetic external beautification without addressing the root cause, it may later spoil the seller's credibility in the market.
Interior designers can study blueprints and building codes and work accordingly. Professional home inspection firms can further aid them in ensuring the longevity of the house.
Home inspection, thus, is a win-win situation for all the parties in a real estate value chain as together they can have a clear understanding of the physical condition of the home in order to make a well-informed decision. A home buyer must explain to the builder or developers that they are all links in this same chain so what benefits one, will also benefit the other.
NRI/ Cross City Community property buyers must convince builders to allow a home inspection
Many home Inspection/property management companies offer one-stop solutions to the NRIs / CCCs for managing their property from a foreign land, whether it is at the construction stage or ready to move-in. From physical inspections of a home to doing the paperwork and filing taxations for both self-owned and rented premises, they do it all at a nominal fee. So, when faced with opposition from the builder, an NRI buyer needs to be firm and resolute about a pre-purchase inspection. The most accommodative way is to educate an unwilling builder about the non-invasive process of home inspection and the benefit it provides to the buyer and the builder alike. While it may take more than just an encounter, the time spent to obtain the permission will be worthwhile for sure.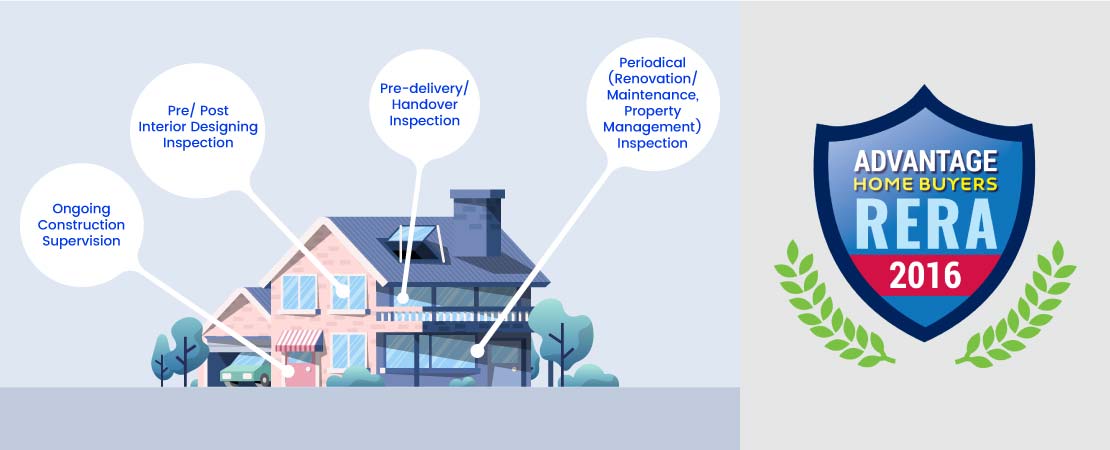 Home inspection & beyond: NRI property management benefits
A Third party property inspection, for NRIs, comes with a host of other benefits. The service providers cover many essentials to give their clients complete peace of mind. For example, if you are buying a property and have engaged a property management team, it will conduct periodic visits to the sites of under-construction properties and keep sharing regular progress reports along with relevant pictures and videos with you. It will also coordinate with the developer about rectification matters and email you periodical MIS/updates. Before the handover, it will conduct a thorough final inspection and arrange for a walk-through so that you can move in with a relaxed mind.
Builders and developers must realize that high-end buyers and the lucrative NRI/ CCC customer base are more likely to insist for pre-purchase home inspections or else make their investment elsewhere. The NRI group, particularly, will turn their back on them as they fully comprehend the headaches that can come out of an un-inspected piece of property that they struggle to manage remotely.
A popular management mantra says: the customer is always right. The real estate industry is no different, and particularly so in a buyers' market. When years of dreams and hard earned money are put together as an investment for a home and a security blanket, the buyer has every right to tick all the boxes prior to purchase. It is called peace of mind. So, as a buyer if you find your builder unwilling to cooperate on pre-purchase home inspection matters, first, try to convince him; if that doesn't work, seek legal advice or go to your State RERA (RERA provides for 5 years free-of-cost guarantee from structural / workmanship defect or any other quality or provision of services or any other obligations of promoter as per agreement for sale from the date of handing over possession…… www.macj-abuyerschoice.com/home-inspection-rera-updates)