Almost on every weekend you spend time fixing something or the other in your home, right? You make it safer, more secure, eliminate any chance of damp – in simpler words, you strive to make your home more 'liveable.' But have you ever wondered the same issues may also be present in commercial spaces as well? If work is worship for you, your office must be your temple. Unfortunately, we do not pay the same attention to the health of the building where we spend almost 9 hours daily, working, and completely skip office inspection – well, almost, in most cases! It is high time we became aware of the attention commercial properties need. It will cumulatively make our life in and outside our home much safer and beautiful.
Quite similar to home inspection, office inspection also covers a wide range of services. To get an idea of what all comes under the umbrella of this so-called 'inspection,' read this article on Diversity of Home Inspection.
Major services under office inspection
Maintaining health and safety at the workplace is of utmost importance. Hazards can take place due to plumbing issues, electrical issues, and leakage or damp problems. All of them need individual attention when it comes to inspection. In fact, none of these issues can be left for them to arise in the future. The concerned authority must be proactive about checking every facility at regular intervals so that the chances of faults and failures can be reduced and any downtime due to them can be avoided.
Following are the major service categories that ensure complete safety of an office building: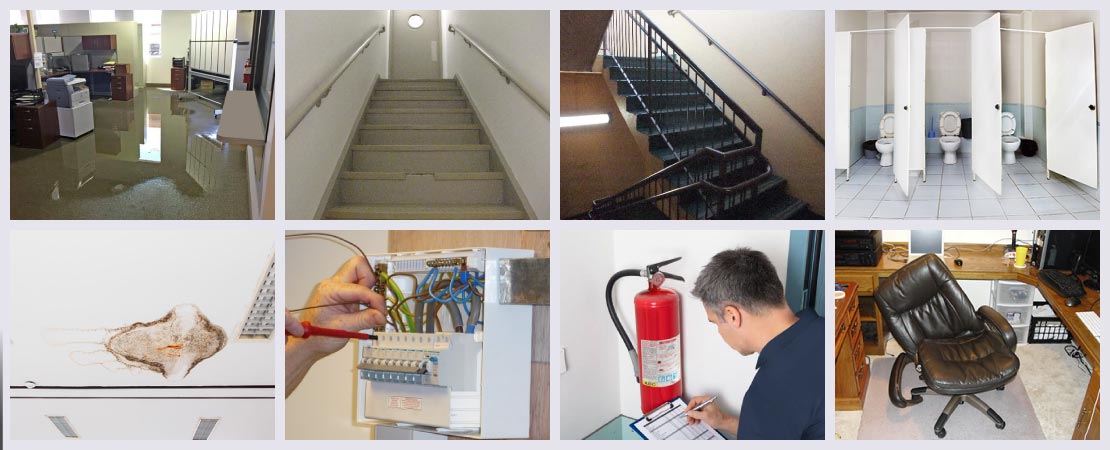 1. All-over inspection
Professional property inspectors conduct a non-invasive, visual examination of all the accessible areas of an office complex using modern technology and specialized tools and look for issues that require immediate but long term resolution. They even help to identify areas that may become problematic in the long run. After inspection, they generate software-driven reports (with relevant images) mentioning issues observed and deemed critical. Some of the major areas that come under the scanner include:
Exterior walls

Are there any cracks, efflorescence, or plants growing on the walls?
If the paint condition is good or not.

Basement/ driveways: Water stagnation, peripheral drainage blockage, etc.
Floor

Slope
Tiles – hollow tiles, joints grouting, dampness, slip resistance, etc.

Stairways: Condition of the handrails, height of the risers, slip resistance of the steps, lighting, etc.
Ladders, ramps, and guardrails
Roof: Covered or not, slope, drainage system, stagnant water, cracks, seepage problem, etc.
Plumbing system: The overall condition of the external as well as concealed piping system, leakage or blockage in the pipes, piping material, etc. Also Leakage or loose fittings in any component of the washrooms, tank, blockage in the basins, the functionality of the showers, etc.
Overall sanitation of the washrooms and pantry
Doors and windows

Locks and latches – Crucial for ensuring security
Sliding/ swinging door operability
Door and window frames – if there are any gaps in between them – pathways to water seepage
Proper opening and closure

Interior walls

Cracks
Paint condition – popping paint or other paint deterioration
Dampness/ seepage
Wall tiles
Wallpaper condition

Ceiling: Watery patches due to excessive condensation or leakage, paint condition, etc.
Electrical system: Concealed wiring, switches, plugging points, lights, and machines and appliances, safety issues, etc. Checking all these things come under electrical inspection which is further explained below.
Fire handling equipment
Furniture, material storage, and other equipment
An exhaustive list – isn't it? Inspecting all these for issues, small or big, is crucial for maintaining basic working conditions in an office. Faults in any of these systems may otherwise lead to unexpected downtime and loss in productivity.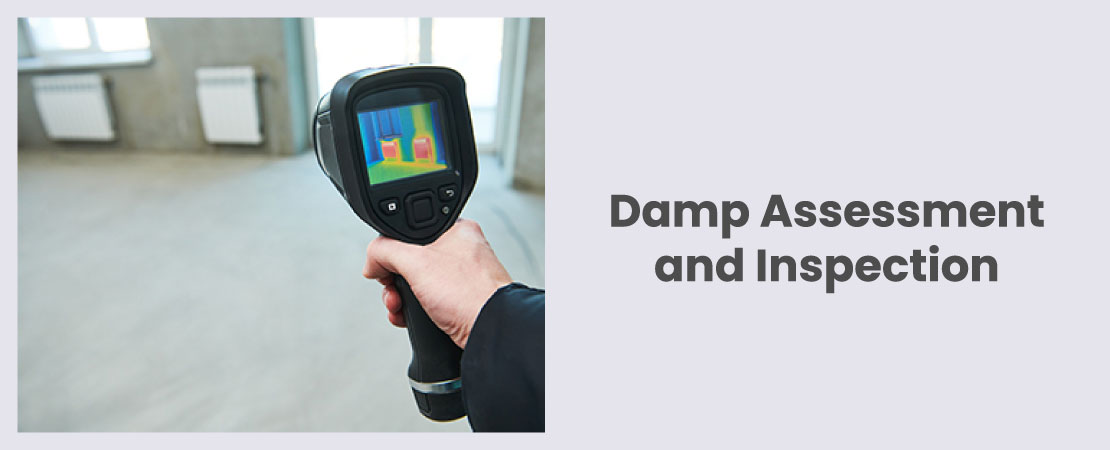 2. Damp Assessment and Inspection
Damp can deteriorate a complete building – be it the private property or commercial space. This can be a result of faulty roofing, low-quality building materials, lack of proper ventilation or plumbing issues. Leaky pipes and fixtures are also responsible for dampness. With a proper damp assessment and inspection, you will save not only the office building but also the occupants. Damp assessment will list down the issues found in the building and inspection will reveal the sources – all with the help of advanced thermal imaging technology & tools that the inspection professionals carry with them.
Damp issues if ignored can severely affect the health of the workers as well as the building. How? Read Moisture / Damp / Seepage – The Invisible Silent Killer: Unsuspecting Criminal.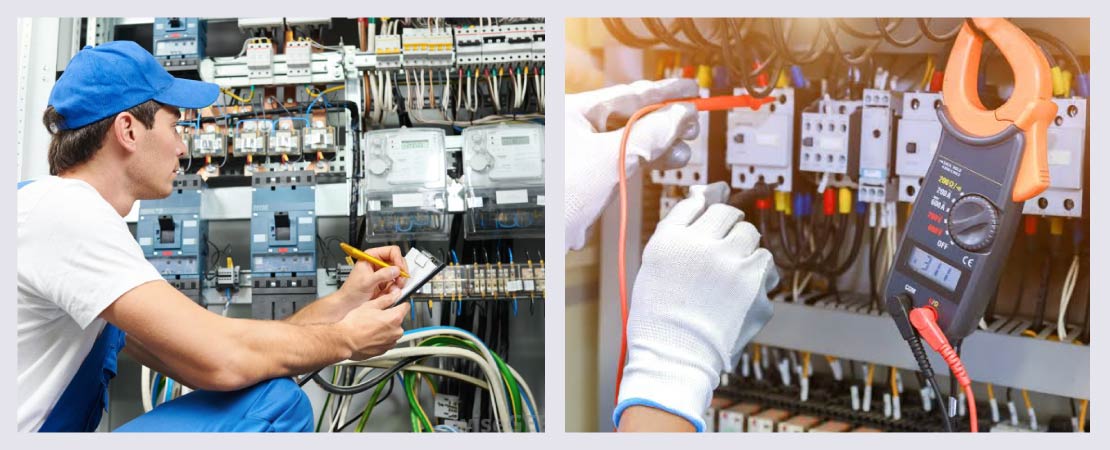 3. Electrical Inspection
Imagine a day at work when suddenly the lights went out and the computer monitors in front of the employees went blank. Reason? Short circuit, maybe. Of course, you can always call an electrician and mend the wires after it happens. But what about the loss of money and time and data when an electrical problem makes its way in?
Imagine electrical issues of a more serious nature. A short circuit can be as big as a fire break-out also and you know the consequences of it, right? To avoid any such untoward phenomenon that may also cause casualties, you must invest in a timely electrical inspection for it is a preventive maintenance function that reduces labour and material cost while reducing the amount of reactivity to failures.
To learn more about the differences between preventive and predictive maintenance, click here1.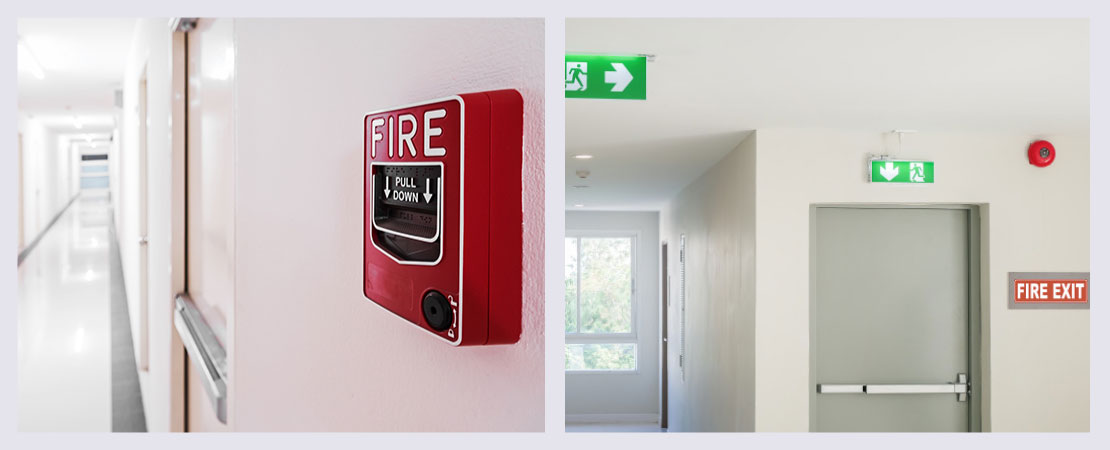 4. Checking fire safety
As already mentioned, a thorough inspection of the office building will invariably cover the aspect of fire safety. An office building is a commercial hub where many individuals come and work for long hours on a daily basis. So, there can be numerous risks of fire – some due to wrong habits like smoking in an enclosed area other than the designated zone, using ovens with LPG cylinder for cooking inside the canteen, and others due to electrical hazards.
In India, the National Building Code (NBC) published by the Bureau of Indian Standards (BIS) is the basic model code for building construction and fire safety2. For ensuring compliance under this code, commercial buildings need to use equipment/ installations that are duly certified under the BIS Certification Marks Scheme. Plus, they must also meet other quality requirements. An office inspection checks the fire safety controls and points out issues that may turn out to be hazardous in the long run. Some key areas that are looked at for ensuring fire safety include:
Smoking zones
Fire exits
Kitchen equipment
Malfunctioning appliances
Electrical sockets
Flickering lights
Fire safety equipment
Why office inspection so important?
It would not be exaggerating to say that office inspection is the ultimate necessary thing for your office. The inspection would eliminate a number of issues which would add to your cost and human health on a recurrent basis:
Safety hazards arising from faulty wiring system, non-functional switches, and unsafe working practices will be managed.
Unhealthy conditions inside the office, growth of fungi, microbes, and pests lead to a myriad health problems. Be it plumbing issue or faults in the designing, damp assessment and a thorough inspection would eliminate any such possibilities from the commercial space.
Excessive condensation problems in the building which may arise due to issues in AC installation/ maintenance and its continuous use can be checked.
Hazards may occur due to uneven distribution of electricity as many equipment and appliances run simultaneously in an office. With office inspection in place, all possibilities of such hazards will be eliminated.
If inspection points out civil issues, it will help the office authority financially also. Repairing can be done before they become severely damaged and replacement becomes the last option.
Though not direct, but indirectly it affects employee satisfaction also. With a safe workplace and an office regularly inspected, employees develop a feeling that the management and authority are concerned about their overall well-being. And you can never deny that satisfied employees would mean improved productivity, achievement of objectives, and increased profitability; can you?
So, there you are. Starting from the exterior environment to work stations, all come under office inspection. When qualified inspectors give your office a visit, they will point you out where attention needs to be given more. A proper office inspection covers the parking lot, storage areas, wet areas (kitchen/ bathroom units), amenities, elevators – in a word, the entire workplace.
Office inspection informs the management about the risks of any level – mild, severe or moderate. You can control the threat and continue your work-life peacefully. As much as you care about the work, give attention to the office also because it is where you spend nine hours of your day, five to six days a week. Office inspection will provide you with multiple benefits. Be proactive and reach out to a trusted home inspection service provider.