Thermal Imaging Technology, Latest Tools and Trained Team helps in assessing and finding source & solution to serious damp / seepage problem in an operating Shopping Mall cum Office Complex
The Serious Problem of Damp / Seepage - Moisture Intrusion
Operating Shopping Mall cum Office Complex in a key location of Kolkata, India.
The complex was facing severe damp problems. The maintenance team got multiple repairs and also the water proofing treatment done which lasted for some time but problems reappeared. It was both waste of time and money and most importantly having adverse effects on human health and the shelf life of the structure.
Being a running shopping complex / office space it was not prudent to shut it down for rectification for long duration – What was required was a quick as well as accurate & long term solution.
Fortunately they found MACJ – A Buyer's Choice Home Inspections when they were searching the web and in the MACJ website they saw how, through infrared technology, tools and trained team, MACJ – A Buyer's Choice Home Inspections is able to track and find the source of hidden damp / seepage intrusion with long term solutions.
Team MACJ was summoned to assess and find a long lasting solution.
We shall describe a particular office space that was affected in multiple areas due to moisture / damp from multiple sources.
The moisture / damp / damage had spread in different areas as mentioned below:
High moisture content, Damp, Peeling of plaster noted on window sill & popping up paint under the window in the Conference Room along the entire front wall.
Popping up of paint, Stains and Moisture presence noted In the Bathroom Alley walls,
Moisture and mold noted in Bathroom 1,
Moisture and leak stains noted in Pantry,
Moisture noted along the joints of floor tiles in Bathroom 2.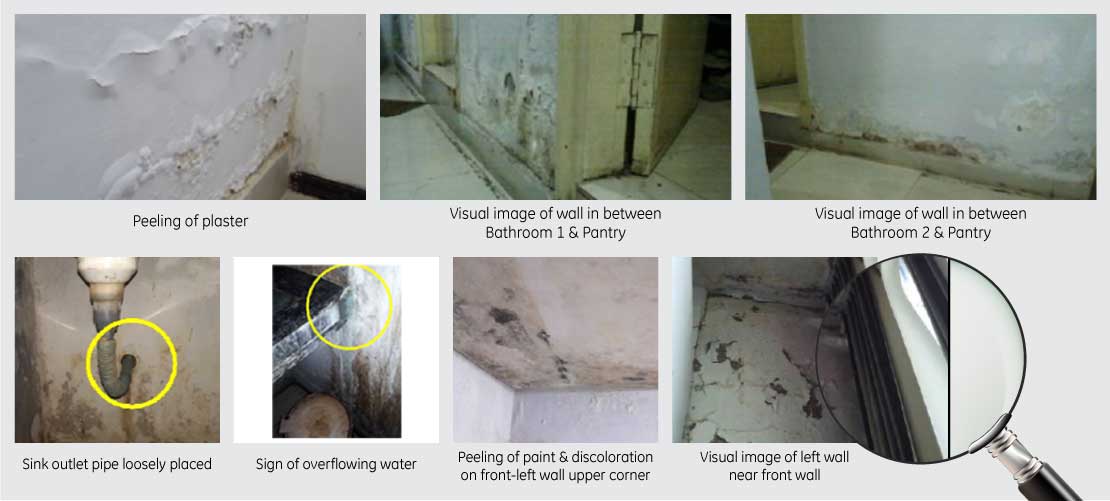 Tracking the Source and Reasons of the Problems through
Thermal Imaging Technology and Trained Team
In the conference room – Gaskets were not provided at window glass and the window opening junctions had deteriorated sealants;
Bathroom 1 – Major leakage in plumbing duct – Duct was enclosed and inaccessible; as seen by infrared camera moisture flow seen along the duct walls;
Pantry – Leak at outlet and water presence at the counter directly affecting the walls;
Bathroom 2 – Affecting walls of adjoining office due to Improper grouting at floor outlet and Gaps noted on wall & floor tiles joints;
Bathrooms /Pantry Alley  –  Walls affected by multiple reasons  –

Conceal drain pipe of AC
Moisture from the bathroom 1 wall
Seepage from Pantry
All along the lower portions due to seepage from tiled floors and inadequate plaster work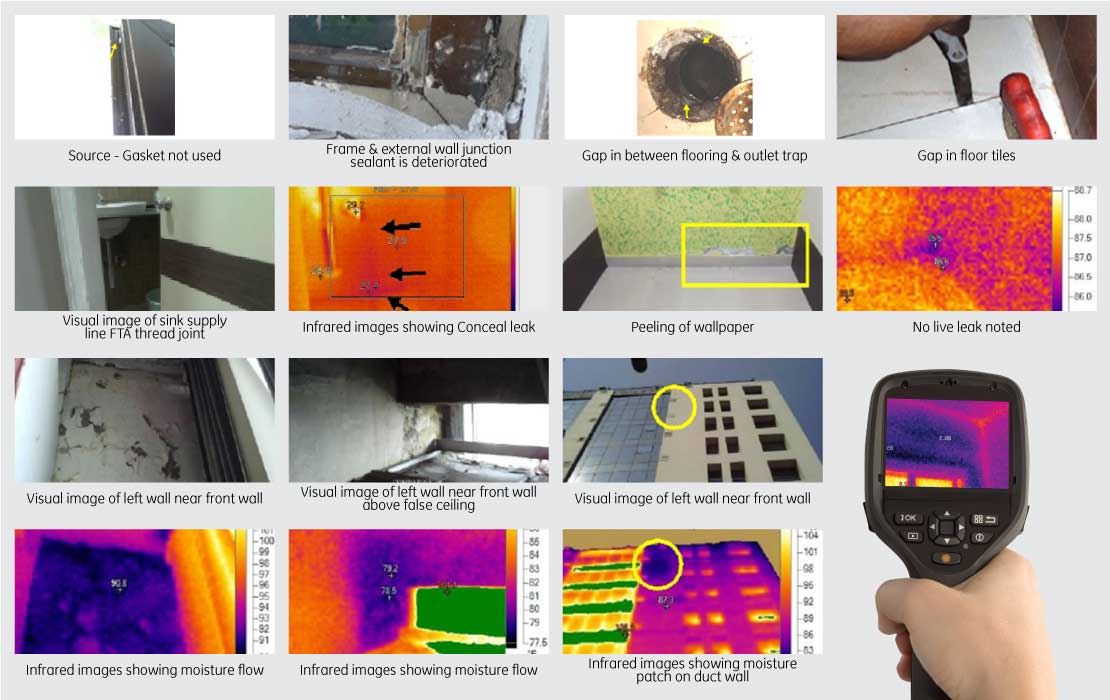 Simple & Low Cost Solutions
Before anything and everything, the source needs to repaired
Conference room

Installation of suitable gasket in glass panel;
Window Gaps – Sealing with exterior grade silicone sealant in dry condition as per manufacturer specification;

Bathroom 1

Plumbing duct leak to be repaired;
Floor outlet to be grouted by non–shrink grout;
Gaps to be sealed by silicone sealant;

Pantry

Plumbing leak to be repaired;
Counter junction to be sealed with adequate sealant;

Bathroom 2

Floor outlet to be grouted by non–shrink grout;
Gaps to be sealed by silicone sealant;

Bathroom / Pantry Alley

AC drain pipe elbow to be reinstalled;
Plumbing duct to be repaired;
Plumbing repairs to be done;
Gaps to be sealed

Plaster to be chipped off and affected areas to be left for drying, re- plastering, curing and paint finish;
The moisture detected was both due to internal and external intrusion of damp / seepage in the building. The wet areas were primarily affected due to workmanship and plumbing work. The other areas affected due to improper installation of AC and external openings not made water tight.
In this case we got to know that intrusion of internal moisture was mainly from plumbing defects in wet areas i.e.bathroom, pantry and external duct and some other issues like junction gap in bathroom tile, door frame, floor tiles. All these things contribute to moisture intrusion.  Workmanship is a very crucial factor in construction.
First and foremost, the source of moisture / damp / seepage has to be identified, then rectified in proper way and sequence and then the affected areas need to be rectified.  And all this can only be done with the help of state of the art technology, tools and trained team. MACJ excels in this sphere of work – it was only a matter of time that the source was identified and long term solutions determined.
Also property maintenance is very important.  If periodical maintenance or health check-up of any property is not carried out or problems are overlooked, then deterioration will occur and the issues will spread. It will adversely affect both the human health and property life. Taking care of the elements of any property will not only ensure smooth functioning but will also provide those elements a longer and healthy life.