Our home is a very special place – be it big or small. It is the place which makes us feel happy, safe and comfortable. However, accidents are inevitable and they can happen anywhere, on the road or right under our roof. Hence, we must consider the best possible ways in which we can prevent such accidents. At times we are so involved in decorating, renovating or for that matter, feel comfortable in our space that we tend to ignore the important areas which require attention. Safety measures are one such element that demands our maximum attention while we plan to make our home a better place. When the members of the house feel safe and comfortable, the feeling of positivity and happiness increases manifold. So, if you are among those who care about the safety of their family and therefore their homes, then this article is all you need to read.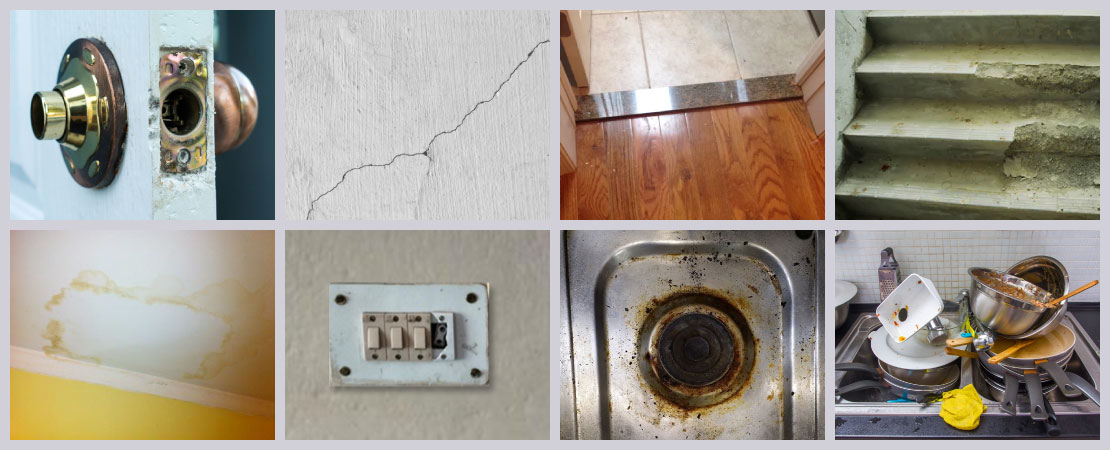 Common Safety issues to be aware of at home
One of the best ways to make sure that your home is safe is to actively check each area of your home for potential hazards. It reduces the risk of injury that children or elderly people in the house might suffer. One must remember that his home might make him feel warm and comfortable but that doesn't necessarily allow to ignore potential safety hazards. It is essential to be knowledgeable about safety measures and evaluate hidden danger. Here are some of the common safety issues that we come across in our seemingly safe haven called 'home':
Inadequate security due to a not-so-robust locking and surveillance system at the main door
Faulty door locks
Loose window glass, latches, or joints
Crack in the wall, ceiling, or railings of the roof
Uneven floor or elevated door threshold
Broken stairs or loose handrail
Slippery bathroom floor due to wrong choice of tile/marble type or excess splashing of water
Damp walls and ceilings leading to an unhygienic indoor atmosphere
Faulty switches and plug points
Unserviced home appliances that may become a cause of electrocution or fire hazard
Unchecked gas cylinder, faulty knobs and lighter, and uncleaned burners
Torn/wavy rugs and carpets, scattered objects on the floor
Improper cleaning and kitchen habits
Unsafe storage of medicines, pest poisons, harmful chemicals, knives and other sharp objects, cables and cords, etc leading to chocking, cuts, fall, burn or poisoning
Irregular or no pest control drive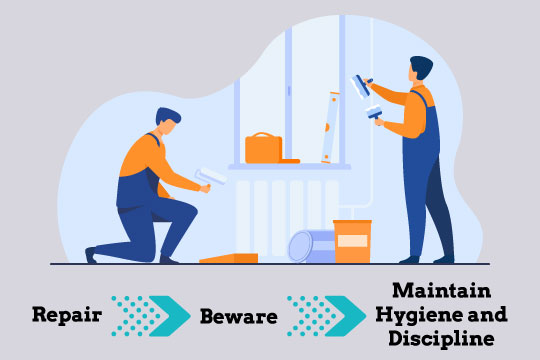 Repair, Beware and Maintain Hygiene and Discipline
This should be the ultimate safety mantra of any household. There may be some defects in the house, repairing which may require you to take many things into consideration but at least, you should do the following things that are easy to do at any point of time.
Safety tips to avoid accidental falls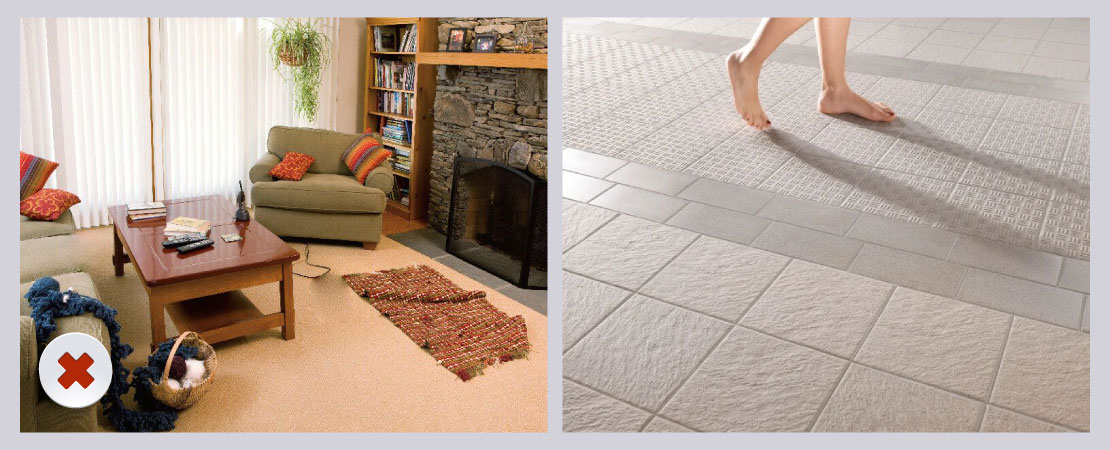 Elderly people and kids in the house often tend to fall because of the unsuitable arrangement of things lying here and there. Fix this first as this costs nothing. Simply, avoid clutter. Pick up small objects from the floor and keep them aside in their proper place.
Throw rugs and loose mats, extension cords, etc are a few things on which elderly people and small children often trip and fall. Replace the former with carpet and remove the latter when not in use.
Elevated door thresholds in old Indian houses are quite a nightmare for people of ages. You better get them removed and make life easier.
Bathroom floor tiles and marbles are better chosen which have anti-skid features as they provide more friction to the feet. Still, to avoid fall, keep the floor dry & clean and soaps should be replaced with shower gels. Doors should have outside latches which should be used to close them when an elderly person or a child is inside. This helps in faster rescue in case of an accident.
Any kind of leakage or seepage – either in the ceiling, wall or from any appliance – repair it fast. There shouldn't be any water on the floor going unnoticed for long.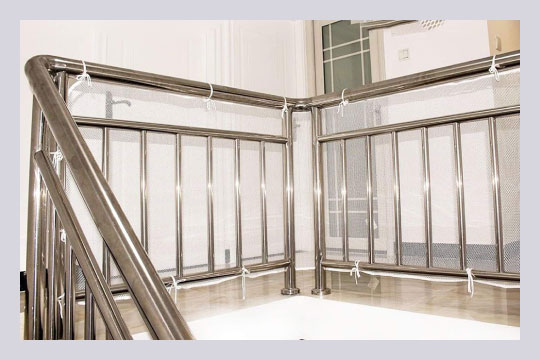 Installation of safety guards
Safety guards are the best choices when it comes to enhancing the safety of balconies, rooftops and stairs. These guards ensure the safety of near and dear ones at your home.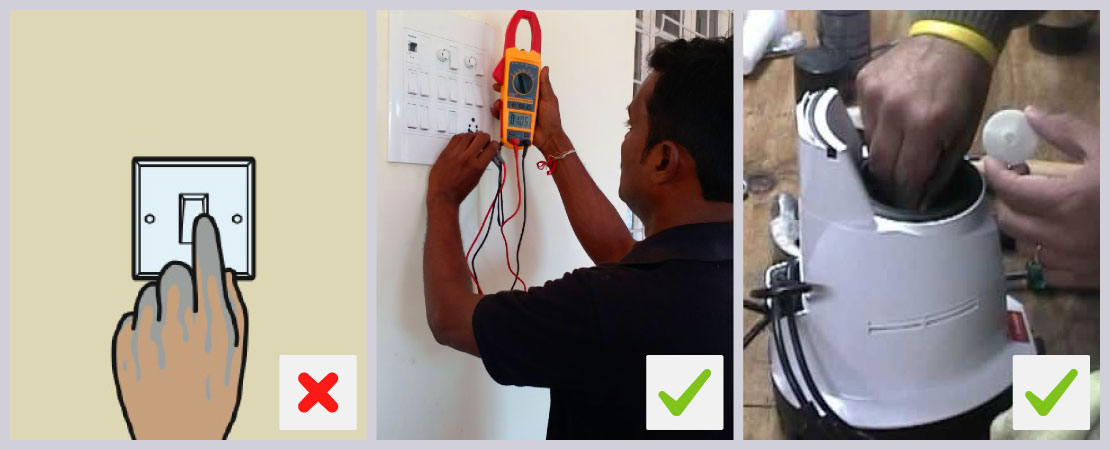 At home, electrical hazards are mainly caused due to three reasons. Address those with seriousness in the following way:
Wrong handling – Using wet hands to switch on or switch off or fiddling with the plug points. These should be strictly avoided as that may lead to electrocution. Where there are small children in the house, make use of socket safety cover1 which will restrict babies from putting finger directly or inserting any other object into electrical sockets (or plug points) which may cause electrocution. This is one of the tip to make shockproof home for your kid.
Poor quality of electrical equipment and/or damp in the concealed wiring system – Take the help of a skilled electrician who would have the right set of skills to check the problem and take care of any form of electrical repair. You can also opt for an electrical inspection if you have been noticing frequent issues of short circuit and blackout.
Un-serviced electrical appliances – Don't wait for them to burn your food or your finger. Get them serviced on time and stay sorted.
Electrical safety should be given top priority in a home.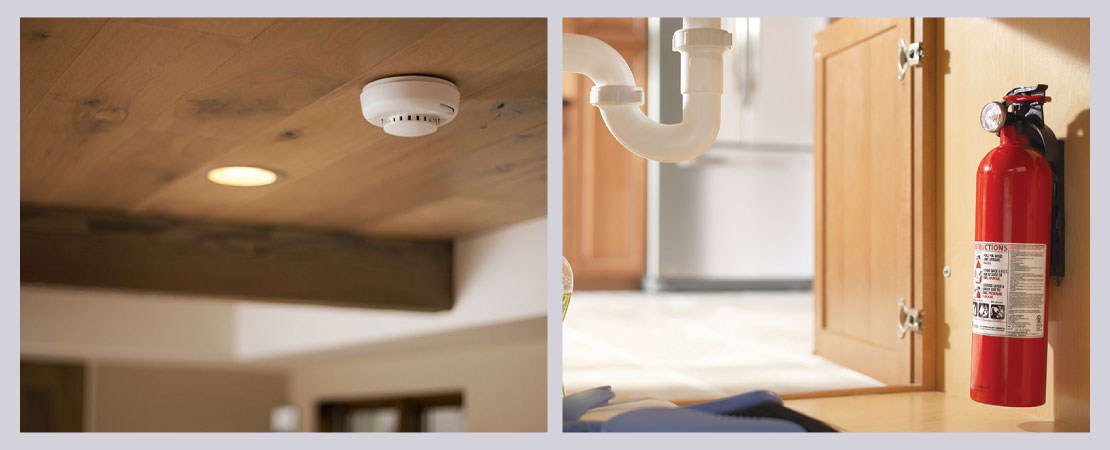 Fire safety
Let's face it, we all dread fires but very few take necessary precautions to avoid one. First and foremost – you must get your gas cylinder checked when it gets delivered to your home. If you suspect any kind of leakage, refuse it then and there.
After using the gas stove, don't forget to turn off your cylinder's knob. Also, clean the pores of your burners at regular intervals. Change your gas-lighter after every few months.
Again, get the servicing of your microwave oven and other kitchen appliances done at least once in a year. The same applies to air conditioners. They must be serviced regularly.
Install a fire alarm in your house and keep a fire extinguisher handy for emergencies.
Above everything else, you must ensure that the ventilation and water supply of your building is up to the mark so that, in case there is a fire, it can be doused easily.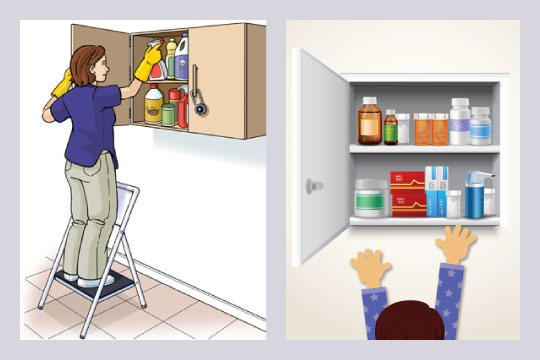 Suitable storage of harmful chemicals
It could be a chemical, medicine or any form of cleaning product or disinfectant that would take seconds to cause injury or accidental poisoning to children and elderly people in the house. This is why, it is extremely important to be cautious with such items. Storing such items at places where it is hard for elderly people or children to reach is a wise choice. The same level of cautiousness should be practised for keeping sharp objects in the house.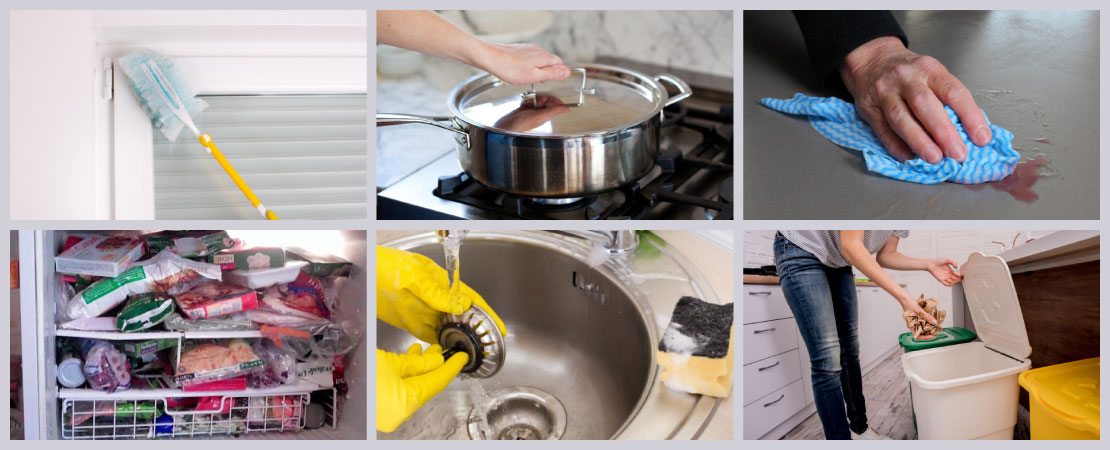 This is supreme at any point in life. Good cleaning and kitchen habits go a long way in ensuring the good health of a family. A few things should be followed to the T:
Dusting, cleaning and mopping should be done daily. Disinfection and sanitization of surfaces and objects should be done at regular intervals to keep the spread of disease-causing germs and pests in check.
Always keep cooked food covered.
Clean up spills and scatters immediately.
Don't hoard food items in the fridge for long. Here's some more food safety tips2.
Throw away wastes before they become stale.
Use sprays and chemicals carefully in the kitchen.
Keep the sink outlets unclogged and clean the pipes once in a month.
Use covered bins for disposing of dry and organic wastes.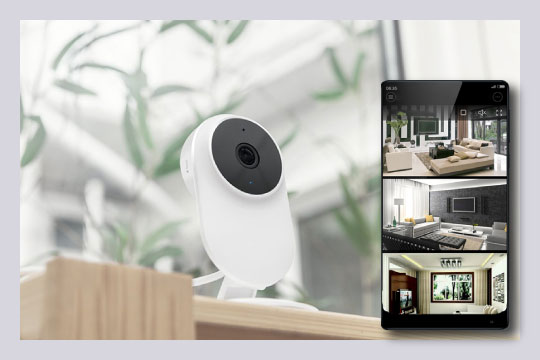 Surveillance Camera
There is no other better option than having a surveillance camera3 installed. They are the handy tools you can invest in if you are concerned about your family's safety and security. They not only allow you to see your loved ones from time to time but also keep you aware of any form of crime like theft and abuse.
Apart from the above points, there are certain hidden hazards in a home which can cause problem in the proper functioning and safety of your home. Read Protect your Home from Masked Hazards.
Information and knowledge is the key to prevent any form of accident in life and it is applicable to the safety of your home. The only way to enjoy a life devoid of regrets is by staying cautious. It requires adopting some basic safety habits and sometimes, professional help as a home inspection. The latter raises red flags, which if you pay heed to, can save you from many accidents. To learn more about home inspection, click here.