Who doesn't dream to own a home? In India, around 69% households in urban areas are found to be living in owned houses. In rural areas, this percentage is 95%. On an average, around 86% of households live in owned houses. A humble, two-storied house, a large bungalow, or a 2BHK flat in a housing society – they may vary in shapes and sizes. But, owning a home is largely common in Indian society.
In a lifetime, no purchase is as important and as big as buying a home. Buyers are exceptionally cautious about spending their hard-earned money as a huge amount of financial transaction is involved here. It is not enough if the house is only beautiful. A property with the facility of "ready-to-move-in" is mostly preferred. Options that involve less investment of money, time and effort top the list of preferences. Buyers need assurance that the house of their choice is in good shape. They do not want their investment to go into something that would need a repair here, a brush-up there every alternate day. If as a seller or developer you can give such an assurance then, automatically your credibility increases and you can quote a higher price for your property. A home inspection is just what you would need.
Before we explain to you the positive effect of home inspection on property value, here is what the service is all about – What is Home Inspection? Learn the Basics of It..
Benefits of a pre-sale home inspection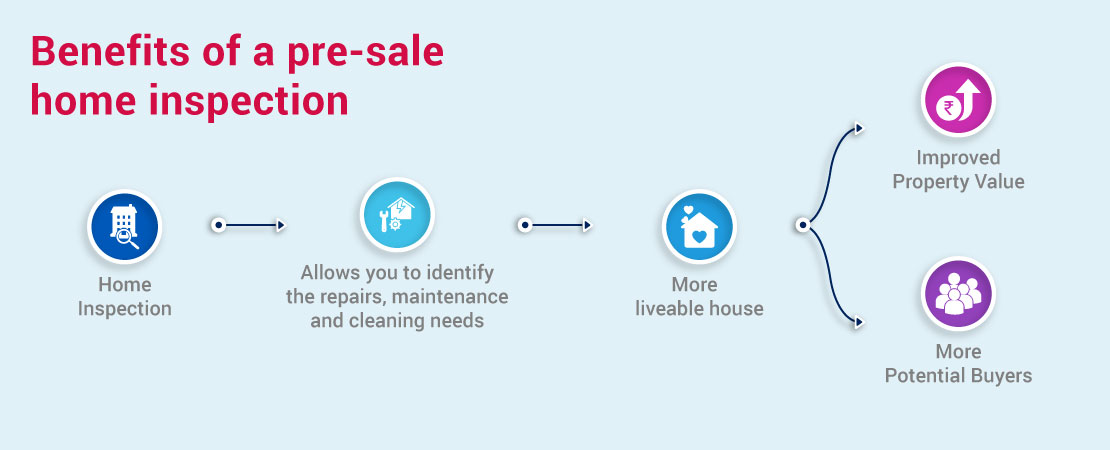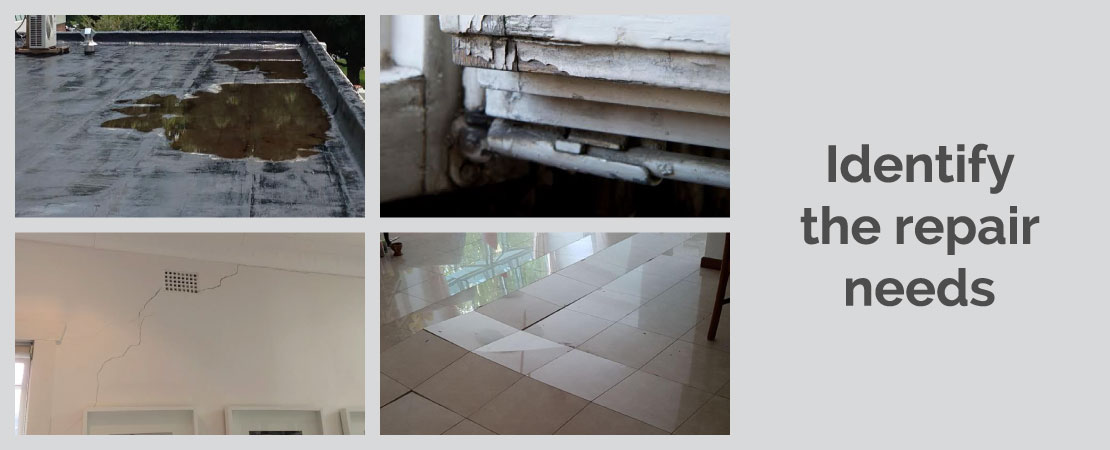 1. Identify the repair needs before selling. Result – A more alluring property
It is very much true in real estate that the first impression makes the last impression. To make sure that your house is at the top of the priority list of your buyers, you have to make it "the best" in the market. A beautiful house is definitely enough to attract attention. But, it needs to be in perfect condition as well. How can you ensure that without inspecting it in the first place?
Getting a third party perspective, in this case, proves to be even more helpful because, after all, it was your home; you are unlikely to see any real defect in it. Professional home inspectors can identify the underlying problems with your home and also make out its potential in an unbiased manner. Additionally, attending the problems would add to the aesthetics which further enhances its appeal to the buyers.
A home inspection is likely to find out some common issues you might be experiencing the outcome of. Plumbing and fixture problems, electricity issues, problems of walls, floor, and roof, damage due to moisture intrusion, leakage in the roof, etc are common outcomes you get to know about after a successful home inspection. You would think – "but these are costly to repair!" You are right. But then, why would anyone want to buy a property with so many issues at a high cost? Automatically, the perceived value of your property gets lowered.
A home inspection gives you the scope to attend the problems and mend them in a time before you put your house up for sale.
With the tendency of buyers to incline more and more towards choosing "ready to move-in" properties, it is less likely they will care even a tad bit about repairing before moving in. So, if you leave the issues unattended, the number of potential buyers will automatically become less. Once you repair them, the aesthetics and 'liveability' quotient of your house increase manifold and you get more buyers.
Now as a seller, you may not have the required amount of time to attend all the issues the home inspection points out. No worries. Try fixing as many issues as you can. Fix the electrical problems, mend the leaky pipes, treat the roof, ceilings and walls for dampness, and replace the locks of doors and windows. These will improve your property condition a lot and deliver a feeling to the buyer that you do care about your house. Quick and easy selling with high selling price guaranteed.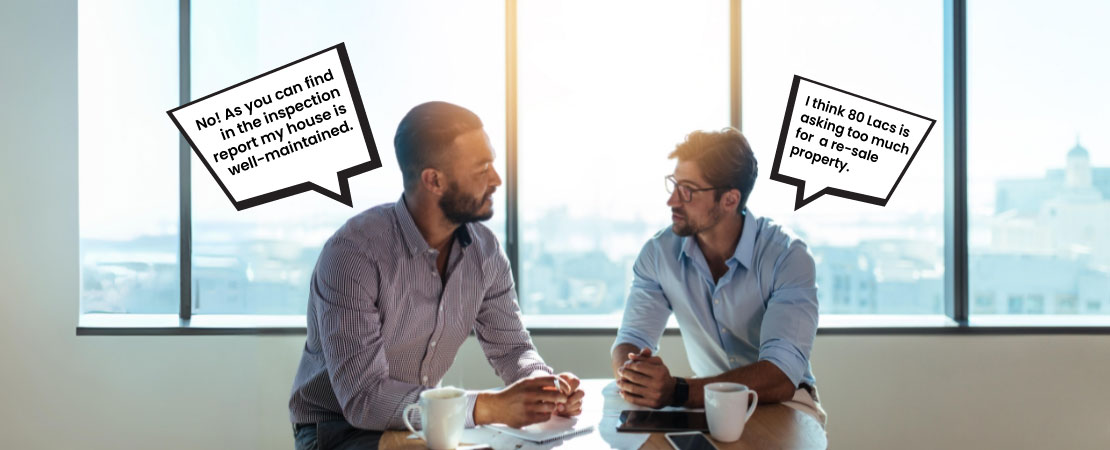 2. Lesser chances of price negotiations. Quicker and smoother selling process
You will be amazed at the issues home inspection will point out to you, many of them you were completely in the dark about. You can attend them once you get the report within a few days.
If you leave it upon the buyers to call for home inspection, be prepared for 3 consequences, any of which would follow. The buyer might fix the issues, negotiations for lower selling price will come up or no deal will take place.
Pre-sales home inspection will eliminate any surprise elements for the buyers. You, the seller, know them beforehand. You can either fix them at your cost or disclose them to prospective buyers and reduce the selling price. But don't make the mistake of hiding them, as truth will be revealed eventually.
Early disclosure of the problems would eliminate buyers' suspicion. Price concession negotiations will not come up either. Altogether, you will have more selling power to you and the entire process will become faster.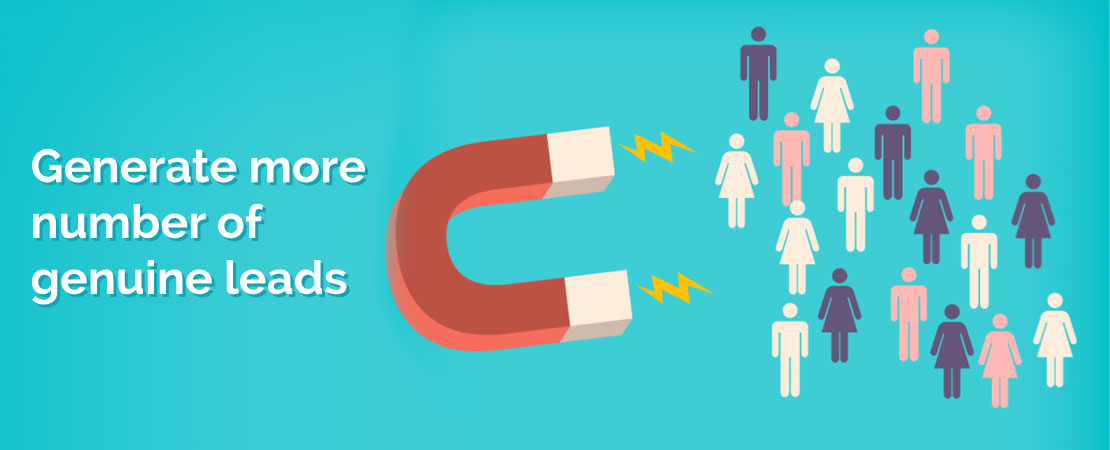 3. Pre-listing home inspection helps generate more number of genuine leads
To list your house on property listing websites and marketplaces1, you need to log in as an 'owner', 'agent', or 'builder'. After that, you have to fill up the online form there with complete details of the property and post its pictures. Upon verification, your listing is made visible to your prospective buyers.
Only a good property listing – complete with all the information and pictures showing various parts of the house helps you draw more eyeballs. So, to make your property picture-perfect, you must get a thorough home inspection done and clean and repair everything that looks shabby and damaged in it.
In a nutshell, if you are a seller, try to consider everything from a home buyer's perspective. See with a buyer's eyes and you will know the true value of your property.
To give you a clearer idea, here are our 5 reasons to get a home inspection before listing your property for sale.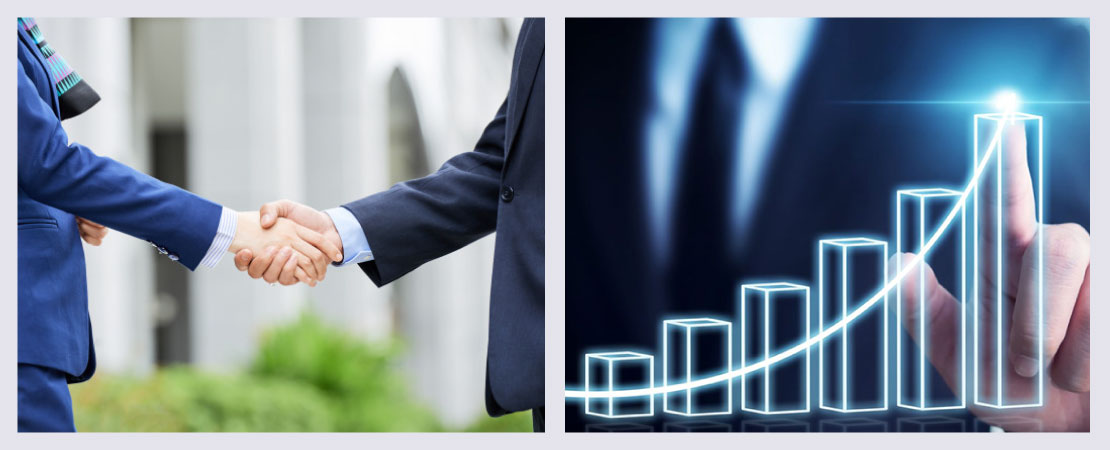 1. Improved trustworthiness & better business
How often have you heard marketers saying "Don't sell a product, sell trust?" In today's scenario, this is the ultimate truth, especially in real estate. A developer or realtor who promises a home inspection before handover and gets that heard through proper channels and promotion earns additional points. His credibility increases manifold and he can set a higher price for the property he is intending to sell.
Buyers too feel safer to enter into deals with real estate brands that promise them better service and take care of their interest. Business growth and stronger customer relationships are a natural outcome.
Click here to know more for further details.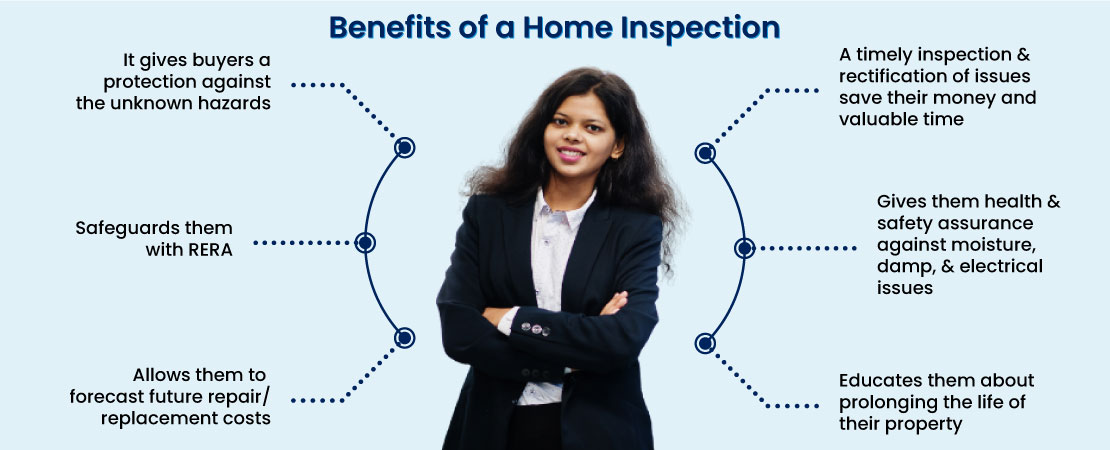 2. Home inspection and property value: How is a buyer benefitted?
Today's home buyers are much aware and cautious about what they are buying. They bank on information and genuine reviews before making an investment decision. So, when a seller or developer gives them the assurance of a pre-sale home inspection, they feel safe about that deal. Because, home inspection for a buyer comes with a bunch of advantages:
It gives buyers a protection against the unknown hazards
A timely inspection and rectification of issues save their money and valuable time
Safeguards them with RERA2
Gives them health and safety assurance against moisture, damp, and electrical issues
Allows them to forecast future repair/ replacement costs
Educates them about prolonging the life of their property
Above everything else, a home inspection gives buyers peace of mind that comes from knowing the fact that the home they are buying has a solid foundation. It is not just a construction that looks good from outside. Its health has been checked and 'Okayed' by a team of experts. This very thought helps to increase the perceived value of the property in the buyer's mind and the deal reaches its completion smoothly.
Hence, the property value is definitely increased by home inspection. If you are planning a buy a new home or planning to put your home up for sale, do make sure you opt for the service or else you will get to face unwanted issues, a complete 'un'-match for your dream abode. Call for it now and schedule a home inspection.