We all cherish the delight that our home is sweet, but how of many of us are sure about its safety? This is a reason for constant worry among working parents, especially those who have to leave their children at home in their absence or under the supervision of grandparents or paid caregivers. If you are one of them, let us check the issues you should be careful about so that you can make your sweet home a safe house also.
Fall off is a major risk
When you are not at your home and your workplace is far off, an accident is the most disturbing issue you may have in your mind. This accident may happen in many ways. The injuries due to falls are one of the most frightening problems applicable to elderly as well as children. In fact, in your absence, the problem of slip off can be a dreadful thing. Some safety measures can be pre-arranged: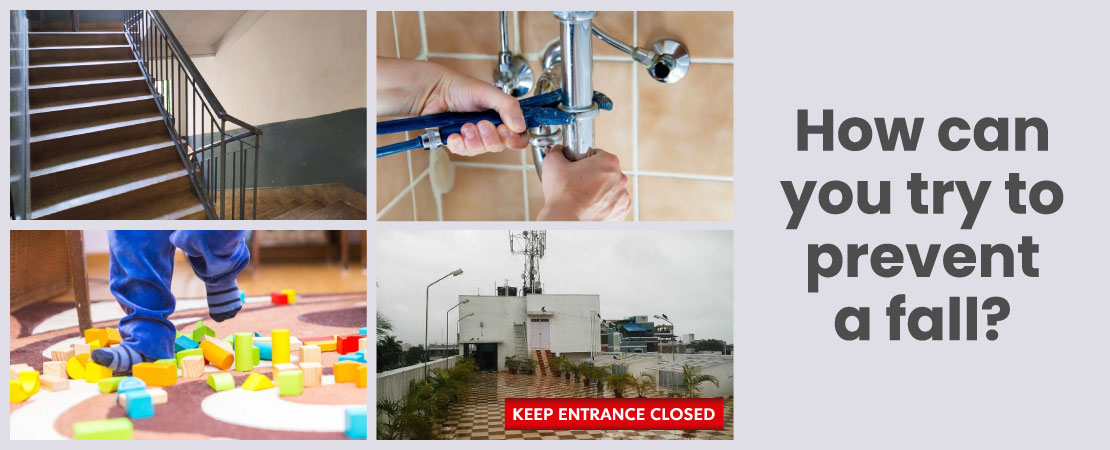 How can you try to prevent a fall?
You should stabilize the staircases. This is easier said than done, especially, if the steps are too steep. Installing handrails is the easiest way to minimize accidents in that case and maintain gaps between railing properly. Further, the staircases should be cleaned regularly so that they don't get greased due to regular use.
The fall-off accidents may occur in your bathroom also. Generally, it is a moist place, and constant access to water makes it more accident-prone. Try to keep the area dry as much as possible. Install anti-slip marble or tiles on the bathroom floor, and if budget permits, install a shower cubicle so that the entire area of a bathroom does not get moist.
Repair leakage if any in the bathroom or kitchen so that the floor is kept dry as always.
Ask your kids and their caregivers not to keep the toys scattered. The scattered toys can sometimes become the trigger behind a fall off.
An unattended rooftop/ terrace/ balcony can be dangerous for kids. If your kids stay at home in your absence it is advisable to restrict their entry to these areas. Keep the terrace/ balcony gate locked and place the key out of their access.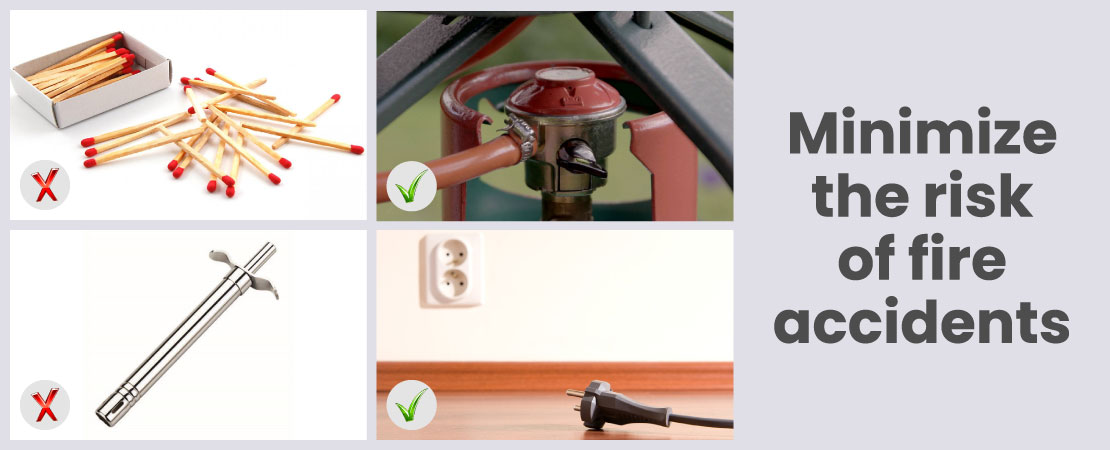 Minimize the risk of fire accidents
A fire accident can be really fatal. It may happen for many reasons. Therefore, you must build your home in a way where the chances of fire accidents get minimized.
Keep matchboxes and gas lighters away from your kids' access.
Keep knob of the gas cylinder off after cooking, so that it protects them from accidents.
Keep all the appliances unplugged when not in use.
These safety measures will help you to reduce the risk of fire hazard, at least, in your absence.
Keeping them safe from strangling and choking
Kids often watch television shows and movies of superheroes and in the absence of their parents try to attempt those heroic stunts alone. These trials can be extremely fatal for the playing kids. Some of the precautions you may implement are:
Do not keep any type of cords within the access of the kids.
If there are blinds in the room for decoration, try to wrap them up, where kids cannot access them by their effort.
Choking hazard is another nightmare that keeps troubling parents of toddlers when they are away for work. You must instruct the caregiver at home to strictly put the items that may cause choking away from the reach of your children to minimize the chance of such hazards.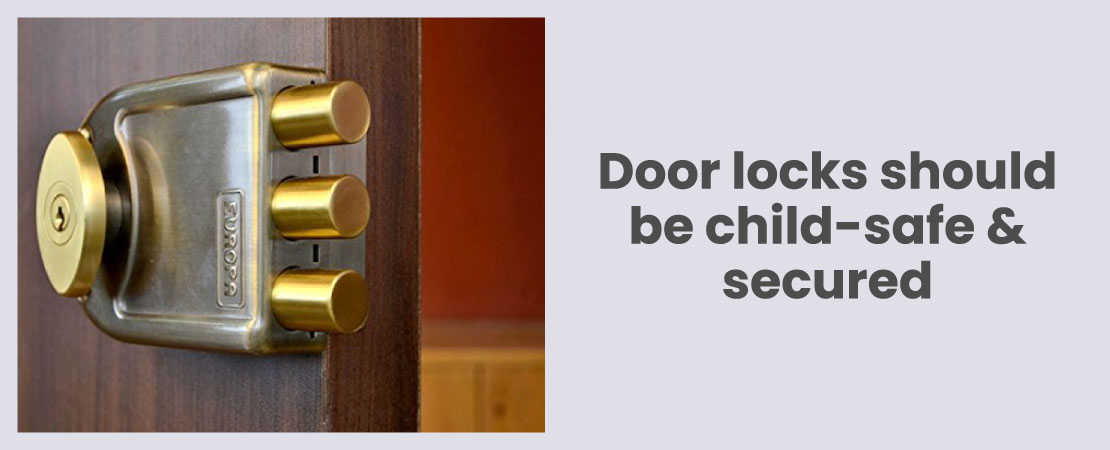 Door locks should be child-safe and secured
In most Indian homes, nowadays, two-way locks are used so that the working couples can enter the home safely and easily. But care should be taken in installing the lock in such a way that the children can open it and they cannot tamper it. Also, train them adequately so that they do not lock themselves outside, while the keys are left inside.
Also, you must explain to them about the danger of allowing strangers inside the home when parents are not around. Ensuring the safety of the entry door is one of the crucial safety protocols you have to maintain at home.
It is always wise to buy good quality locks. You can buy both the window as well as door locks. Also, make sure that the windows have grills so that the kids do not fall while leaning on them.
Check Window Size for Safety
Windows of long size with low window sill height can create a safety hazard for kids. Read the post to know more about this and its solution.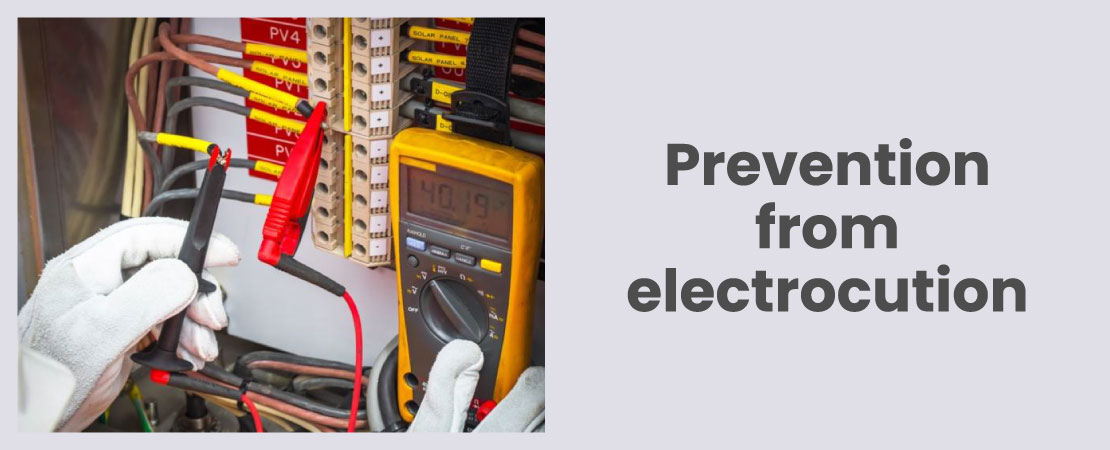 Prevention from electrocution
Electrical safety is paramount for any home, whether you are leaving kids alone at home or not.
You should service your electrical wiring and appliances periodically so that there is the least chance of short circuits. It is even better if you get an electrical inspection done because you never know what is wrong inside the concealed wiring of the house. The presence of moisture inside it can lead to horrific accidents. Using branded switches and plugs and circuit breakers in the electrical wiring system can minimize the risk of electrocution and/or fire hazard to a significant extent.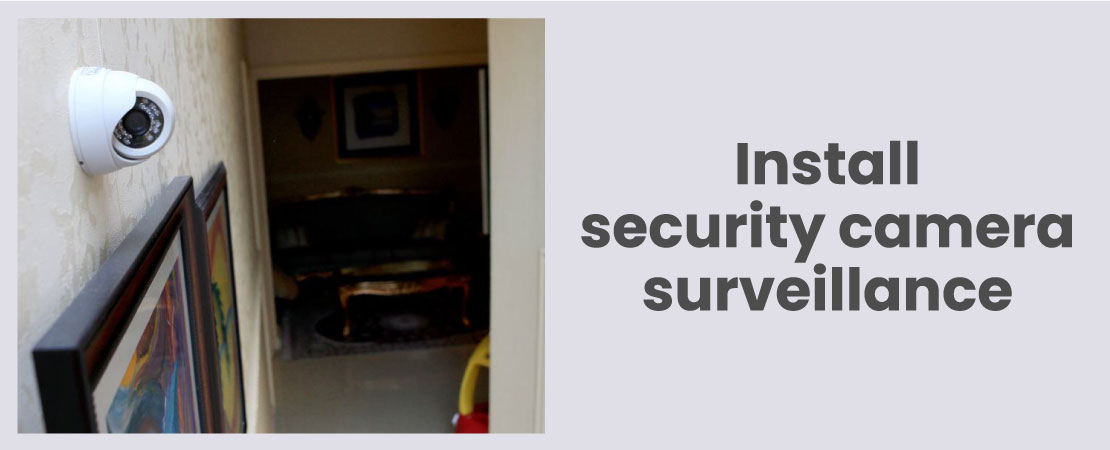 Install security camera surveillance
If possible, you must install a CCTV camera surveillance system in your home, especially, if you have to stay away for a long time and on a regular basis. You can integrate the camera with your phone so that you can monitor your home remotely.
These are the general safety tips for your home. Implement them and check their functioning from time to time. In addition to all these safety features, you must also maintain regular communication with your kids and the rest of the people at home, so that they can immediately inform you about any irregularity.
Regular maintenance of the safety arrangements, proper training for your kids about the importance of security, and regular communication with them can help you in preventing any untoward incidents. A thorough check of every corner of your home will put all your worries to rest. It is rightly said that a stitch in time, saves nine. Awareness about these issues can help you keep your kids safe at home when you are away at your office or traveling for work.