An important step towards a happy life is good health. And good health can only be achieved in a clean, hygienic and healthy environment. Seepage is a very common problem which the majority of Indian Households must have had experienced at some point of time. The moisture and dampness due to seepage can result in fungal and bacterial growth which in turn could cause various allergies and other health-related problems to the occupants of the home.
The effects of water damage on your home as well as health can be far-reaching, and it may have massive damage. Therefore, ensuring that your home / office is free from any possible leakage and dampness has become one of the most important factors to understand and attend.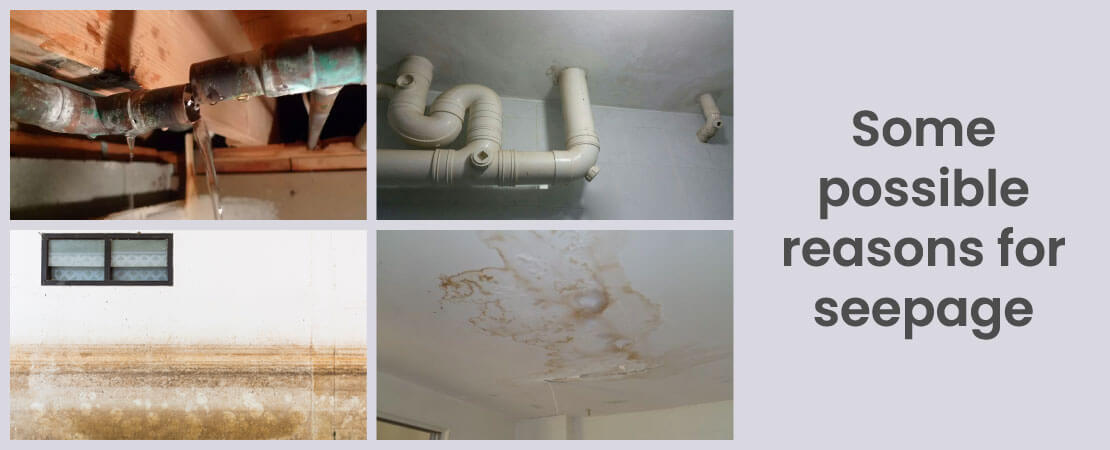 Some possible reasons for seepage
It can happen due to faulty internal plumbing:

Leaky drainage pipes or plumbing fittings at home
Outflow in the water supply pipes
A leakage in the neighborhood property's internal plumbing (eg – Leakage from Bathroom or Kitchen on the Floor Above.)

If a gap exists between the walls of your home and the neighboring building, this would also cause water to seep through.
Water dampness and seepage happens when the exterior walls are not plastered properly or due to the use of poor-quality plastering materials. And seepage can also happen through exterior walls from gaps around window frame.
Seepage of water through floor tiles in bathrooms/kitchens of floor/flat / terrace above.
Poor waterproofing at the time of construction.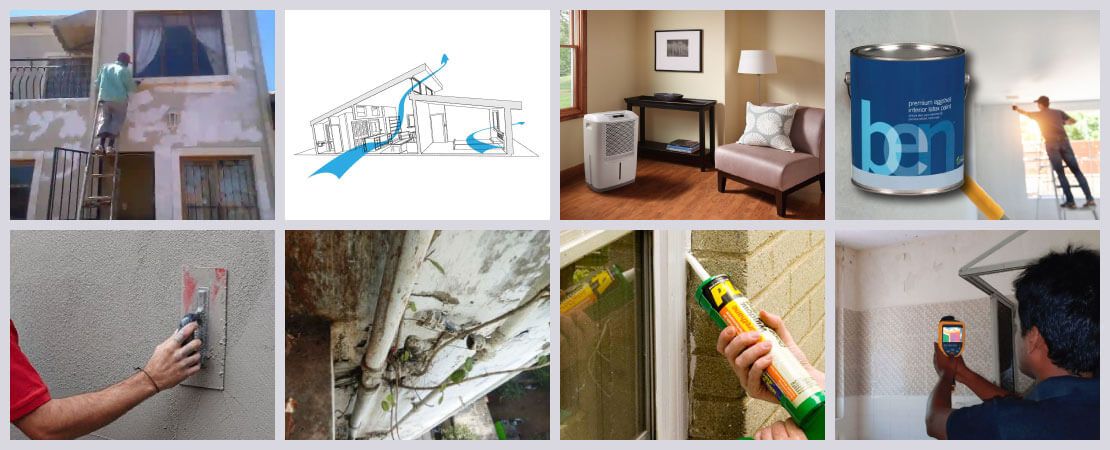 Ways to avoid seepage problems in your home
1. Repair cracks on walls
Cracks are among the root causes of moisture in your home. Due to cracks at the external wall, rainwater and moisture will enter the wall surface thereby affecting adjacent / in-house wall surfaces and will weaken the integrity of associated elements. If cracks not treated at the right time, can increase in depth and lead to further deterioration in the affected area. So it is important to fix or repair the cracks to have long lasting homes1.
2. Reduce indoor humidity
Sometimes we choose to dry laundry indoors. Drying it indoors is one of the causes which lead to humidity.
And the kitchen is also a place in home, where steam gets generated due to cooking. One of the easiest way for reduced humidity is to keep your windows regularly opened and home well ventilated. Budget-friendly ways of getting rid of humidity & moisture in your home is by getting installed an exhaust fan, especially in your kitchen, bathroom and other household activity area where water is frequently used. But if you are still facing the problem of humidity, then you also can opt for a dehumidifier. Read How to Control Humidity in Your Home Using a Dehumidifier?
3. Good-quality paints with specific property
If the paint on your wall is of inferior or poor quality, it tends to seep in moisture through concrete, which can damage the exterior and interior walls. This can result in weakening the strength of overall structure of your property and also make it appear unpleasant.
Apart from good quality, it is an important point to keep in mind: interior or exterior areas need a specific type of paint. Different paints have different properties and are formulated for different purposes. For example:  Exterior grade paints are used for exterior areas as they have resistance to cracking and dirt resistance, as well as provide protection from the damage ultraviolet (UV) rays cause.
4. Follow the finishing procedure properly
There are different layers to the final finishing of wall – like plaster, putty, primer and paint. If incorrect procedure followed at any layer like improper curing & poor surface preparation etc for the plastered surface finish at the external wall, then this can lead to cracks or surface damage. Thereby it can lead to a seepage problem, if left unnoticed. So, it is important to follow proper procedures in all layers of finishing.
5. Perform a visual check
Some visual checking that can be performed by a layman are as follows:
Check out for water pocket (or can say water getting accumulated) around drain outlet or any pipe blockage in the bathroom / kitchen, etc.
Check if any presence of algae or plant growth at exterior walls. The Existence of plants in an external wall or other parts of the building can cause cracks in walls which can lead to moisture intrusion.
There are some gaps which need to be sealed –gap around window and door frame; sink installation; AC gas pipe sleeve, drain outlet, gap at tile joints etc. It is important to seal all these gaps to save from the damage to home/property in future.
These checks will give you a basic idea about the moisture intrusion in your home.  In case of any issues, seek the services of a professional expert who would perform a thorough scan of the house using advanced thermal imaging technology2, and recommend an appropriate solution.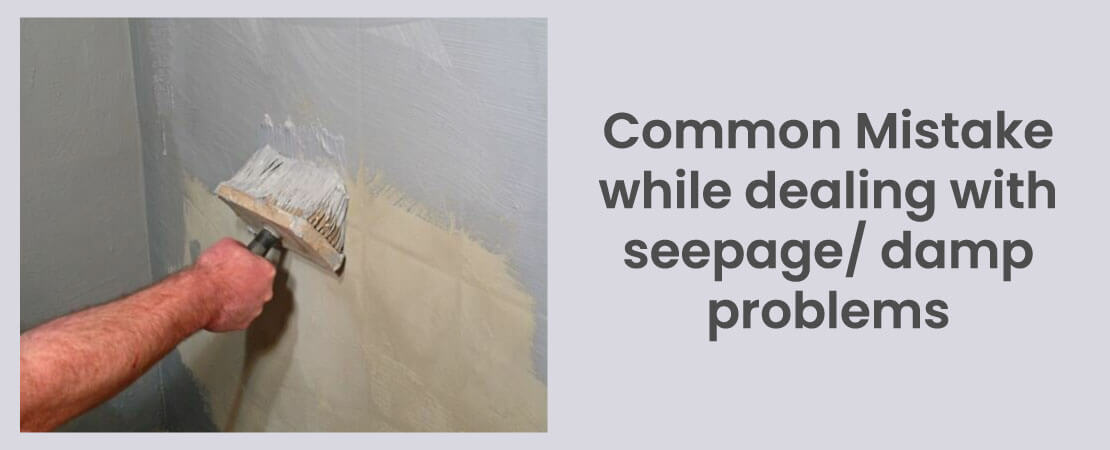 Common Mistake while dealing with seepage/ damp problems
Most of the painters or other vendors usually fix the problem of seepage/leakage/wall paint peel off or dampness on the wall simply by applying waterproofing solutions on the affected areas and repainting it again with the paint. This is indeed one of the most common mistakes done to solve the seepage problem of home/property as it will solve the issue temporarily and the problem will occur soon again after a few days. Reason is the root cause of seepage/moisture-related problem has not been fixed well. The very first step to solve the seepage/leakage problem is to find the source of the problem in the property. By employing thermal imaging technology, the source of seepage problem can be found out without damaging the property and can save you from The Invisible Silent Killer.
Our objective of writing this content was to share with you some effective ways to avoid seepage at your home or other property. If you are facing a seepage problem, check for all the possible causes in your house. If you want an expert advice, then damp inspection  using advanced thermal imaging technology can help you by detecting the exact source of this problem which will provide a long-term solution.